Blond & Eager Czech Gay Porn Star, Libor Bores / Chris Hollander
Known Aliases: Cavin Young (Male Reality), Darius Rider (Breed Me Raw)
Years Active: 2013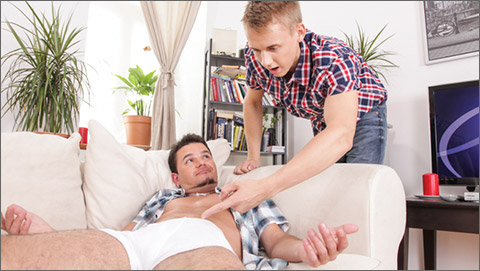 TOO BIG FOR TWINKS 8: Richy Silverado fucks Chris Hollander
It's a giant cock tail!
   While Ennio is giving Justin a guitar lesson he realizes that Justin is really bad at it. Justin gives up for the day, so Ennio gives him something else that he can play. Diego is outside reading a magazine when Enzo walks over with a soccer ball in hand. Enzo asks if he want to play, but there's a catch. If Enzo scores on him then Diego has to suck his monster dick. Richy is taking a nap when Cavin comes in to get a book to read. He then notices that Richy is half naked and packing a huge cock. Richy awakens to Cavin mouth open gazing at his junk. While Dee is chopping wood for his fire place Matt walks up to the fence to ask him something. Matt gives up trying to talk to him and heads back into the house. Dee walks in with fire wood and notices Matt touching himself. Timoti's having problems with his heater, so he gets a handyman to come and fix it. Georgio is lying on his back fixing the heater when Timoti comments on the big tool between Georgio's legs. To Timoti's shock it's not a tool, it's a massive cock.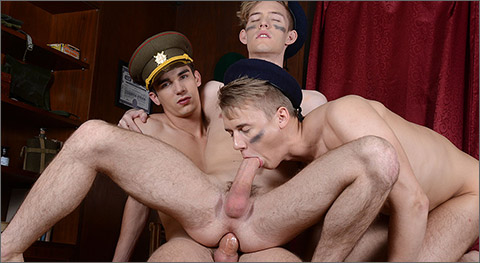 PISSING OFF YOUR COMMANDING OFFICER CAN GET YOU WELL AND TRULY FUCKED!
Life in the army can be very rewarding to those who are inclined to the military life, but get the wrong side of your commanding officer and there's every good chance that you're headed for a fall. As Chris Hollander and Jaxon Radoc very quickly discover when their somewhat insolent attitude annoys Orlando White.
   Not that White's punishment – forcing Radoc to get down onto his knees and suck both his and Hollander's dicks – is ever likely to upset our resident Aussie cock-fiend. In fact, not surprisingly given what we know about the fellow from past performances, the instruction is met with an unmistakable element of glee on Radoc's part – a sentiment that's clearly shared by Hollander, who for his part is soon positioning himself over White's desk and getting energetically spit-roasted! Then, clearly not wishing to be outdone, Radoc gets much the same treatment; before White forces both lads to lay down on their backs over his table so that he can take turns to fuck both their horny little ass-holes.
   Chances are, of course, that this is not a true representation of army life – even in the cesspit of morality that is the Czech Republic! – but we very much doubt you'll be too bothered as you reach for your zipper and slowly work out a load (or more!) in appreciation. No need for zippers here, however; as Hollander dumps the first wad, quickly followed by Radoc. Before White unleashes the contents of his heavy cum-sac, whilst his two subordinates kneel at his feet. Life in khaki has rarely looked so kinky or so fucking desirable as in this cumtastic threeway!
STAXUS
WILLIAM HIGGINS
WILLIAM HIGGINS STR8HELL
BADPUPPY
AYOR STUDIOS
BIG DADDY
COLT STUDIO / BUCKSHOT PRODUCTIONS
JAKE CRUISE'S COCK SURE MEN
GANGSTER FUCK
MILE HIGH MEDIA / MALE REALITY