Helix Studios and Cockyboys American Gay Porn Twink, Liam Riley
Years Active: 2014 – 2015
TWITTER @liamrileycb
TUMBLR
HELIX STUDIOS INFO:
Age: 19
Height: 5'7
Weight: 120
Waist: 28
Ethnicity: American
Hair Color: Black
Eye Color: Brown
Cock Size: 6.5
Orientation: Gay
Role: Bottom
COCKYBOYS INFO:
Meet Liam Riley, The newest cockyboys exclusive model. Liam is a fun and flirty ball of energy from california, but he's determined to take new york by storm. Liam is that rare guy who is 100% comfortable in his own skin, and he especially oozes confidence on camera. He's good friends with levi karter, who he met at the cybersocket awards after having been a fan for years. The guys are actually moving into an apartment together in brooklyn soon and plan to film their antics together every step of the way. Love him or hate him, liam is an open book and completely honest to himself… And that is why he's a cockyboy!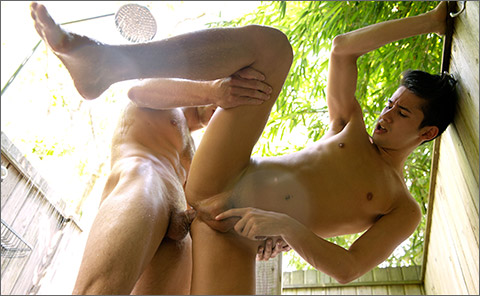 JUSTIN MATTHEWS FUCKS LIAM RILEY
Justin Matthews and Liam Riley clicked right from the beginning. And you can immediately see why — Justin is a more simple-minded country guy while Liam's a bubbly big city boy, a walking exclamation point! Even physically, Justin's a taller, tan blond Adonis while Liam is a slightly shorter, brown-haired pup in training. A perfect Yin and Yang is what you could call their chemistry, and that always leads to some explosively hot sex.
   The guys were visiting Fire Island this summer, and all Justin could think about was sex. He was very vocal about it, too, but Liam reigned him in a little bit at first. They explored the beach, checked out the docks, and then took a lazy summer nap back at their cabin. But Justin couldn't fight his sexual impulses… he snuck off, got naked, and started jerking his hard cock outside on the patio. Liam discovered him a short while later, and the two were soon locking lips. Liam then gave Justin what he really wanted, a slow and hot blowjob. Justin then sucked off Liam for a bit, but he was so turned on that he very abruptly told Liam to bend over so he could pound him doggy-style.
   Liam was loving Justin's hard, powerful thrusts from behind and Justin undoubtedly enjoyed dominating him. But Justin wanted to cool off, so he led Liam to an outdoor shower nearby where the guys got under the water and made out some more. Liam couldn't get enough of Justin's cock though and gave him a second blowjob. But Justin quickly pulled him up, perched him against the wall, and fucked him from behind some more. After they were moaning loudly in a steady rhythm, Liam came while Justin was still fucking him. And Justin rewarded him with a huge load all over his face and torso shortly after. The guys then got under the water again to wash off, ending another successful trip to Fire Island!


A BETTER WORKOUT
Alex Greene loves the pain, gain and euphoric rush of hitting the gym. But the hot jock knows there's a better workout waiting for him at home. Sweet young Liam Riley loves the look of his man's bulging muscles and can't keep his hands off the tan college boy or his thick dick. With their adrenaline flowing the two boys head inside for some more hard pumping exercise.
Themes: Uncut, Twink, Rimming, Jock, Hunks – Studs, Cum Shots, Brunette, Blowjob, Big Dick, Anal Sex, American, 69
CLICK HERE TO GO TO HIS HELIX STUDIOS DETAILS