Staxus Gay Porn Star Euro Twink, Leo Ocean
Years Active: 2015
STAXUS INFO:
Date of Birth: 19th August 1995
Height: 5′ 10″ / 178 cm
Cock size: 7″ / 17,8 cm
Ethnicity: British
Role: Bottom
Interesting Fact:
Leo dreams of being used as a bottom sex toy in an orgy, while being tied up to a bed.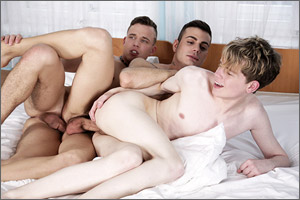 BLOND BRIT TAKES ON A SPIT-ROASTING, DAISY-CHAIN FUCK FANTASY!
Come on, guys, let's be perfectly honest now – who could possibly for one single moment suggest that finding yourself pinned in bed between Florian Mraz and Victor Diamond wasn't quite simply a dream-come-true? No fucking wonder that young Brit, Leo Ocean, is literally like a rabbit-in-headlights at the start of this magnificent threesome; though to his credit he manfully takes everything that these two beauties throw in his direction. Beginning with Mraz, who very quickly works his fingers, then his dick, into the youngster's pucker; whilst Diamond completes the spit-roasting by jamming his oversized ramrod down the young lad's throat.
   It all happens incredibly quickly, and under the circumstances it's perhaps no surprise that Ocean isn't the only one left with a yearning for dick. But this time it isn't Mraz – who we've all seen given a good pounding in the past. No, the next thing we see it's Diamond who's taking cock like a bitch, plonking himself down on the handsome Czech boy's butt-picker and riding it raw for all that he's worth; whilst Ocean takes full advantage of the situation by slurping on the Italian's resultant hard-on. Don't think the young Brit's finished yet, though.
   Having previously taken everything that Mraz could offer, it's time for him to get his arse stretched to the max by Diamond, who's still being pummelled from behind by the guy from Prague. Cue the nad-draining sight of a daisy-chain fuck-line, which only concludes when Mraz and Diamond decide to call it quits by dumping their much-needed wads of spunk all over Ocean's face!
CLICK HERE TO GO TO HIS STAXUS BIO PAGE