Handsome Hung Latino Gay Porn Star, Leo Forte
Years Active: 2010 – 2018
LUCAS ENTERTAINMENT INFO:
Height: 5'7
Weight: 190 lbs
Dick Size: 8.5"
Position: Versatile
Mexico native Leo Forte calls San Francisco home, a choice of residence that makes sense when you consider his involved career with the gay adult entertainment industry. Leo is a very hot and very active gay porn model, but he also spends a fair amount of time behind the scenes; for Lucas Entertainment he's been one of the studio's photographers. He also shoots nightlife, glamour, travel, pet, editorial, and paparazzi-style photos. "No weddings, though. I can't handle the stress," he says. But when Leo is fucking for the camera, his intensity never lets up. He's versatile: sometimes his hole can't get enough, while other times he has no other desire than to pound a bottom into total submission. Leo wasn't always like this, though: it took him years to find the confidence to strip down and have sex as a porn actor. "I wanted the validation. I grew up the awkward fat kid, and I wanted to feel like I wasn't a ghoul. Then I fell in love with the industry," he says. Leo doesn't get off on a lot of foreplay — he wants to skip that stuff and get straight to the sucking and fucking! Leo Forte makes his Lucas Entertainment debut in the upcoming "FULLY LOADED: RAW DOUBLE PENETRATIONS 3" alongside Gabriel Taurus and exclusive L.E. model Ibrahim Moreno.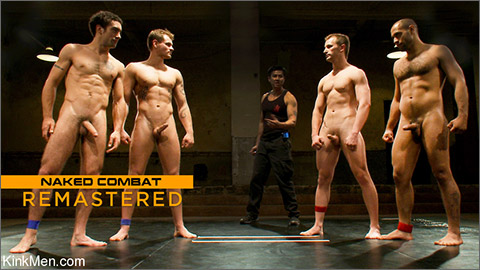 REMASTERED 2022: TRENT DIESEL & DJ vs CAMERON ADAMS & LEO FORTE THE TAG TEAM MATCH
In this epic tag team match, NK powerhouses Trent Diesel & DJ battle NK veterans Cameron Adams and Leo Forte. This is the match of the year where four ripped studs are going balls to wall for sexual domination. The stakes are high and not to mention the pride and bragging rights. It's nonstop action and the adrenaline are ready to explode. The victory fuck-fest is the hottest on NK history. Let's rumble!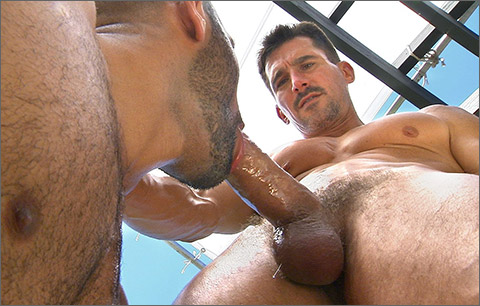 BLIND SPOT: David Anthony fucks Leo Forte
Rookie golfer David Anthony sends his ball into the drink of sunbather Leo Forte: "You gonna show me how sorry you really are?" asks the muscular vacationer. David deep throats the shaved-headed stud, gagging as he slurps. Leo returns the favor, worshipping David's huge meat. The sucker opens wide, his nose and lips buried at the base of the thick beast. The spit strands come fast and furious, clinging to David's cock and falling to the ground as the breathless sucker shows off his skill. The two squirt before Leo gets his hole munched, David warming it up as Leo strokes him. The chiseled top slides his dick in, the two staying stiff as low shots capture their banging balls. On his back, Leo gets pounded as his own boner gets stroked, the bottom beating it on David's abs. Leo grabs the top's pec as he gets fucked, two loads soon coating him.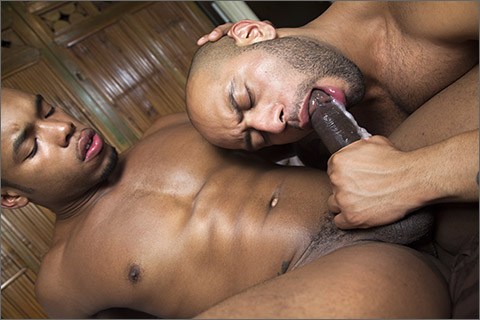 BERKELEY: SOPHOMORE YEAR – CROSSING PARTY LINES: Timarrie Baker fucks Leo Forte
The threat of violence from both sides forces Berkeley Republican Club President Leo Forte to cancel the appearance of a controversial right-wing talking head (cameo by Theo Ford) leaving Leo to address the crowd himself. Democratic Party Club President Tamarrie Baker stops by Leo's dorm room to express his regret that free-speech has been silenced on campus by violence. The two hot-headed student leaders begin sparring and it soon becomes clear they have more in common than politics. They share a love that crosses party lines. Shirts fly off to reveal chiseled torsos as they kiss and strip out of their jeans. Leo feasts on Tamarrie's enormous BBC, swallowing it to the base like a pro. Timarrie gets a good taste of Leo's cock before bending him over and fucking him harder than the Republican Party is fucking over America. Leo blows his load and eats it while Tamarrie pulls out and jerks off all over his rival's face. Maybe love really does trump hate.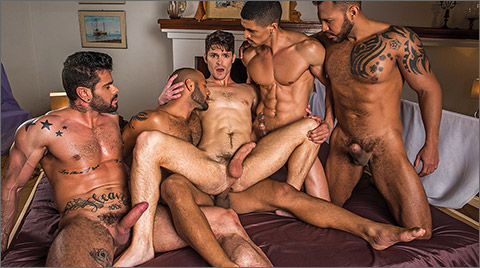 WHORE FOR MORE: Devin Franco's Bareback Gang Bang
Devin Franco has an innocent enough look, but never let his appearance fool you. This was brought up when he took two dicks at the same time from Gabriel Taurus and Nico Deen, and here he proves beyond a doubt the animal he is in the sack. Devin Franco has always fantasized about being the center of attention in a hardcore and unforgiving gang bang, but it wasn't until he became an exclusive model with Lucas Entertainment that the fantasy came true. Who is lined up (literally) for Devin? Mario Domenech, Ibrahim Moreno, Leo Forte, and Viktor Rom. Some of the guys having sex in the bareback gang bang are gentle and passionate while others are dominant and selfish. But everyone gets a turn and Devin gives each man the attention he needs to have a good time. It's his gang bang after all: Devin Franco must be held responsible for taking care of his guests!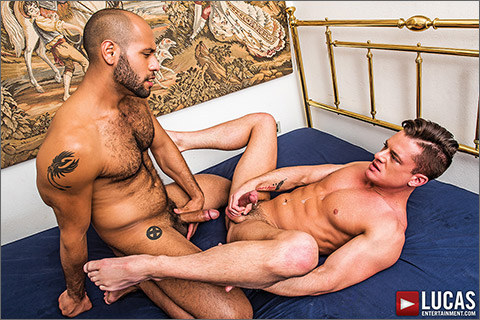 GREECE MY HOLE RAW: Leo Forte Gives Rex Cameron A Raw Pounding
Over the past few weeks we've seen Rex Cameron doing what he does best: bottoming for big cocks ready to fuck his hole raw. The raw cock currently on Rex's bucket list belongs to Leo Forte, and it's a very nice cock to feel hot for. Leo Forte told me in the past that he's versatile in and out; it depends on what he's feeling in the moment. Rex Cameron inspires him to be a no-bullshit top here, which is exactly the kind of firm hand Rex needs in the sack. Personally, my favorite part of this scene is 22:00 — Leo channels his inner papi and gives Rex a pounding he won't soon forget.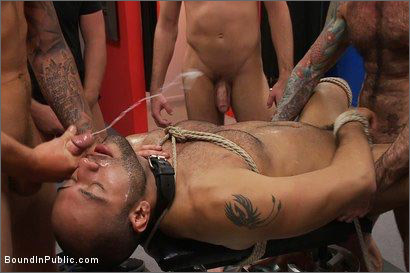 HARD FLOGGING AT GEAR LEATHER IN PALM SPRINGS
Spencer Reed and Christian Wilde take their pup Leo Forte to Gear Leather in Palm Springs. They are looking for a nice butt plug for their boy. Daddy Zeus walks in and of course a hard flogging for Leo is in order. People in the store watch as Leo endures physical and emotional challenge being flogged by the legendary DZ. The moment is intense and unforgettable. Everyone rewards Leo with a hard fucking in the middle of the store and showers him with hot cum.
CLICK HERE TO GO TO HIS LUCAS ENTERTAINMENT DETAILS
VIDEO ON-DEMAND: Leo Forte @ AEBN SMUTJUNKIES THEATER
NOW STREAMING: Leo Forte @ NAKEDSWORD