Handsome Hung American Gay Porn SuperStar, Lee Ryder
Known Aliases / aka:
Years Active: 1982 – 1984
FALCON STUDIOS INFO:
Born: August 3, 1959, Laguna CA
Hair: Light Brown
Eyes: Green
Weight: 190
Height: 5'11"
Dick Size: 10" Cut
Fred Bisonnes comments:
" Ryder's brief career in gayporn had more to do with his super-sized cock than his face or physique. Ryder had only one expression for the still camera: dead pan. "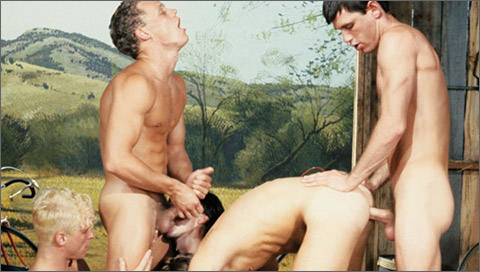 SPOKES (FVP-033): In the Barn Gang-Bang with Pete Gable, Mark Hunter, Dick Fisk, Rod Phillips, Leo Ford & Lee Ryder
A group of bikers – Dick Fisk, Lee Ryder, Leo Ford, Rod Phillips and Mark Hunter – travel to a secluded barn for one member's initiation. Mark Hunter is ordered to strip and bend over for the first hard on: Lee Ryder. Lee shoves his extremely large fat cock inside the initiate starting a train of fuckers into Mark's ass. Unbeknownst to the club a voyeur (Pete Gable in a non-sexual role) spies on the action from behind a haybale. Rod Philips takes over for Lee Ryder until Dick Fisk takes over and the gang shoots their thick hot loads all over Mark's ass.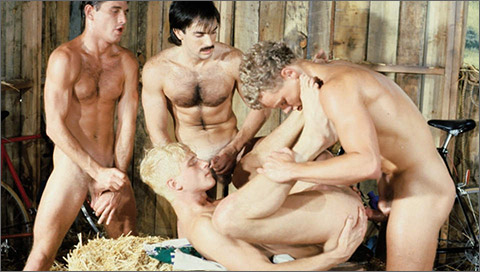 SPOKES (FVP-033): Rod Phillips fucks Leo Ford with Lee Ryder and Dick Fisk
Voyeur Pete Gable exposes himself to the group and Leo Ford drops to his knees to welcome him and his fine cut of meat to the initiation ceremonies. The eager studs press their pleasure threshhold as far as they can…and the scene continues like an ever-evolving chain of sexual exploration. Mark Hunter gets plowed by Leo Ford and Rod Phillips shows super-hung Lee Ryder just how much he loves Lee's huge cock. Leo shoots all over Mark and then sticks back in but not before eating his own cum out of the crack of Mark's ass. Rod and Lee find a corner of the barn and continue to feed their cock-hungry need. Both men get raging hard-ons and sweat beads of lust all over each other until Dick Fisk joins them in some mutual cock worship. Both guys manage to shove both cocks in Dick's mouth when they are joined by Leo Ford…making it a foursome! Lee Ryder, Dick Fisk and Rod Phillips take turns on Leo Ford's hungry ass. They all end up coming over his stomach, chest and in his mouth.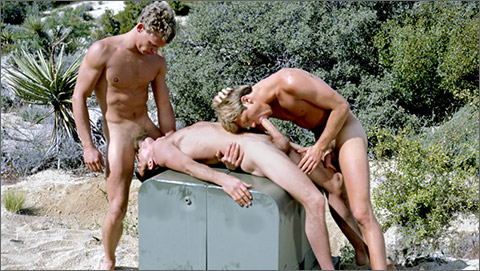 WINNER TAKES ALL (FVP-034) – HIGH VOLTAGE
Starring Lee "Huge" Ryder, Rod Phillips, and Mark Hunter
A desert horserace…a secluded power transformer…a legendary trio…overloading action!
MARKSMAN PRODUCTIONS
SIERRA PACIFIC
LESALON / ROLLO PROD.
TROPHY VIDEO
CLICK HERE TO GO TO HIS FALCON STUDIOS DETAILS
ADVOCATE MEN November 1986
MEN December 2000, June 2002
UNZIPPED May 29, 2000
MEN OF ADVOCATE MEN July 1987, January 1988, May 1989, September 1989
MALE PICTORIAL September 1990
HONCHO September 1983, April 1984, une 1984, August 1997
INCHES January 1988, February 1988
INCHES: MEN OF INCHES #2 "LEGENDARY ENDOWMENT"
MANDATE April 2000, April 1983, August 1983, December 1983
TORSO November 1983, February 1985, July 1986
DRUMMER 056 (Aug 1982)
HEAT July 1988, December 1988
JOCK January 1985, April 1985, March 1986, May 1986, January 1987, February 1988, October 1990
MANSHOTS February 1992, April 1995
NUMBERS June 1997
PLAYGUY v07 n08, v07 n10, August 1985
STALLION August 1984 (v03 n05)
STALLION STUDS #2
STALLION: STALLION'S 50 BEST SPECIAL #4
BODY LANGUAGE
JUST MEN v02 n04, v04 n01
SKIN v06 n01
SKINFLICKS v04 n06, September 1988
STUDFLIX v03 n04
FALCON: FALCONERS #6
FALCON: HIGH VOLTAGE
FALCON: HUGE #1
FALCON: HUGE #2
FALCON: SPOKES
BRUNO GMUNDER: ULTIMATE FALCON
GAY PORN HEROES: 100 MOST FAMOUS PORN STARS
CAMPUS COCKS
HARD RYDER
WILD RYDER
THE BIG PENIS BOOK
ADVOCATE MEN: PIN-UPS
BIG MEN: SIZE MATTERS
MEN MAGAZINE 15TH ANNIVERSARY
MEN MAGAZINE PRESENTS: FALCON 30th ANNIVERSARY
SURGE: A FEW GOOD MEN: GET DOWN AND GIVE ME TEN
SURGE: A FEW GOOD MEN: THE BARRACKS
VIDEO ON-DEMAND: Lee Ryder @ AEBN SMUTJUNKIES THEATER
NOW STREAMING: Lee Ryder @ NAKEDSWORD