SpunkWorthy American Gay Porn Amateur, Landon
Years Active: 2015
SPUNK WORTHY INFO: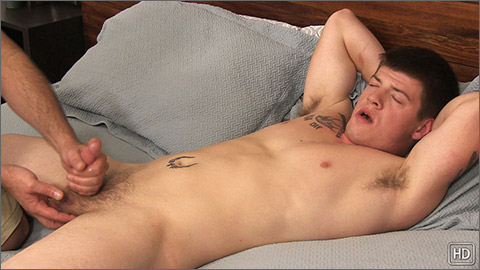 LANDON'S SURPRISE HANDJOB
Landon is a 22 y/o southern boy who a buddy introduced to me. He (Landon) recently got out of the military and wanted to dabble in porn to make some cash before looking for a "real" job.
   Landon is a pocket-sized guy, standing at 5′ 7″, with a a larger-than-life personality and a tight bod that came from years of wrestling in high school. It was interesting to hear that he was actually a little nervous about his first time doing a solo shoot. He'd told a couple people about his new venture in front of the camera, including his dad and another buddy who Landon said was a little jealous about it. His girlfriend, though, does not know and he wasn't sure how she'd react if/when she found out.
   Even with a gf, Landon still finds time to rub a couple out every day, depending on when he gets started: if the first time is early in the day, he'll jack off 3 or 4 times, saying that it just puts him in the mood all day. Being in the military, of course, he's snuck off to bust a nut just about everywhere; once even with a buddy.
   "A close friend of mine," he said with a smirk. "We were sitting around, shooting the shit and talking about porn. One thing lead to another and kinda ended up watching the same flick."
   Once the initial nerves wore off, Landon seemed to get into showing off his dick. He certainly didn't have any trouble keeping it hard. And since he told me he'd never measured it before, there was the opportunity I couldn't possibly pass up to pull out the measuring tape.
   Landon didn't seem to mind at all when I held onto his cock and lubed him up. His gaze drifted back and forth from the porn playing in the background and down to his dick getting stroked. After a few minutes, Landon's eyes squeezed shut and he pressed his head into the pillow. Before I knew it, his cock was spewing cum all over my hand.
CLICK HERE TO GO TO HIS SPUNK WORTHY DETAILS