American GuyBone Gay Porn Dude, Lance Bennett
Known Aliases:
Years Active: 2012 – 2018
GUYBONE INFO:
Ethnicity: Caucasian
Height: 5'8"
Body Type: Slim
Tattoos: No
Dick Size: 6" cut
Body Hair: Average
Facial Hair: Beard
Position: Versatile
Piercings: No
Lance Bennett is a studio guy who we at GuyBone.com were really excited to get to work with. From his adorable boyish charm to his scruffy and playful demeanor, this perfectly fuzzy stud makes quite the addition to our ever-growing roster of GuyBone guys.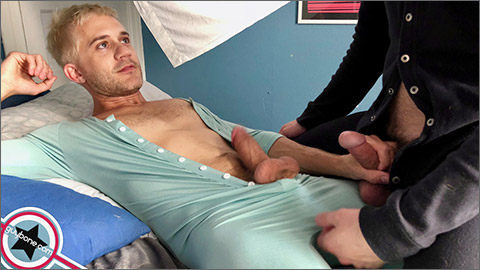 SHERMAN MAUS TOPS LANCE BENNETT RAW
Lance and Sherman are old fuck buddies. They hooked up about five or so years ago and had some of the hottest sex of their lives. Then their paths took them separate ways until GuyBone brought them back together. Cuddled up and cozy in Lance's bed, under a makeshift sheet fort, wearing nothing but thin fabric, boner inducing onesies, the guys watched a homemade video of their previous sexual encounter. Seeing their good ole times play out turned them both on. So much so, this sexy slumber party pair ended up with an extra 5 minutes of footage. That's more fuck for your buck!
   Their hands began to roam. I could see they were both pitching tents inside their onesies. Lance unsnapped the back flap of his dark thermals and climbed on top of Sherman. Sherman's fingers were instantly teasing Lance's furry asshole as the soon to be bottom wiggled on top of his top, showing off that delicious derrière.
   Sherman's cock was bulging beautifully inside his sea foam colored long underwear. Lance sniffed his dick through the cotton and then pulled it out, along with his own, to rub their hardons in the open air. Both guys were so fucking stiff. Their dicks throbbed and ached for each other's touch. Lance started licking Sherman's shaft then slurped his whole rod into his wet and ready mouth.
   Sherman's cock is so fucking big and veiny. His balls are huge and loose. Lance was in heaven sucking his bud. He breathed heavy and moaned, letting the fat cock slide from his lips and snap against Sherman's toned tummy. They rubbed their steely dicks together and then Lance rolled over to let Sherman return the oral favor.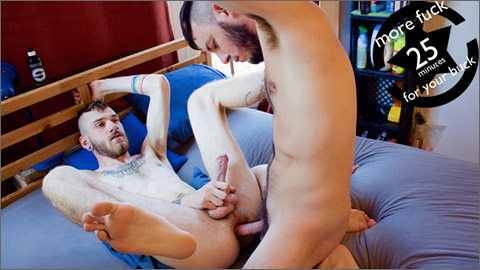 LANCE TOPS SHANE RAW
This scene has been in the making for almost a year now. Sexy Shane knew he wanted his first costar to be furry Lance but we just couldn't make their schedules align. One was always working. The other was always traveling. Finally, we got them together. And let me tell you, it was beyond worth the wait. Their immediate sexual chemistry was through the roof. They wanted each other so badly it hurt. You know, that fantastic aching feeling you get with every erection. Imagine that all over your body, compelling you, driving you to get with someone who turns you on so much. Everything was so sexcellent, they ended up with an extra 5 minutes of footage. That's more fuck for your buck!
   Lance ripped open his jeans and revealed a red hot jock. Shane bent over and nuzzled his bulge, presenting his own jockstrap for Lance to snap. They kissed fiercely, hot breath and scruffy beards rubbing and prickling. Lance's dick was rock hard when Shane released it from his jock. He popped that cock in his mouth and Lance groaned in satisfaction. He began to fuck Shane's soft lips and Shane made love to the erection with his long tongue.
   Lance dropped to his knees as well and the two boys were cock to cock, chest to chest, kissing passionately. Lance slid off Shane's jockstrap and immediately began licking his growing rod. Shane's bush and big low hanging nuts were complimentary of his massive boner. His tall, veiny shaft stood upright and proud above his slim, tatted physique, and Lance worshipped it orally. He made his way to Shane's mouth again for some incredibly sexy kissing, their stiff dicks towering together. They held them side by side, Lance's leaking precum. He pushed Shane up a little to examine his asshole. Furry and tempting as expected. He propped a pillow under his butt and went to work eating that fuzzy hole…