Sexy Brazilian Power Fucker Gay Porn Star, Kyle Fox
Known Aliases: Kyle Foxxx
Years Active: 2021 – 2023
KRISTEN BJORN INFO:
Nationality: Brazil
Height: 6'2
Weight: 184 lbs
Dick: 8" (20.32 cms) uncut
Position: Versatile
Zodiac: Cancer
Description:
Kyle Fox is tall and devilishly handsome man from Brazil, with a muscular body and meaty cock. Kyle is totally versatile, and he can take it as well as he gives it. The only thing that Kyle enjoys more than sex is even more sex!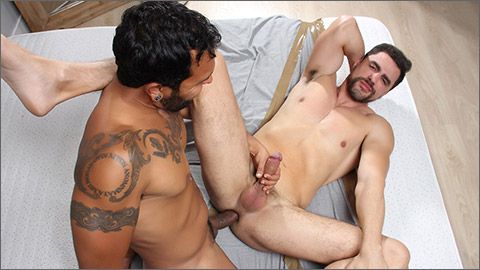 MY NEW NEIGHBOR: KYLE FOX & LUCIO SAINTS
Lucio Saints is faced with the undaunting task of moving into his new apartment and is met on the stairs by his new neighbor, Kyle Fox. Being the good neighbor that he will prove to be, Kyle offers to assist Lucio. Lucio picks up on the vibes of his new neighbor and immediately uses his charm to win him over and out of his pants. All moving comes to a halt when the clothes are discarded and the hefty cocks are set free. Lucio drops to his knees to show Kyle that he will be a true asset living so closely by. Lucio allows Kyle's full cock to fill his mouth and senses with pleasure as he swallows the beefy cock down his throat. The guys swap up and Kyle proves to be a hungry cock sucker and Lucio sees that this will take numerous mores sessions for Kyle to fully hit the base of his cock, just a side perk to living in the same building. Kyle is flipped around and Lucio makes a feast of his beautiful, pink hole before rising up and ramming his massive, throbbing cock deep into his ass. Wanting to show just what a good neighbor he will be, Lucio flips with Kyle as they go back and forth fucking each other. Lucio begins slamming his cock hard inside of Kyle's ass unable to resist or hold back any longer and dumps his hot load onto Kyle's smooth, muscular ass cheek. As the thick globs of cum are rolling off of Kyle's ass, Lucio slips his dripping cock back inside of Kyle to unload the remainder of his cum. Lucio faces Kyle and asks "do you want to fuck me" Kyle throws Lucio onto the mattress and rams his cock, full shaft deep into Lucio and immediately begins fucking him. Obviously enjoying the pleasure that is being pumped into his ass, Lucio encourages Kyle to fuck him deep and hard. A surprise flip and Kyle finds himself on his back and Lucio mounting him from above fucking him with his fat, swollen cock. Kyle grabs his cock with both hands and begins stroking it as Lucio asks him "do you want it" just before blowing his second load of cum all over Kyle's smooth balls and ass. Kyle rises to his knees and strokes out his hot load of cum all over Lucio's abs and cock. The bond between neighbors has been made.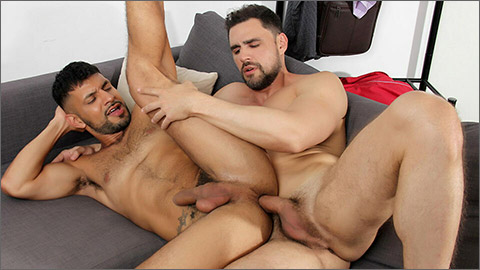 BREAKING THE ICE
As Kyle Fox is at home playing a game on his cell Oskar Ivan returns home and is frustrated, he cannot get Kyle's attention. Oskar strips down and returns to the living room with a rainbow-colored ice treat, that he uses to capture Kyle's attention as he works his lips up and down the frozen treat. Kyle can see Oskar's talents being wasted on the ice treat and decides to replace it with his huge cock. Oskar gets what he wanted when he first walked in the door, to suck on that magnificent cock of Kyle's…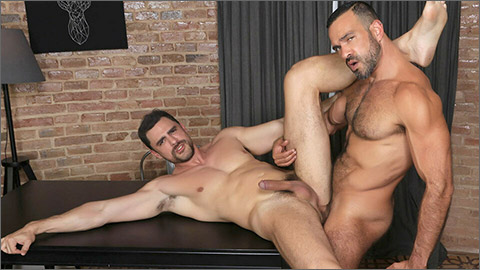 KRISTEN BJORN'S CASTING COUCH #454: NICHOLAS BARDEM FUCKS KYLE FOX
The sultry Kyle Fox is inducted into the Kristen Bjorn Society of Select Men by the incessantly handsome Nicholas Bardem. Nicholas walks up to Kyle with only his jeans on and begins working his hot mouth across Kyle's lips, bearded cheeks, smooth neck and down his long, muscular torso until he reaches the prize that he is after. Kyle's jeans are undone and his semi-hard cock jumps out demanding attention. Nicholas is right there to catch as it falls out and into his awaiting, hungry mouth. Working his mouth up and down the ever-growing cock shaft, Nicholas can feel the head of Kyle's cock jabbing at the back of his throat as it gains full strength. Nicholas' expert cock sucking skills has brought Kyle's lengthy cock to full attention and his heavy ball sac is full and fat. Stepping up and onto the table, Nicholas' thick cock is released and Kyle leans in to suck the fat cock demanding his attention. Nicholas presses his sneaker on Kyle's throbbing cock as Kyle presses it down even harder, stroking his cock between the sole of Nicolas' shoe and the hard table. Kyle gets a good face fucking before he flips Nicholas around and slips his vibrant cock deep into Nicholas' hairy ass. As Kyle slams his cock in and out of Nicholas' ass, Nicholas' cock remains steadfast and firm. Kyle realizes that he has fucked with such intensity that he has to back off before those fat balls explode. Nicholas flips him and begins eating his smooth ass, giving him a wet tongue fucking before ramming his thick cock into his slippery ass. Nicholas finds that it isn't wet enough for him and pulls out and begins tongue fucking again. Once Nicholas has had his fill of tongue fucking, he slips his cock back in and begins a hard fucking. Kyle's ass proves to be really sweet for Nicholas as he blows his load all over Kyle's bearded chin and Kyle laps the last of his load. With the hot cum lingering on his tongue, Kyle begins shooting his hot load and Nicholas drops to his knees and catches every drop on his hungry tongue. Welcome to the Society Kyle.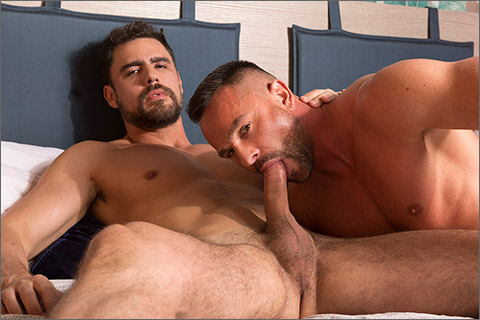 FIRST-RATE DEBUT
This week let us introduce you Tonyx, a sexy French newcomer with a strong muscular body and a big ass that deserves to be treated properly hard! He makes a perfect couple with Brazilian stud Kyle Fox, that fucks him rough and bare with his always-hard cock and lets his face dripping with cum for a first-rate porno debut!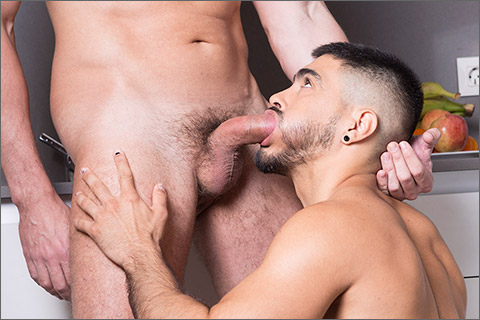 BANGED RAW
Kyle Fox is lucky enough to find his flatmate Valentino Sistor naked in the kitchen, cutting fruits but eager to taste something harder and with meat flavor. The Brazilian catches the hint and in a while he sends Valentino down on his knees, to lick and suck some inch of juicy dick. In front of that sexy butt Fox returns the favor and sticks his tongue deep in the horny hole till Valentino begs to get fucked. The boys move to the sofa and Kyle pleases him with a bareback ride that leaves his ass well banged and covered in cum!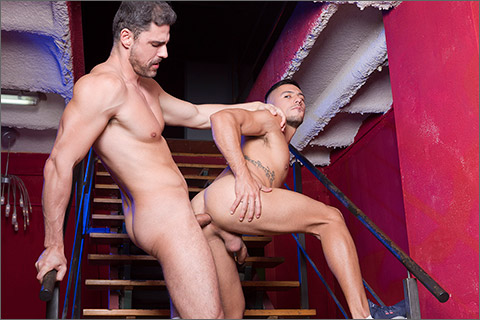 HARD PLAY AT BOYBERRY
This week we introduce you two hot new additions to the roster of Fuckermate. The first one, Kyle Fox from Brazil, loves to show off in front of the cameras how well he can use his always-hard dick and we invited him to Boyberry, our favourite cruising place in Barcelona. Kyle goes down to the basement to wait for his surprise and shortly thereafter he meets the gorgeous Argentinian newcomer Thiago Da Silva, very ready and well horny for his porno debut. Chemistry between them is perfect: these two guys together makes one hell of a sex couple! When Kyle realizes that Thiago's ass is in need of a hard pounding, he raw fucks him no-stop until make him discharge his semen onto his abs and then open the mouth to drink all the cumload he deserves!
CLICK HERE TO GO TO HIS KRISTEN BJORN DETAILS
VIDEO ON-DEMAND: Kyle Fox @ AEBN SMUTJUNKIES THEATER
NOW STREAMING: Kyle Fox @ NAKEDSWORD