Big Dicked Corbin Fisher College Guy, Kyle
Years Active: 2015 – 2016
CORBIN FISHER INFO:
Age: 22
Waist: 31
Eyes: Green
Height: 6'3″
Weight: 160 lbs
Hair: Brown
Build: Swimmer
Cock: 8.5″ cut
Shoe: 11.5
Kyle is a bit nervous when he arrives but as he starts to grow more comfortable, we get to see a bit of his personality and a lot of his body!
   Harper points out his light eyes, but it's his smile is what wins me over. Kyles shares some stories, including some with his friend and roommate, CF freshman Jasper!
   I'll admit I'm always a bit skeptical when someone says they have a friend that would be perfect for us. After all, not everyone is cut out to be on camera, but when Jasper sent me a photo of his friend's big cock — I couldn't get him on a plane fast enough! Kyle wraps both his hands around his thick, long shaft to jerk himself off. Laying on the bed he thrusts up into himself. Kyle closes his eyes as he gets ready to burst- then his load comes gushing out, thick and white!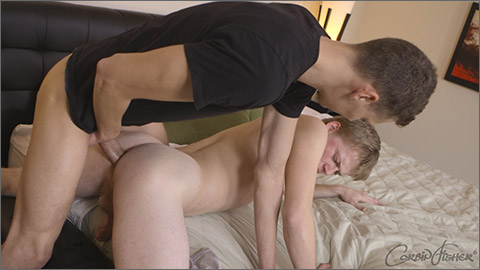 KYLE DICKS HENRY
While Henry is fairly new to CF, he's shown himself to be a total champ when it comes to getting in to action on camera for us. He's incredibly sexual, loves to feel good, and has really taken to bottoming. So, despite his being so new to guy/guy action, we figured he was primed to take on fellow newcomer Kyle's massive dick!
   Right away, these two young studs show us we're in for quite the treat. Henry wastes no time wrapping his lips around Kyle's big dick, and the image of Henry's youthful face bobbing up and down on all of Kyle's rock-hard inches is definitely a hot one. As Henry opens his mouth wide so he can to suck on as much of Kyle's cock as possible, you have to wonder if he was thinking to himself, "How is this going to fit and feel in my ass?!".
   Henry discovers the answers to those questions pretty soon, after bending over the bed and bracing himself while Kyle starts to slide his dick in to him. Fists clenched and moaning loudly, Henry strokes his own impressive dick while Kyle works inch after inch in to him. After getting fucked hard and long, Henry ends up shooting such a big load, he nails his own face with his cum. After that, Kyle adds his load to the mix, leaving Henry totally drenched.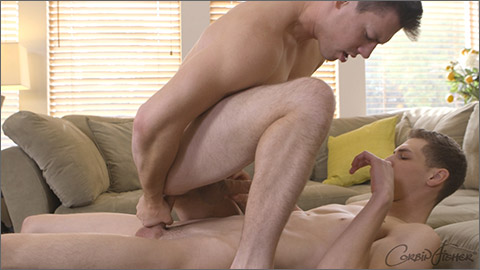 KYLE CREAMPIES KELLAN
Kellan takes his time licking and kissing Kyle's body. He pulls off his underwear and massages his cock with his hands and mouth. He works that big dick hard so he can get what he needs. Even when Kyle is ready to suck Kellan's dick- Kellan's not done with his! He pushes him down so that they can 69- Kellan doesn't want to let go of that cock for a second!
   Kellan is quick to jump on Kyle's boner, he's been wanting to get fucked all day and it's obvious by his face and moans that Kyle's cock is getting the job done.
   Kyle's thrusting intensifies and it looks like Kellan could cum at any second! Kellan gets on all fours and Kyle shoves his dick inside his ass. Kellan screams out "Yes!" and Kyle pounds him. I'm surprised how long Kellan is able to hold off- but not at all at the bucket load of jizz that comes gushing out when he does! Immediately after seeing that, Kyle can't hold his orgasm any longer, but he doesn't pull out- Kellan's ass feels too good! He shoots his whole load in Kellan's hole!