Handsome Young Jamaican CockyBoys Gay Porn Star, Kris Karr
Years Active: 2016
TWITTER @kriskarrxxx
COCKYBOYS INFO:
Meet our newest CockyBoy, Kris Karr! Kris was born and raised in Jamaica but moved to New York for the opportunities. As he says of New York himself, "there's always something going on." Being a young and hot fresh face, it didn't take Kris long to find those opportunities in the Big Apple. He has an intense yet curious face with the type of masculine jaw line ready-made for high fashion, and his sexual open-mindedness led him to the adult film industry. With a body like his, it's no wonder he wanted to go all the way right from the get-go. He's naturally submissive and mostly a bottom, with a beautiful ass prime for the taking and a long, uncut cock. CockyBoys is the first time Kris has ever shot porn, and we're glad to have him on board!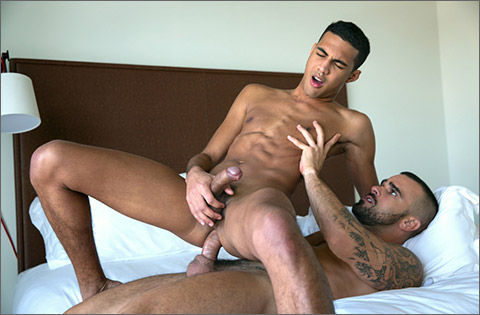 NEWCOMER KRIS KARR & DAMIEN CROSSE
Kris Karr is a young New Yorker originally from Jamaica and he decided to join the Cockyboys team to live out some fantasies. We paired him up with Damien Crosse since he's pretty much everyone's fantasy and told Kris he can pick any fantasy he wants. He told us how one time he met this stranger by the water and how he followed him to his hotel room and had one of the best sexual encounters of his life so of course he wanted to relive the fantasy of having a complete stranger take control of him. Damien was the perfect match for that since he's a big, strong, passionate top and he gave Kris not only the thrill of being dominated but also a lot of passionate moments that Kris is sure to remember for a long time.
   Kris really didn't know what he was getting himself into when he walked into that hotel room but he knew he was in for a good time. Damien slowly starts to undress him before spitting in his mouth and forcing him down on his big cock. After lots of gagging and spitting, Kris is finally ready to have his ass owned. Damien puts him on the bed and dives right in between Kris' smooth asscheeks as he spreads them apart to expose Kris' hungry hole. Without any further delay, Damien begins to ram his monster cock into Kris' tight hole and the sounds and facial expressions that Kris makes clearly show he's having a moment of pure bliss. With 8 inches of big thick cockmeat shoved balls deep up his ass – repeatedly – it's only understandable. After riding Damien's cock for a while Kris is overwhelmed by the sensation so he gets up off the bed to take a moment and recover but what he really wants is to have Damien fuck him by the window for all of NYC to watch. After a while – it's back to riding Damien on the bed and boy does he ride him! He shoots a massive load down Damien's throat followed by Damien covering his chest with his load. Talk about a sex fantasy!