Hung Uncut Scandanavian Gay Porn Star, Kevin Falk
Known Aliases: Danny (Dirty Tony), Danny Hart, K-Fed, Jim Jupiter, Memphis Blake
Years Active: 2008 – 2010
PERFECTGUYZ INFO:
Name: Kevin
Age: 25
Zodiac: Leo
Eye Color: Blue
Hair Color: Brown
Height: 6′ 4″
Weight: 220lb
Waist: 34″
Chest: 48″
Shoe Size: 12
Cock: 8″ uncut & thick
Physique: Athletic
Biography:
Men of European decent are so incredibly beautiful. They are typically tall handsome men from a lineage of men that relish their physical glory. PerfectGuyz Kevin fits the description perfectly. Kevin is a stunning man with a 6'4" 220lb frame; his face with its high cheekbones, brazen blue eyes and pronounced features characterizes his European ancestry. And, Kevin's muscled body is absolutely spectacular. His pectoral muscles are massive and are flanked by powerful biceps and triceps. Below the belt, PerfectGuyz Kevin has an impressive package. He has 8 inches of drooling uncut cock – perfectly proportioned in length and girth and when fully hard, curves slightly upward. Kevin was consumed with blissful passion as he stroked his tool. The engorged cock dripped pre-cum and then unloaded in spurt after pent up spurt of cum. He was spent…and so were we. Enjoy Kevin in his premiere PerfectGuyz presentation.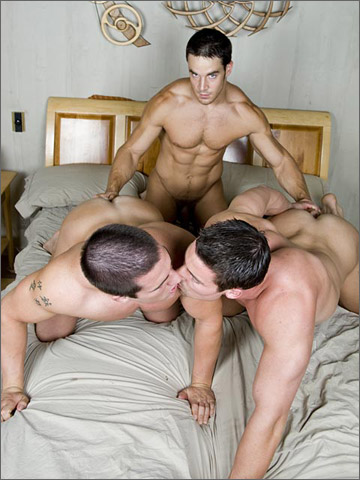 BRADEN BRADEN & CHRIS ROCKWAY & KEVIN FALK FLIP-FUCK
It's been a while since we've had Braden Charron on the site. It was great to see him and he's looking better than ever. He's trimmed down some of that bodybuilder bulk he used to sport and now has a more streamlined body with all the gorgeous muscles still intact. I wanted to do something really special since he's worked so hard to look that good for us. I figured I'd give him the best of both worlds, someone he knows and has worked with before, and someone new. Chris Rockway has worked with Braden before in the All Star Circle Jerk, and a hot three-way with Alex Eden. I knew he'd be perfect. But of all the new guys, who would I pick that would be a good match for Braden and Chris. How about our newest powerhouse, Kevin Falk. Kevin has been growing by leaps and bounds since he started at Randy Blue. Talk about zero to sixty, he went from his solo video to ravenous cock monster in a handful of videos and in his recent appearance on RBL, Tyler didn't know what hit him. Kevin sends out a sexual vibe that few men can resist. And once he gets it in his mind that he wants something, most guys are more than happy to give it up. Now I have a little confession to make. When I choose the guys that go together in the videos I really try to pick them according to what I think you guys will like, however, this time I did it out of my own curiosity. And maybe because the idea of Braden Charron, Chris Rockway and Kevin Falk together in a hotter than hot three-way gets me… well, a little hot. The end result? It was something beyond anything I could have imagined. These three guys got so into it, fucking, sucking, flipping, taking turns. It was wild. And I got it all on video just for you, and well, maybe for me too. My favorite part comes at the end… literally. Braden shoots his load then looks over as Kevin covers his own chest in thick creamy goo. Then Chris has to share his load leaving Kevin practically swimming in cum. Now that's a hot scene.
VIDEO ON-DEMAND: Randy Blue @ AEBN SMUTJUNKIES THEATER