British Hot House Gay Porn Star Power Bottom & Dildo Fisting Expert, Kent North
Known Aliases:
Years Active: 2005 – 2007
UNZIPPED – July 2005:
British babe Kent North was born in Canterbury, in the southeast of England, and currently calls London home. But judging from his red-hot performance in Hot House's THE HARD WAY, we're guessing it won't be long before he's a household name in gay ghettos across America. Kent generally prefers to bottom on-screen—such as in Club Inferno's fisting flick HANDPACKED 3: JAMPACKED — but as relayed in his story below, he's much more versatile in his personal life.
   Describe the most memorable sexual encounter you've ever had.
"One time my boyfriend and I were playing at home, and we invited this really sexy and completely sleazy guy to join us. We all had a great time, and I don't think there was much that we didn't get into!
   The following morning my boyfriend and I were due to catch a plane to the U.S., but we decided we wanted more. So we showered and took our friend with us to the airport, where we carried on in the disabled toilet at the terminal! There was a small grill in the bottom of the door, and the oddest bit was being on the floor watching a thousand passengers pass right by us just outside! We actually got caught by an airport worker, but he was cute and joined in too.
   After we had gone through security we still wanted some more, so we carried on in the showers in the lounge. What a blast!"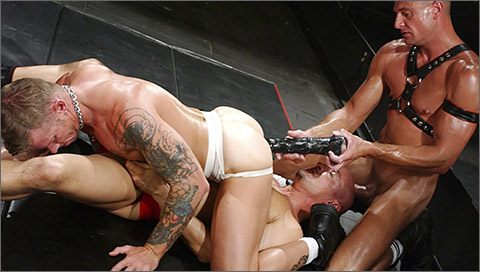 TWISTED: Kent North, Rik Jammer, Chris Neal fuck, fist and dildo-fuck each other and themselves
Kent North and Rik Jammer battle to get all of Chris Neal's giant tattooed cock in their mouths; the three continue to warm-up with a rim and suck feast, spreading the saliva thick on their cocks and assholes. Later, Neal chokes on North's fat meat as Neal takes a notched 14-inch black dildo up his ass to the base. The toys start to get bigger as North and Neal mount two 20-inchers, cramming every bit of it in their deep holes, assisted by Jammer. North moves onto an enormous orange pylon, stretching his hole out to the size of a small watermelon. Then the three powerbottoms begins to fist the lights out of each other. Jammer's up first in a sling where his hole awaits a tag team excavation by North and Neal. Then Neal's on all fours getting split by Jammer and North's one-two punch, his huge rock hard dick dangling between his legs. The scene ends with North in the sling, his well-worn hole pushed out as the cum starts to fly.
HOT HOUSE
HOT HOUSE CLUB INFERNO
ALPHAMALES / ALPHA MALE MEDIA
VIDEO ON-DEMAND: Kent North @ AEBN SMUTJUNKIES THEATER
DVDs & ON-DEMAND: Kent North @ TLA VIDEO