Cute Blond William Higgins Czech Gay Porn Star, Karel Omanak / Richard Hicks
Known Aliases / aka:
Years Active: 2017 – 2018
WILLIAM HIGGINS INFO:
Model Name: Karel Omanak
Age: 18
Home Town: Brno
Height: 162cm/5'3″
Weight: 60kg/132lb
Foot Size: EU38/US7.7/UK7.2
Penis Size: 15cm/5.91″
Profession/Student of: High school
Hobbies: Sport
Favorite Sports: Fitness
Active Sports: Soccer
Movie/Music/Sport Stars: Usher
Visited Countries: USA
Want to Visit Countries: Australia
Dream of My Life: I do not know.
Zodiac Sign: Aries (March 21 – April 19)
BOY FUN INFO:
Nationality: Czech Republic
Date of Birth: 1998
Height: 160 cm / 5'3
Weight: 66 kg / 146 lbs
Dick Size: 7″ uncut
Role: Bottom
Orientation: Bisexual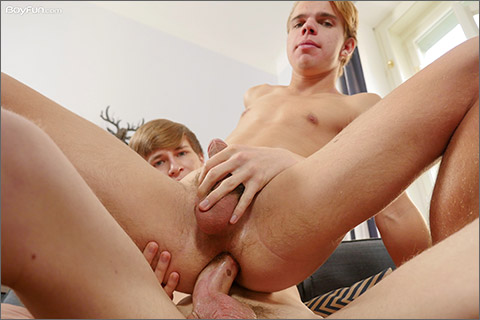 AMERICAN BOY'S EURO TOY
Richard Hicks arrives in town looking for some fun, and he doesn't have to look too far at all before spying young teen twink Gabe Isaac hanging out with a friend. All it takes is a little eye contact and Gabe is following the arrival to have some BoyFun. It's a perfect partnership, Richard loves tight boys with big uncut cocks, and although he doesn't know it when they start making out Gabe has one of the biggest boners in town! As clothes come off and hands grope for stiff young inches the two fall onto the couch, Gabe quickly seeking out the delicious dick standing to attention between handsome Richard's legs. He works the length with greedy passion, showing off his oral skills for his new friend, his own awesome cock growing in his pants. The moment Richard gets the chance he's heading down for a taste, experiencing the immense manhood Gabe possesses. Truly, it's one of the longest and thickest cocks anyone has ever seen on a slight young man like him, but Richard can handle it. The boys swap back and forth, greedily gorging on each other until gorgeous Richard is demanding that big bare boner up his hole. Taken from behind, spooned on his side and riding his new friend Richard takes every inch of that incredible bareback teen dick inside him, his moans of ecstasy only encouraging young Gabe to go deeper. As the cum floods from his cock Gabe releases his own dick from the boy's hole, wanking himself off until his huge meat is splashing cream all over the place!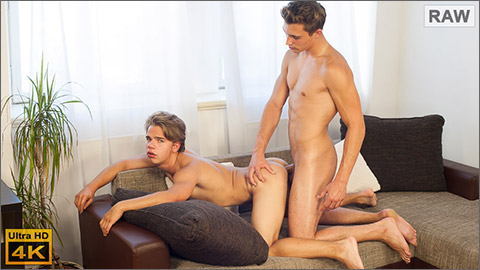 CHERRY BUSTING: KAREL OMANAK & MARTIN POLNAK
Karel Omanak's cherry is getting busted today, by Martin Polnak. As they sit and chat they move closer together and begin kissing. Martin soon as Karel bare-chested as they kiss. Martin's tee shirt comes off too and he begins to open Karel's jeans. With the jeans removed Martin pulls Karel's stiff cock out of his underwear and begins to suck on it. Karel removes the underwear and goes onto his knees to feed his cock into Martin's hot mouth. Martin sucks that rock hard cock as Karel clearly enjoys the action. Then Martin's shorts come off to expose his big, stiff, dick too. Karel quickly grabs it and shows that he is up for sucking too. His mouth works all over Martin's cock and then it is time for Karel's ass to feel a cock in it for the very first time. Laying on his back with his legs up he is ready and Martin's cock slides into the tight, waiting, hole. Martin fucks Karel's tight hole deep and hard. As that dick fucks his tight hole Karel grabs his own cock and wanks it. The fucking of his ass and the wanking of his cock brings Karel to a big, creamy, climax as he dumps his hot cum. Then he turns onto his knees for Martin to fuck him some more. His big dick really stretches Karel's hot hole as it goes in deep. The fucking soon has Martin right on the edge and he pulls out to shoot his hot cum over Karel's sexy ass. Then, having milked his cock dry he leans forward and kisses Karel one more time.

HOT ASS: KAREL OMANAK
Karel Omanak is a very hot guy. He looks so good, with his hot body as he sits on the edge of the bed groping himself through is underwear. His cock is rock hard in the underwear. He removes the underwear and wanks on his stiff dick, making his balls bounce too. Then Karel kneels on the floor, back to camera, to show off his hot ass. He reaches back to rub that ass and is soon joined by a helping hand. The hands rub the ass, pulling the cheeks apart to expose the tight hole. That hairy hole looks so good with the balls dangling below. The hands drip oil onto Karel's ass and rub it over his hole. A finger teases his hole and soon slips inside. The finger goes in easily and starts to fuck that hot hole. It goes all the way into the ass as the other hand reaches under to wank on Karel's throbbing cock. With the hole loosened two fingers slide deep inside and gently fuck it. Karel turns over, onto his back and raises his legs to received the fingers into his hole again. His cock stays rock hard and is wanked as the fingers work his hole. Then a vibrator appears and is shoved into the hole, fucking it deep and hard. That hot hole gets fucked hard as Karel's cock continues to be wanked. He takes over the wanking himself as the vibrator keeps fucking deep into his ass. Soon Karel shoots his hot cum all over his left thigh as the toy is still fucking his tight ass.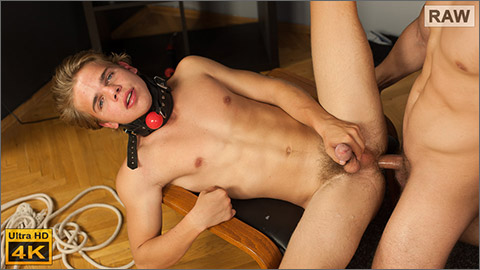 RAUNCHY: KAREL OMANAK & TOMAS FUK
Karel Omanak is one sexy guy and his ass gets a good pounding by Tomas Fuk in this raunchy duo. Karel is hooded and tied in a chair at the start. He is trying to release himself, but to no avail. Tomas watches from the doorway, enjoying Karel't travails. Then he walks into the room and begins to feel Karel's chest. Tomas slaps on Karel's chest and reaches down to his groin. He grabs at the cock and balls and Karel's dick gets hard very quickly. Then Tomas uses his whip on that sexy body. Tomas has a number of toys available and uses one to give little shocks on Karel's chest and nipples. Karel writhes around, moaning, as he feels what is happening. Then his gag is removed a Tomas pulls out his stiff cock. That cock is pushed into Karel's mouth for sucking. That sexy mouth gets a good taste of cock as Tomas fucks it with his throbbing dick. Then he unties Karel and stands behind his sexy ass, to slide his dick deep inside. He fucks that tight little hole so deep and very hard, pulling Karel's head back by the hair. Tomas' cock really pounds that ass, banging it as hard as he can. He turns Karel onto his back and continues to fuck him deep and hard. Karel wanks himself as he takes as much dick as he can get. He keeps wanking his cock and soon shoots his cum all over his thigh as Tomas keeps banging away at his ass. Then Tomas pulls out and shoots his creamy load onto Karel's thigh too.
BOY FUN
WILLIAM HIGGINS
STR8HELL
BADPUPPY
RICHARD HICKS BOY FUN PROFILE
CLICK HERE TO GO TO HIS WILLIAM HIGGINS BIO PAGE
CLICK HERE TO GO TO HIS STR8HELL BIO PAGE