ChaosMen Amateur Gay Porn Guy, Justis
Known Aliases:
Years Active: 2016
BRIAN OCKERT / CHAOS MEN INFO:
Start Age: 21
Debuted: August 15, 2016
Height: 6'1″
Weight: 170 lbs
Cock: 7″ Cut
Justis has a great smile, and with his blond hair and calm attitude, he is super friendly and easy to chat with.
   He says he is 6'1″ but I'd swear he was taller. Regardless, for a lean guy, he has a lot of presence.
   Justis identifies as straight, and said he had not done anything with a dude at all. But he said he was down to swap oral, and would even try fucking or getting fucked. Like you all, that confuses me, and I wonder what is going on in his head.
   You can tell he is calm and a chill type of guy, so maybe he just has a very relaxed attitude about trying new things. Or maybe this is his way of experimenting without committing to a team?
   Anyway, I love his dark blond hair, blue/gray eyes, and amazing smile. He also has a big piss slit that constantly drips precum. His ass his furry and nearly perfect!
   Stay tuned next week to check out his cock-sucking skills!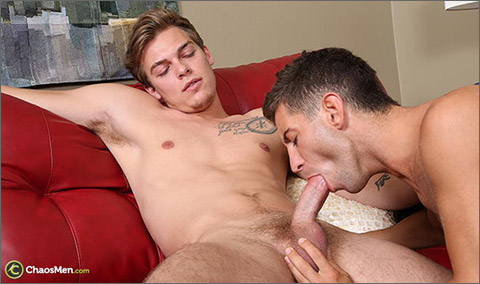 SERVICED: JUSTIS & SEAN PEYTON
Justis really dives in to this video!
   Sean starts by playing with his cock through his shorts, but Justis is hard and ready to go. He looks around uncomfortably, not really sure where to look, but VERY turned on.
   Despite Justis saying he is straight, I am going to toss him in the 'bi, at least' category for now. He was very comfortable, and shaking with excitement, very much like we all did during our own first times.
   I know 'first time' videos are dubious, but he swears he has never done anything with a guy, so perhaps he has been saving-up for a situation where it would be "just a job."
   Regardless, Sean works his cock like a pro. He gets him on the couch to really attack his dick with his mouth.
   Sean stands up to give Justis access to his cock. Justis tries sucking dick for the first time. He goes at it with gusto. There is a glimmer of skill, but it does seem like he is still learning the ropes. He sucks on Sean while stroking his own cock, enjoying having a cock in his mouth and trying to please Sean.
   Then Justis gets his ass rimmed, and he sure does pop that ass of his out for the licking. Future bottom? He does look a little uncomfortable at first, but he eases into it, and his cock definitely liked the extra attention.
   Justis then fucks his face, trying to get close. I think the angle was a bit too hard to navigate, so he stands upright and jerks his cock until he sprays all over Sean's face.
   Sean stands up quickly and busts his own load all over Justis's spent cock.
   Not wanting to leave a mess, Sean gets on his knees and cleans all that delicious cum off!
   Justis said he had a great time, and is excited to try more, so I will definitely try to get him back in!
CLICK HERE TO GO TO HIS CHAOSMEN BIO PAGE