Handsome Tattooed Black Gay Porn Star, Juan Carlos
Known Aliases / aka:
Years Active: 2017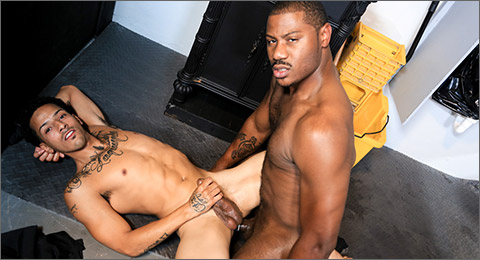 BIG DICK NEEDS RELEASE
Juan is finishing up his custodial duties at his work when Adonis comes rushing into the bathroom area. Juan tries to stop and tell him that the toilet doesn't work but Adonis needs to release his big dick. Juan takes a step back and waits for Adonis to finish peeing in the stall but when he notices Adonis' feet are not facing the toilet anymore. Juan is trying to get Adonis's attention but he doesn't reply back, Juan sees a big hard cock slowly poke through the glory hole. Juan can't believe his eyes and begins to stroke the thick piece of meat. Soon enough Juan is on his knees worshiping Adonis's big black cock. Juan takes every inch of the throbbing dick into his mouth. Adonis fully hard comes out of the stall and pushes Juan down to his knees for some more cock worshiping. Adonis loves his little cock sucker as Juan begs for it in his ass. Adonis lies on his back and Juan slowly slides down the big thick cock until he's resting on his balls. Juan begins to ride that big fucking dick like a pro making use of every single inch. Adonis flips him on his back where he fucks the cum out of Juan's tight little ass. Adonis' thick meat fills Juan's little hole up as Juan nuts all over himself almost getting it in his eye. Adonis stands stall above Juan and blasts his nut down on to his chest.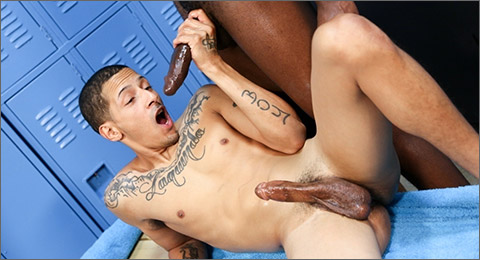 BIG WET COCK
Corey enters the locker room, undresses revealing his ample soft cock hanging between his legs and starts showering. Believing he is all alone, he starts stroking his cock and it grows to a full 9 inches as he enjoys himself. Juan Carlos enters the shower area and is amazed by what he sees. He continues to watch Corey stroke his beautifully thick and very long hard cock. Corey is oblivious that Juan is staring at him play with is huge dick. Juan is extremely turned on by not only the dick on Corey but also the height. Juan pulls his cock out and begins stroking his own throbbing dick. Juan is licking his lips and then Corey notices him stroking on his dick and invites him to get down on his knees and worship his fat dick. Juan doesn't hesitate one bit and drops to his knees as he tries his best to deep throat Corey's gigantic dick, but it is too big. After sucking on that juicy dick for a while, he rides Corey's cock and does his best to take all of it deep in his ass. He slowly gets all the girth in deep and once he does Corey starts to thrust up into him. Corey then bends him over and spreads his legs wide to open his tight hole some more and he pushes his sexy dick balls deep into Juan and starts to fuck him long and deep in doggie style and then he flips him on his back and fucks the cum out of him. He then shoots his load all over Juan's face and chest.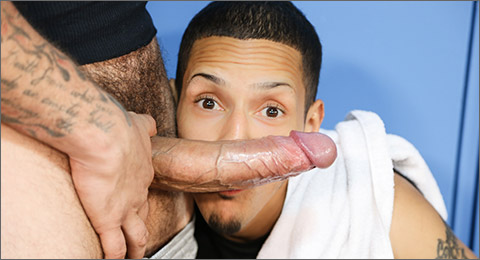 THAT'S A MONSTER COCK
Juan Carlos has followed Van back into the locker room and he is obviously staring at the large bulge in Van's shorts. Van notices and asks what he is staring at. Juan Carlos asks what the fuck do you have in there and with that Van whips out his massive cock. Juan is shocked by the size, but cannot help but grab it and start stroking it. He can't believe how great the thickness of Vans shaft feels in his hands. He then drops to his knees and tries his best to suck his cock deep. He can barely get half of it in his mouth because of the massive thick size. He tells Van, 'Dude that is one Monster Cock'! Van lies down on the bench as Juan continues sucking and gagging on his thick meaty cock. Van tells Juan to show him his ass and he starts to finger his hole spitting on it as he gets it ready for his huge cock. He tells Juan to sit on it first and Juan struggles as he lowers himself down on Van's monster shaft. It takes a while, but he is able to get about half of it inside him as he grinds on it. Van bends him over Doggy Style and continues to fuck him encouraging him to take more of the length with each thrust. He flips him on his back and fucks Juan deeper until he cannot hold back and he pulls out and shoots a big load all over Juan. Juan continues to milk the cock in amazement that it was just in his ass as the camera zooms in and we see Juan take a little taste of Van's cum.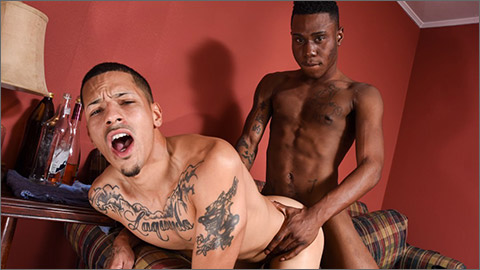 JUAN CARLOS & NIKKO
One of our favorite dudes Nikko is back and this time with hottie Juan Carlos for some hardcore business. We start off easy enough, with Juan going down on Nikko's huge cock, followed by Nikko eating Juan's hot ass out before shoving his meaty piece deep inside Juan.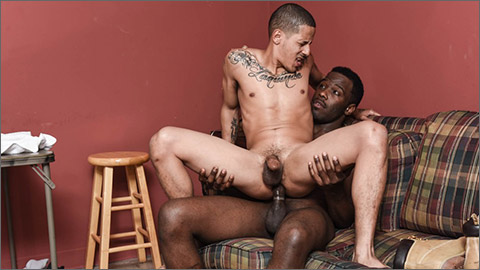 ASTON LONG & JUAN CARLOS
Aston Long and Juan Carlos fuck "Reality Thugs Style"! Picking up ladies at bars might be easy for them, but will an ass penetration be equally easy? Lubricant's on the table for a reason.
PRIDE STUDIOS
GIO CARUSO'S BAIT BUDDIES
REALITY DUDES NETWORK
CLICK HERE TO GO TO HIS PRIDE STUDIOS DETAILS