British Gay Porn Star, Josh Moore / Josh Rider
Years Active: 2016 – 2022
LUCAS ENTERTAINMENT INFO:
Height: 6′
Weight: 180 lbs
Dick Size: 9″
Position: Versatile
Lucas Entertainment new exclusive star Josh Rider hails from the seaside town of Dover, England, where he was born and raised. Josh has always been a performer with an edge: "[I've always] liked showing off my body; I've never been shy with my body." With that said, making a move to perform in the adult industry was a natural next step: "I have always loved the camera, and it's something I've always wanted to get into." Josh is a fitness instructor by trade, and when you look at his killer physique that's apparent. Muscles, hairy chests, and tall men turn josh on… as does gagging on a big cock and swallowing a warm load straight from the tap. When asked what his favorite position in bed is, Josh Rider had a funny response: I love good, old-fashioned missionary; does that make me boring?" Not at all, Josh — it's not what the position is, but how you work it. And we know you're going to work the hell out of it!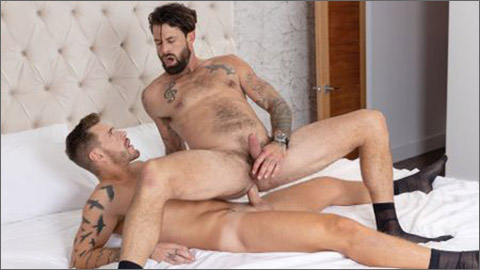 POWER PLAY: Josh Moore fucks Alpha Wolfe
When Alpha Wolfe realizes that businessman Josh Moore isn't going to sign off on some important documents and close the deal, he decides that the only way to complete this transaction is by wrapping his mouth around Josh's uncut cock. The aggressive billionaire approves of Alpha's tactics and proceeds to thrust all nine of his inches into Alpha's desperate mouth before using his tongue to service his furry hole. With Alpha prepped and wet, Josh slides in and fills up the stud's juicy ass. The overpowering sounds of Josh's body rapidly barebacking Alpha's backside drown out the hairy bottom's loud and constant moaning. His screams only stop after busting all over the bed and laying down for the billionaire to nut all over Alpha's bushy beard.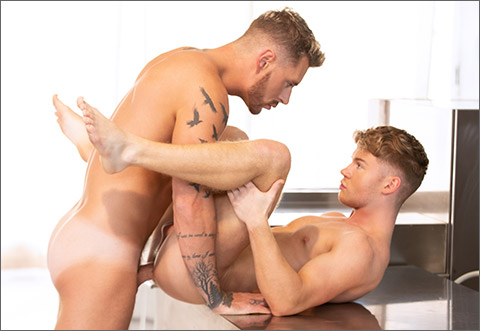 THE WEEKEND
Josh Moore and Dean Young are enjoying their weekend getaway at a stunning flat outside of the city. After spending some time relaxing, the two handsome studs can't keep their hands off each other. As the clothes shed, Dean gets on his knees to expertly deepthroat Josh's huge uncut cock. After devouring Josh's massive meat, Dean wants it in his ass, so he bends over and gives Josh easy access to dive in tongue first. Josh takes his time savoring Dean's perfect bubble butt and loosening up his tight hole. Fully prepped and eager to get plowed, Dean's hole eagerly anticipates Josh's thick pole. Without hesitation, Josh stuffs it balls deep into Dean's ass. Between switching positions up, Dean deepthroats the cock that was just inside him before hopping on top and sinking down on Josh's dick. Josh takes control of his insatiable bottom again and relentlessly pounds a load out of him that covers Dean's abs. With Dean covered in his own cum, Josh strokes out a thick load that lands directly in Dean's mouth.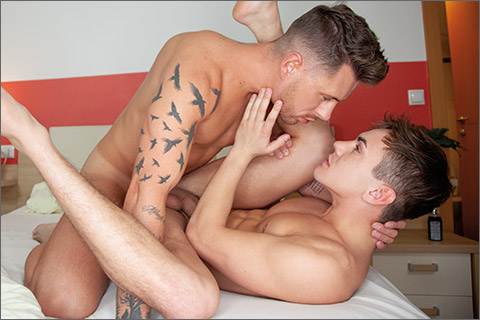 THE CHALET: Josh Moore fucks Jim Durden
After a day skiing on the mountain, Falcon Exclusive Josh Moore heads back to his room. As he finishes taking off his clothes, he hears a knock at the door. Josh answers the door naked and finds BelAmi Exclusive Jim Durden from room service there to deliver a beer. Impressed by Josh's cock, Jim lets himself in and strips down before giving Josh a sopping wet hummer. From the tip down to the balls, Jim doesn't waste an inch when it comes to savoring Josh's cock down his throat. Impressed by Jim's cock sucking skills, Josh throws Jim on the bed, where Jim keeps professing his need to choke on Josh's uncut rod. To prep Jim for what's to come, Josh flips Jim around to give his hole a deep tongue-bath. Unable to resist any longer, Jim climbs on top of Josh and slides down on Josh's raw cock. Jim takes a bareback drilling from Josh's huge uncut fuck-stick in multiple positions before blowing his load all over his abs. The steamy session finishes with Jim gulping up Josh's cum that's shot directly in his mouth.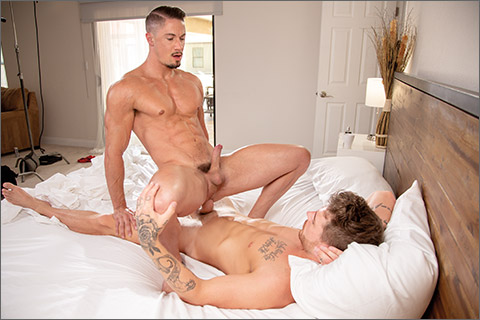 CASUAL CONNECTIONS: Josh Moore fucks Skyy Knox
Josh Moore is lying asleep on the bed when he wakes up to find Skyy Knox waiting for him with a fresh cup of coffee. After a quick sip, Skyy gets to work putting Josh's morning wood to good use. Skyy finds what he's looking for under the sheets and swallows every uncut inch of Josh's massive throbbing rod. After Skyy gets Josh nice and hard, he bends over to let Josh get his hole nice and wet. Using Josh's spit as lube, Skyy is ready and eager to take Josh's uncut, raw dick. He gets on his back to hold his legs back while Josh slides his bare cock in deep. After taking a bareback pounding in missionary, Josh flips Skyy over on his stomach to drill him hard doggy style. Skyy can't get enough and rolls to his stomach to feel the full force of Josh's cock inside of him. They switch it up a few more times until Skyy is nice and opened up, bringing Josh to the edge of release. He pounds away until he shoots his hot morning load all over Skyy's ass and stuffs it back in for a hot wet cream pie. Stretched, spent and satisfied, Skyy stands over Josh to deposit his warm load directly to Josh's hungry mouth.

AFTERNOON AFFAIRS: Josh Moore fucks Michael Boston
When a naked Josh Moore hears the doorbell ring, he quickly covers up and is met at the door by A/C repairman, Michael Boston. Josh is impressed with the size of Michael's ass in his tight shorts and drops his wrap to show Michael his own giant asset. Michael takes a few sucks of Josh's uncut rod before they move it into the living room where Josh strips Michael naked. Picking up where he left off, Michael gets back on his knees to continue his service, polishing Josh's knob. Josh keeps pushing Michael's limits, seeing just how far down on his cock, making him gag on the thick pole. When Josh wants a taste of Michael's insatiable ass, he bends the stud over on all fours and wedges his tongue deep in between Michael's crack. The taste of Michael's hole has Josh craving more. After having an all-out feast on Michael's hole, Josh sits up on the couch and slides his thick raw cock deep into Michael. Michael braces himself with his hands on the floor while Josh drills his hard meat deep. After taking it doggy-style, Michael lays on the floor to feel the full force of Josh's cock in his hole. Josh keeps pounding Michael's tight hole bareback until its tightness causes Josh to glaze Michael's ass with a thick and creamy load. When it's time for Michael to bust, he gets on top and sits on Josh's face until he blows his load all over Josh's chest. Will the A/C ever get fixed?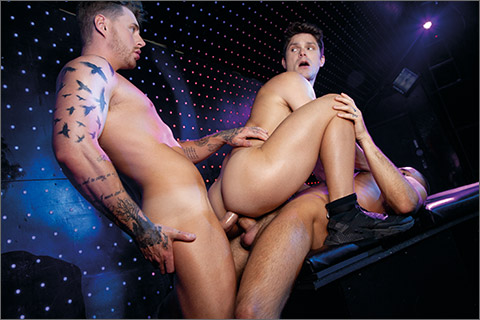 LONDON CALLING: Josh Moore & Jeffrey Lloyd DP Double-Penetration of Devin Franco
The neon lights are flashing and the music is pumping as Josh Moore and Devin Franco enjoy their last night out in London. Devin walks in, and immediately locks eyes with Josh, their pent-up attraction for each other can no longer be denied. The sparks fly and they look for a secluded spot to unleash their sexual tension. Josh pushes Devin up against a wall as they make out and get each other boned up. Josh is hard as a rock and wants a mouth around his throbbing dick. Devin is happy to oblige by getting on his knees and offering up his wet, drooling mouth to be used. While Devin is down on his knees, sexy club-goer Jeffrey Lloyd spots the two and starts rubbing his own cock to the hot and horny scene. Josh motions for Jeffrey to join in and Devin moves back and forth, servicing both cocks at the same time. Jeffrey needs more than just a mouth and bends Devin over to mount up and fuck his ass as Josh continues pounding Devin's face from the front. Taking a cock from both ends, Devin knows he's in spit roast heaven as his heartbeat matches the pumping music. As each man thrusts inside him from each end, Devin submits to his body's pleasure and takes everything they have to give. Josh and Jeffrey continue to fuck Devin with wild abandon, taking turns plugging his face and ass until they both cum all over the horny spent stud, coating his body with sticky, white cum.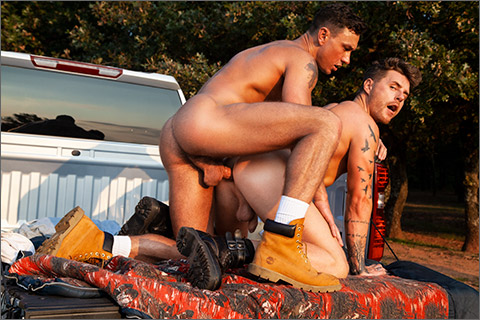 THE GAY SIMPLE LIFE: DAY 2 – GONE FISHIN' CHALLENGE – Cade Maddox fucks Josh Moore
It's time to rise and shine for Day 2 of 'The Gay Simple Life!' Josh Moore and Calvin Banks are coaxed out of bed up by muscular Cade Maddox and told to dress in their country finest but be ready to get dirty. Calvin and Josh decide today calls for a splash of pink and their mini Chihuahuas, Molly and Poop. The glitzy city boys appear on the front porch ready for the Fishing Challenge. Cade pulls up in a shiny silver king-cab truck and they head out, driving across the open Tulsa planes on the way to their next challenge location: Sparks America Campground. After stopping for bait, they follow Robert and his pack of mutts down to the fishin' hole. While Calvin explores his fashion opportunities, Josh and Cade cuddle up to the tub of worms and cast their lines. Josh excitedly catches a fish, but the excitement wears off, and Calvin takes off in a golf cart to hunt down a margarita. Finally left alone, Josh sits up on the back of the truck, feet dangling staring dreamily into Cade's eyes. Cade takes the bait and kisses Josh gently. The kisses quickly become steamier, more aggressive, clothes go flying off exposing ripped bodies, and Josh falls down on his knees to swallow Cade's massive cock. After Josh had has his mouth full of cock, he gets on all fours in the back of the pickup truck to get his ass eaten before Cade slides his humongous, raw dick into Josh's tight, hungry hole. Cade starts out gentle with Josh bent over the tailgate, but then flips him over on his back, and drills away until his cum juices fly. Cade pulls out lubes up with Josh's load and then unleashes a hefty spray on Josh's balls as the sun sets over the Oklahoma plains. Right as they finish, Calvin returns ready to leave, but Josh insists on taking a moment to kick-back on the tailgate, appreciate life and honor the sunset on a glorious day after dropping his load. Maybe the Gay Simple Life ain't that bad?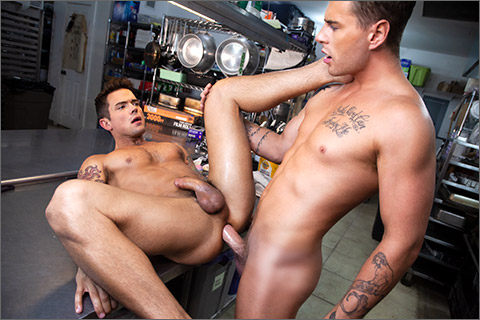 THE GAY SIMPLE LIFE: CUPCAKE BAKING CHALLENGE – Josh Moore fucks Dakota Payne
Day 3 of 'The Gay Simple Life' begins when sexy guest star Dakota Payne, dressed in tighty-whities, sneaks into the boys' room with the pups to wake them up. Although groggy and apprehensive of what's in store for them today, Josh and Calvin snap out of their morning funk when they see their sparkling white chef outfits. They immediately begin embellishing the starched white smocks, turning them into 'kitchen couture.' The superstars emerge from the house with their matching Chihuahuas and embark on their next adventure: the cupcake baking challenge. At a local catering company Josh, Calvin, Molly and Poop are greeted by Jonathan who shows them around the kitchen. Dakota and Josh lock eyes and decide "fuck these cupcakes," they want each other instead! They find themselves alone in the kitchen,so Josh and Dakota take the opportunity to work on their own batter. Dakota hops up on the counter to make out with Josh as both studs strip off clothes as they passionately kiss. Dakota lays back on the counter and hangs his head over the edge to take a throat fucking from Josh. They switch it up with Josh slurping on Dakota's dick before Josh lifts him up for an impressive standing 69, spread-eagle complete with an intense rim job on Dakota. Josh's spit lubes Dakota's tasty hole, as Josh lies him back on the stainless-steel counter and slides his huge uncut dick deep inside, fucking him raw. After they both spray cum all over each other and gobble up every drop, they sneak off to find Calvin and the pups. Jonathan, done catching up on work orders for the holiday season, comes back to find ass prints on his counter and evidence of a whole lot of bareback, ball-draining fun.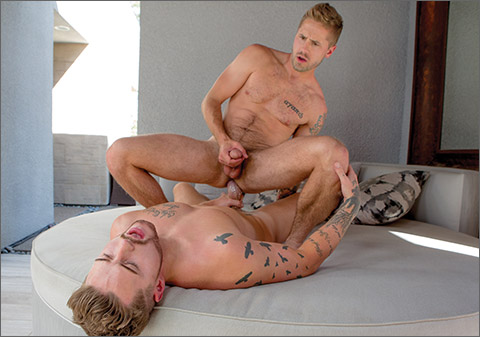 HUNGRY FOR MOORE: Josh Moore fucks Wesley Woods
Josh Moore is lounging on a day bed when Wesley Woods sneaks up on him for some passionate making out and playful wrestling. With both studs bulging from their briefs, Josh slips Wesley's undies off first and wraps his lips around Wesley's swollen cock. Wesley groans in ecstasy as Josh deepthroats the fat cock to the base. Wesley wants a taste of Josh's uncut cock, so Josh drops his briefs and feeds Wesley his cock. After face-fucking Wesley, Josh immediately goes straight for the hole and mounts Wesley on his back. The two keep their lips tightly locked as Josh keeps a steady pace stretching Wesley's hole. Wesley wants to show Josh how much he loves getting fucked and climbs on top of Josh to take his pole as deep as it can possibly go. Wesley bounces hard on the fat cock in his ass while jerking his cock until he unleashes a thick load all over Josh's washboard abs. Covered in cum, Josh gets over Wesley once more to give him a creamy oral facial that Wesley makes sure to lick up.

HUNGRY FOR MOORE: Josh Moore & Logan Moore flip-fuck
Josh Moore seems to have the upper hand over Logan Moore in an impromptu wrestling match in bed. The fun is just beginning for the lucky studs and as the wrestling subsides, they lock eyes and Logan relents to start exploring Josh's hard, ripped body. It's not long before Logan finds his way to Josh's fat, uncut dick and goes to work making it extra hard. Josh is eager to taste what Logan has to offer and returns the favor with a nice long suck session of his own. That's not enough for Josh though, who gets Logan's legs in the air and goes down on his ass to lube him up with his tongue. Logan is ready for everything that Josh has to offer and opens wide to let the muscle hunk slip his cock deep inside. Josh humps away on Logan's tight hole, making the stud grunt with every plunge from his rock-hard dick. After getting his hole worked hard, Logan is ready to switch it up and give Josh a stretching. Logan mounts up and fucks Josh with a steady pace. As the fucking continues, the studs keep flip-fucking, taking turns getting their dicks wet and their asses worked. After all the fun, Logan is the first to cave and squirts his load all over his tight, heaving abs. All the jizz is more than Josh can take and he pulls out to give Logan a massive facial.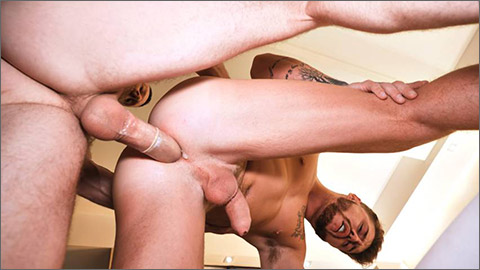 TIM KRUGER FUCKS JOSH MOORE
Tim had the chance to meet his blond brother (practically), the handsome Josh Moore. Josh almost got bullied out of the porn industry recently and at Timtales, we don't discriminate. Tim wanted to show Josh the German hospitality. And I guess he felt it very deeply! With almond shape blue eyes, a pink hole and a big cock, Tim simply couldn't resist.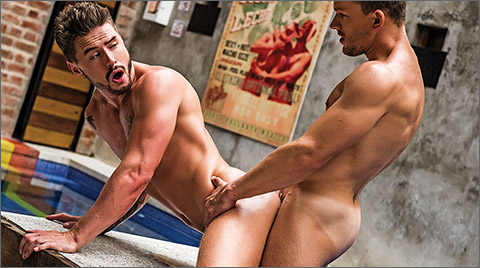 GREEDY HOLES: Andrey Vic Fucks Josh Rider's Ass Raw
Andrey Vic takes a break and soaks up some sun after his intense orgy encounter with Dylan James, Drae Axtell, Stas Landon, Alejandro Alvarez, and Koda Gold. Andrey might be tired, but Josh Rider isn't. He wasn't around for the orgy, but he's watching Andrey from afar and manages to sneak a smell from Andrey's swim trunks. But why stop at sniffing' When Andrey figures out what's going on, he finds new energy and gives Josh Rider what he really wants — a deep fucking with his uncut cock!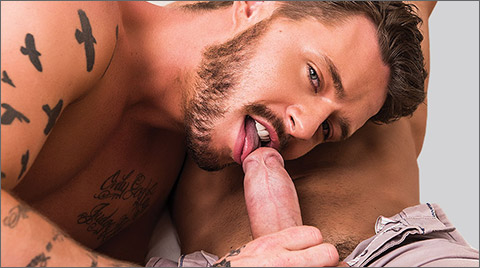 SPREAD CHEEKS & FILL: Josh Rider And James Castle Swap Raw Uncut Loads
Josh Rider feels instantaneous chemistry with James Castle, and why wouldn't he' James is charming, handsome as hell, has a killer body, and knows how to use that beautiful cock he has between his legs. While James is versatile, he's been enjoying pitching rather than catching in recent years — much to the excitement of Josh. James lays back and lets Josh earn his fucking by first having him suck his cock deep and long. James can't hold out for long though and wants Josh's ass — and if you take a look at Josh's expressions around 15:20, you'll see just how much he's enjoying his reward!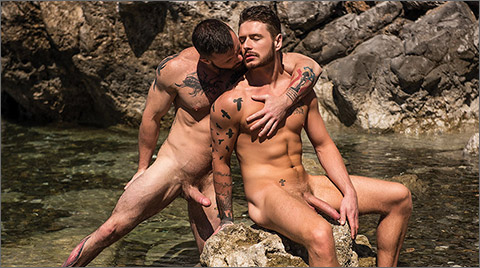 BAREBACK AUDITIONS 4: See Josh Rider's Exclusive Debut With Sergeant Miles
Lucas Entertainment's new exclusive model Josh Rider is a sexy young addition to the studio's roster, and who better to show him how to work with the camera than everyone's favorite muscle otter Sergeant Miles. Sergeant rocks the crew cut and manicured beard look well, and it's a major turn-on seeing those masculine elements while he's going full dick-pig on Josh's beautiful cock — see a sample here at 13:10. Don't worry, we know it's Josh Rider's ass you want to see get plowed: he has the punk look of a guy that needs to get railed. Sergeant Miles doesn't fail to deliver: Josh's fat uncut cock is bouncing at 22:45 as he rides Sergeant — it's big dick for Josh to take, and I hope he enjoys the ride as much as we enjoyed watching his debut scene!
CLICK HERE TO GO TO HIS LUCAS ENTERTAINMENT DETAILS
JOSH MOORE LIFELIKE DILDO & FLESHJACK
Known as one of gay porn's hottest tops, Josh Moore's best features go beyond just a perfect jawline and ripped muscular build – his incredibly long and girthy cock is guaranteed to get you off. Made with the highest quality, platinum cured silicone, this Fleshjack Boy's dick can now be yours!
TAKE YOUR FANTASIES TO NEW HEIGHTS
WITH THIS REPLICA OF JOSH MOORE'S GORGEOUS COCK.
Specifications:
Length from base to tip: 9", including balls.
Insertable length: 7.25" excluding balls.
Circumference at base of shaft: 6.75."
GO TO: JOSH MOORE'S FLESHJACK PAGE
VIDEO ON-DEMAND: Josh Moore @ AEBN SMUTJUNKIES THEATER
NOW STREAMING: Josh Moore @ NAKEDSWORD