Club Amateur USA Handsome Tattooed Muscle Bear Gay Curious Guy, Josh
Known Aliases / aka:
Years Active: 2015 – 2016
CLUB AMATEUR USA INFO:
Height: 6'2″
Weight: 220#
Cock: 7.0″
Brown Hair
Blue Eyes
Straight and Sexploring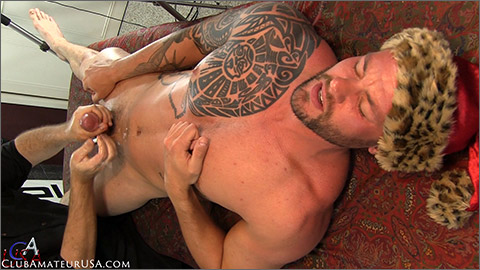 524 JOSH – PART 1 & 2
HO! HO ! HO! Josh is back, and boy howdy, did I put him and his prostate through the ringer.
   We'll further discuss when part two runs next week; so for now!
So, a couple of days after Josh's last shoot in October, I received a text from him that he was moving back to the upper Midwest due to an ailing family member. In fact, Josh returned to the same cold country as Trey.
   Having already planned on Josh and Gracen being two of my Santas for December, two days later, Josh was back in the studio to shoot this video.
I, also, knew that I was going to push his button and boundaries in terms of direct prostate stimulation. As you witnessed in Part 1, for the guy who originally agreed to participate in his first shoot sans penetration, it certainly seems to work for him.
   The other thing that I noticed was that Josh is all about oral. With just ìplain ol'î massage, he's not very emotive, but when ya start slobbin' on his knob, the involuntary muscle twitching and facial contortions kick into high gear!
   Works for me! and I'm sure, all of you.