Handsome Nasty American Gay Porn Star, Jon Shield
Known Aliases: John Shield
Years Active: 2014 – 2016
GUYBONE INFO:
Ethnicity: Caucasian
Height: 5'7"
Body Type: Average
Tattoos: Yes
Dick Size: 8" cut
Body Hair: Hairy
Facial Hair: Beard
Position: Versatile
Piercings: Yes
We've been lucking out with finding lots of hairy guys lately, and studio boy Jon Shield is one for the record books! From his dark beard to his curly, carpeted toned chest and fuzzy asshole, he's all man and sexy as fuck. He's got sizzling bedroom eyes and a dick for days. It's so fucking thick and meaty, begging to be sucked. And his heavy bull nuts are filled with delicious cum ready for the swallowing! Totally versatile, Jon tops as well as he bottoms and is an absolute delight to be around. This hot pup is one helluva addition to the GuyBone family!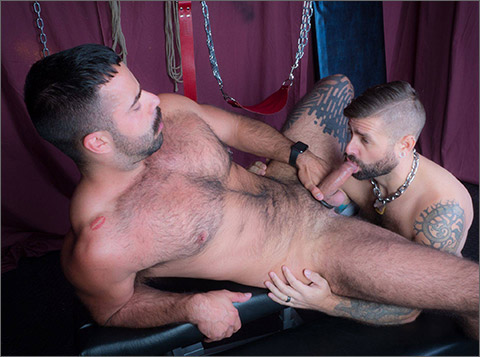 TEDDY TORRES FUCKS JON SHIELD
We've filmed hundreds of men, if not thousands, all of them hairy, all of them fucking bareback and all of them getting downright nasty. However, out of all the men we've ever filmed, two of the hottest sex pigs have been Jon Shield and Teddy Torres. Both have big fat cocks and they know how to use them. The two start off easy enough, making out and getting off on armpits, mansmells and spitting but as the scene progresses, the tattooed, hung fuckers devolve until they resemble animals rutting in the most perverse way. The sweat runs down their bodies, matting hair to flesh and you can all but smell the scent they create as Teddy gets rougher, fucking Jon harder, faces full of cock, throat fucking, gagging, rimming, and balls deep cock buried deep in raw fuckholes. Piggy sex, big cock and huge loads. It truly doesn't get ANY hotter. So grab that lube, men. You'll be jerking off to this one again and again and again!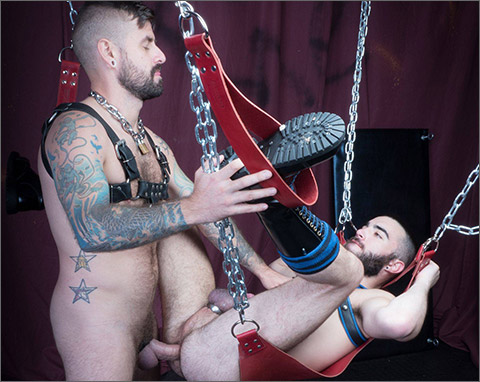 JON SHIELD & NICK HOLE
Jon Shield and Nick Hole are both hung, hairy, and ready for bareback action. Now, you might think Jon is going to bareback fuck Nick but the bearded pup has some inner top feelings he wants to explore. After sucking down some big cock, Jon does slide that big raw cock home but they flip and Nick ends up giving Jon a taste of his own medicine. And regardless of Nick being mostly bottom, you know with a dick as big and fat as his, the uncut beauty is going to hurt. But never fear, Jon handles it like a trooper. A must scene for those who get off on leather, hairy, slings, and sweaty fuckers!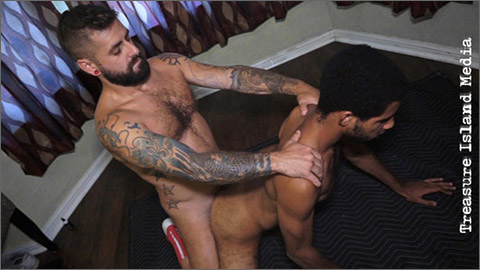 KENNY'S RAW FUCKS – Jon Shield & Iggy
JON SHIELD is the kind of slut that you hope to meet at the bar. He'll fuck anywhere and anytime he can. IGGY is no foreigner to getting all the dick he can manage. The two don't even bother to get on the bed as JON pushes IGGY down to the floor, where he lays ass up ready for cock. Even with all the construction workers outside, JON throws IGGY up against the window where he plants his seed into the boy's furry hole. Anyone who looked up at their window would've seen the big smile on IGGY's face after getting the load he so desperately wanted.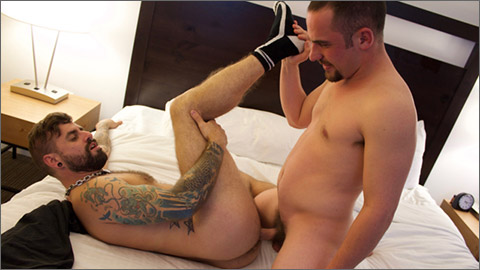 CORD TOPS JON RAW
With one simple, sexy question, "Can I start taking his clothes off?," Jon and Cord were in action. Jon lifted Cord's shirt and tongued his chest. The goateed bi guy breathed heavy in excitement. Jon unzipped his fly and nibbled on his growing cock through his underwear. Cord took the wheel and got on top of Jon, making out hard and loud. They dry humped a bit and then Cord lost his pants altogether. Cord's thick uncut cock and low hanging bull nuts were out first, Jon sucking them into his mouth. Then he sucked Cord's beefy cock and Cord was in heaven. He told Jon to suck his balls more, which Jon eagerly did.
   Naked Cord rolled Jon over and kissed him wet and passionately, then pulled his jeans off, too. He released Jon's humongous boner from his jock strap and swallowed it, working hard to orally please his costar. Cord is a pro cocksucker and he showed Jon his best skills as they slid into a 69 position. Two manly, hairy men gulped each others cocks down, sniffed balls, teased assholes. Their bodies pressed together and created even harder, stiffer erections.
   The pair seemed to equally assert their dominance, taking turns being the aggressor. Cord pulled Jon's dog chain, Jon snarled and growled like a good pup. Jon climbed on top and slid Cord's rock solid cock inside his warm, wet hole. SPUNK lube assisted in slicking his hairy ass for easy entrance. Cord was balls deep almost instantly, wasting no time feeling the full bareback fuck.
   They flipped over, Cord driving his huge dick deeper into Jon's butt. Jon bellowed, his sexy bearded mug twisting into faces of pleasure and immense desire. He gave Cord permission to use his hole and Cord did just that…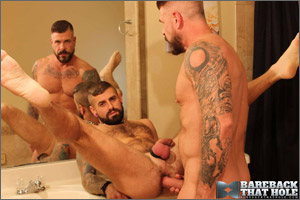 ROCCO STEELE & JON SHIELD
Jon Shield is rewarded with the ride of his life when he is partnered up with massively hung and super sexy Rocco Steele. Rocco's huge cock stands stiff as a board as Jon sucks and services his thick shaft. It's not long before the tables are turned and Jon's legs are spread wide open over the bathroom sink as he is being eaten and mauled by Rocco's lips and tongue. He begs for Rocco's big dick to fuck him. Jon wants his chance to show Rocco how gifted his hole really is. On the counter, in the shower, on the bathtub ledge…Rocco drills his butt every which way taming Jon's ass into submission. It's not long before Jon is being loaded up and filled by Rocco's seed as he blast his nut all over his gaping hole….Jon slips off of Rocco's cock and slides down onto his knees to clean him off. He can taste his ass and the last few drops of Rocco's cum off the tip of his cock. He is pulled up by Rocco as they kiss and collapse covered in sticky sweat.
ENDLESS STREAMING MEMBERSHIP: TREASURE ISLAND MEDIA @ NAKEDSWORD