Handsome Tattooed Bad Boy Gay Porn Star, Johnny Hazzard
Known Aliases / aka:
Years Active: 2004 – 2016, 2020
STATS / INFO:
Height: 5′ 8″
Weight: 150lbs
Star Sign: Virgo
Hair: Brown
Eyes: Brown
Preferred Position: Versatile
Cock: 7″ cut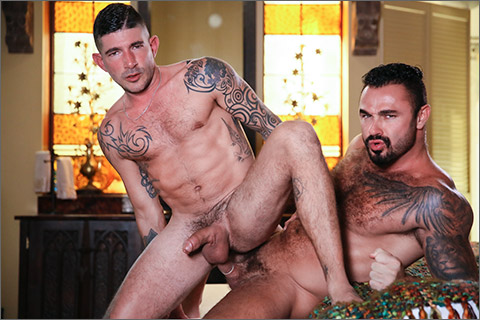 A MURDERED HEART: Jessy Ares fucks Johnny Hazzard
Joseph's father, Johnny Hazzard, has arrived at the camp – he's sitting in his parked car, thinking back on the day his wife left. Nothing is as it seems when the surprising truth is revealed. He flashes back to explore the secrets he hid that brought him to this point. In his memory, he comes home to makes sure his wife and son aren't there, and he signals for an unexpected guest to sneak in. When the coast is clear, Jessy Ares makes his way in, and the two waste no time ripping each other's clothes off. Johnny is the first to sink to the floor and get Jessy's massive member down his throat. Jessy wants a taste too, so Johnny gets on top to 69 as Jessy rims his hairy hole. Eager for more, Johnny offers up his hole and Jessy delivers, sliding his girthy meat deep inside Johnny. After taking it on his back, Johnny rolls over to take the full power of Jessy's cock before riding on it one last time to completion. With Jessy's pole planted firmly up his ass, Johnny strokes out a thick load that lands all over the floor. Married man Johnny gets down on his knees once more to get his face covered in the hairy man's load. Just as they finish up, Johnny's wife walks in and catches them in the act.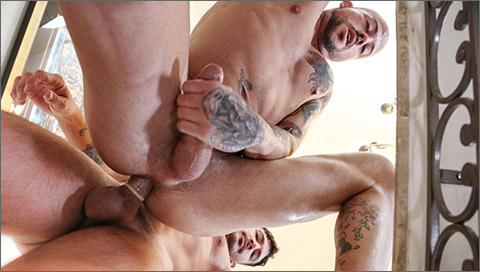 ROOM FOR DESSERT
Johnny has made an outstanding meal for Sean and a surprise dessert. Johnny has all the fixings for a fine meal including, chicken, rice and some red wine. Sean is waiting patiently in the dining room sipping on his glass of wine. Johnny finally brings out the hot meal and Sean is eager to try it all out. He can't believe all this was done for him and Johnny tells him that dessert is on its way. He brings out some Boston cream cupcakes made from scratch. Sean's eyes light up and he indulges in every last bite. Johnny is pleased to see his man so happy and now Sean focuses his attention on pulling down Johnny's pants and sucking on that juicy cock of his. Two tight sexy men with ink making out and fucking is a sexy sight to see. Sean wants it bad and Johnny bends him over the glass table for a sensual pounding which makes Sean explode in orgasmic pleasure all over the floor while bent over. Johnny pulls his hard cock out and unleashes he's warm cum all over Sean's back. Now they can both relax for the rest of the day and enjoy each other's company.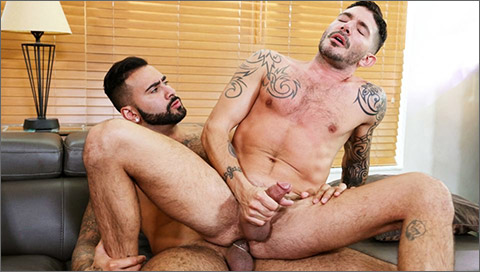 SLEEPY HEAD
Rikk woke up this morning and Johnny wasn't in bed next to him so he walks downstairs and heads to the fridge for some juice. As he's drinking the juice he notices the TV is one and there is Johnny passed out on the couch again. Rikk quietly walks over to him and slightly brushes up against him waking him up with kisses. They both begin to make out and Rikk quickly pulls Johnny's cock out and takes it into his mouth for a wet early morning BJ. Johnny who is still waking up is extremely relaxed as Rikk services him balls deep. Johnny finally wakes up and has Rikk fuck him in multiple positions and his favorite which is being bent over the couch and rammed deep.
CLICK HERE TO GO TO HIS PRIDE STUDIOS DETAILS