Parisian British Gay Porn Star, Issac Jones
Known Aliases: Brick Jones, Isaac Jones
Years Active: 2011 – 2016
LUCAS ENTERTAINMENT INFO:
Height: 6′
Weight: 167 lbs
Dick Size: 8″
Position: Versatile
Uncut, fresh-faced hunk Issac Jones stands six feet tall and shows off one beautiful uncut dick, eight inches! Issac is a native of France and loves all and any kind of sex, and the hotter the guys he's fucking with the better. Issac started modeling because his boyfriend encouraged him to show off his goods, and he's a guy who is always looking to please.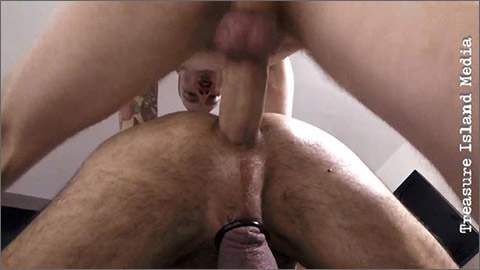 DESTROYING LOGAN MOORE: AJ Alexander fucks Issac Jones
(Paul Stag's first TIM directorial gig. Originally featured on TIMFUCK.com) AJ ALEXANDER, a donkey-dicked Scottish skinhead top in sports gear, enters the room to find a perfect tattooed ass. AJ taps the fuck out of it and spews his Braveheart Gaelic seed all over and deep inside the hot French hole of ISSAC JONES (Best Bottom 2017 – European Porn Awards). Secretly filmed in Liam Cole's bedroom whilst he was out, we couldn't resist including my directorial first-go as a bonus for all you sleazy TIM men world-wide. If you think you are tougher and sleazier than the holes featured here and that you can be the one that finally beats the TIM breeding team, please step forward (apply here) as the next in line for total raw bunghole destruction. I'll be waiting, dick in hand, to hear from you! — Paul Stag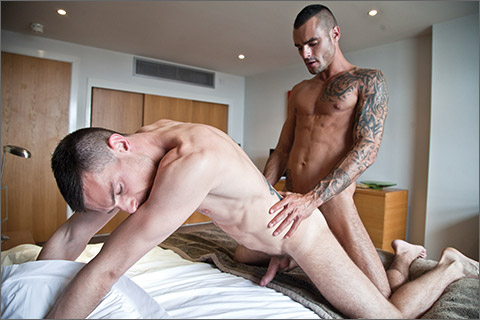 UNZIPPED: Issac Jones fucks Miles Racer
Issac Jones' sport of choice is cruising, and Miles Racer is the prize he has his eye on! Issac is one good-looking hunk, and Miles never turns down a sexy guy to have sex with. Issac coaxes Miles away into his bedroom where they strip down and hop into bed. Miles is a submissive bottom and he loves mouthing Issac's fat uncut cock through his white briefs before pulling them down and swallowing the slab of meat whole. Issac grabs Miles head and guides him on the rod before whipping him around and eating out his hole clean! Issac slides his cock into Miles and doesn't just pound him — he destroys his ass! Miles bends over, lays on his back, all so he can feel his ass being filled to completion!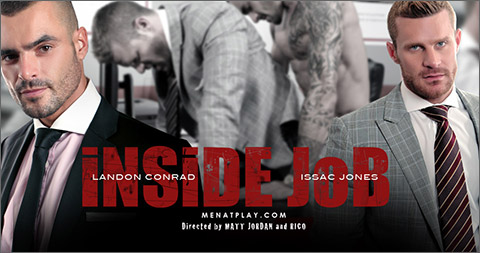 INSIDE JOB
When Issac is refused a bank loan he demands to see the Bank Manager thinking it has to be a mistake by the incompetent staff. But when the Bank manager himself informs him that he does not qualify for a loan Issac's temper flares and refuses to hear Mr Conrads reasons. So much so that Landon asks him very firmly to leave his office, but Issac will not leave that easily and the situation gets physical resulting in a struggle between the two men. But Issac has had enough of being talked down to by suits on a power trip and decides to show the Bank Manager and lesson by throwing him over his desk, ripping open the seam of his suit pants and giving his ass a good hard pounding. And although Issac still does not get the loan in the end, he's satisfied knowing that at least he's given the big boss what was coming to him, not mention walking out covered in Landon's hot cum!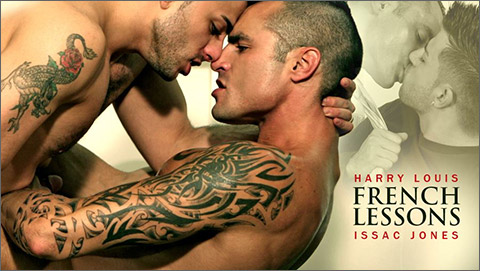 FRENCH LESSONS
Ever had a teacher at school that you used to daydream about in the middle of a lesson and loose yourself in thoughts of what you would like him to do to you? Well Harry Louis certainly has, and with a teacher like Issac who can blame him. Tall, mysterious, chiseled jaw, dark eyes you could get lost in and the sexiest French accent ever! No wonder Harry has trouble concentrating on his French vocab, or could he just be pretending to get some private 1 on 1 time with the sexy Mr. Jones? When Issac turns the blackboard and sees 'Je vais baiser ton cul' in Harry's handwriting he realizes the boy must be much more fluent in French then he may be letting on, and that he's been focusing on his ass rather than on his text books. And as we know by now, Harry always gets what he wants. Not only does he get to fulfill his fantasy by fucking his French teacher, he also manages to secure an A+ along the way!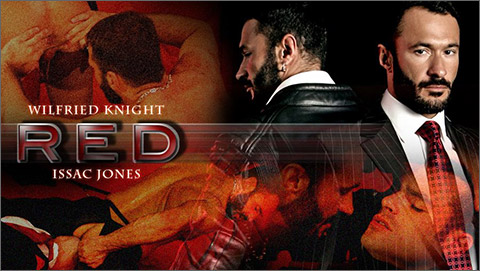 RED
This week we change the rules of the game on Menatplay.com, as we discover a darker side to one of our polished business Execs. Wilfried Knight makes his big debut as the MAP business man, with the dirty secret. When the building is empty and the doors are all locked, Wilfried undresses from his expensive suit and changes into his custom-made leather gear and once he is ready and his blood is pumping, he opens the secret door behind his office library, to reveal a secret padded play room. And in the centre of the room a bewildered Issac Jones, bound to a chair and at the mercy of his captor. What fate awaits him? Who will finish on top in this red hot Suit Vs Leather encounter?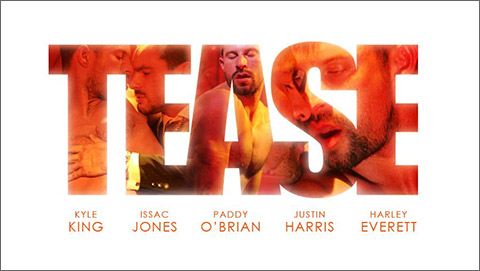 TEASE
This Christmas Menatplay has a very special treat for you guys. Why so special? Because it stars the gorgeous muscle stud Kyle King and the handsome suited French gent Issac Jones. Plus…yes there's more… the sexy young Justin Harris, and introducing the great mountain of meat – Harley Everett. Hang on there's more… our much loved and lusted over Paddy O'Brian appears on the scene to spill his load over Issac. In fact they all get Issac thoroughly drenched in cum and sweat. Lucky boy…. and lucky us!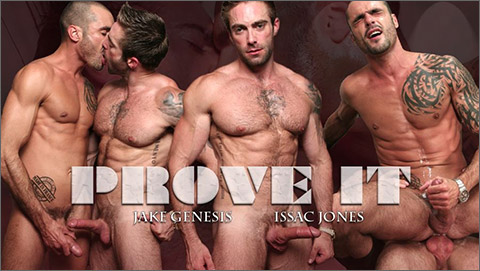 PROVE IT
Issac Jones thinks hes going for a regular interview with Recruitment Manager and new Menatplay cockthrob, Jake Genesis. However Jake has video evidence that Issac has been a bit too open about his assets – he's been filming his juicy cock for everyone to see – and now Jake wants to see and taste it for himself. Voyeuristic Jake soon gets stuck in once Issac gets his dick out and before long they are stripped naked and on the sofa fucking sucking and rimming every which way they can. By the end of the movie I'm sure you'll agree both Issac, AND, Jake prove their worth!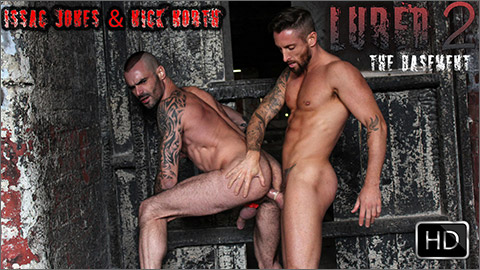 LURED 2 – THE BASEMENT: NICK NORTH FUCKS ISSAC JONES
Dark, dank and shady. Lurking in the basement of the crumbling mill Nick North had been summoned, he's not sure why or by who but obediently he waits, keeping a watchful eye out for whom ever might be coming to get him. Very trusting or very foolish, you decide! Issac Jones slowly appears from the darkness, eyes connect, a sexual relationship immediately establishes itself. They square up, size up, letting hands wander over ripped torso's and hard nipples through thin t-shirts. The clothes come off and hands compare muscular form, both guys are in sickening shape! Issac drops to his knees to worship Nicks rock hard dick, slurping it around and testing his size with his mouth before he takes it up his arse. Bending over Nick gloves up and shoves up, Issac groaning and grunting hard and he grinds his pelvis up against his meaty butt. Thrusting and pounding away Nick inadvertently flexes his muscles and builds up the pace, shooting his huge load over Issacs hairy arse cheek!
CLICK HERE TO GO TO HIS MEN AT PLAY DETAILS
CLICK HERE TO GO TO HIS UK HOT JOCKS DETAILS
CLICK HERE TO GO TO HIS MEN AT PLAY DETAILS
VIDEO ON-DEMAND: Issac Jones @ AEBN SMUTJUNKIES THEATER
DVDs & ON-DEMAND: Issac Jones @ TLA VIDEO