Staxus Czech Twink Gay Porn Star, Johnathan Strake / Ondra Gala
Known Aliases: Dominic Black, Dominik Black, Czech Hunter 235
Years Active: 2016 – 2018
STAXUS INFO:
To say that this young man lives and breathes computer games is a little bit of an understatement. Given half the chance he would spend almost his entire existence in front of a screen killing aliens and shooting zombies. Other than the time when he's wanking, of course!
Model Stats:
Date of birth: 21st March 1996
Height: 5'6″ / 170 cms
Cock size: 6.5″ / 17 cm
Ethnicity: Slovak
Role: Bottom
Interesting Fact:
Johnathan works as a waiter for a very upmarket restaurant in Prague and can speak four languages.
WILLIAM HIGGINS INFO:
Model Name: Ondra Gala
Age: 21
Home Town: Prague
Height: 166cm/5'5″
Weight: 55kg/121lb
Foot Size: EU38/US7.7/UK7.2
Penis Size: 14cm/5.51″
Profession/Student of: Unemployed
Hobbies: Sport
Favorite Sports: Jogging
Active Sports: Soccer
Movie/Music/Sport Stars: Heidi Klum
Visited Countries: Poland
Want to Visit Countries: Ireland
Dream of My Life: I do not know.
Zodiac Sign: Virgo (August 23 – September 22)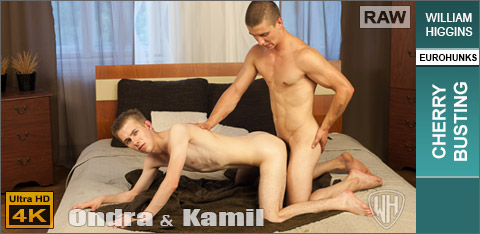 CHERRY BUSTING: KAMIL BANEK & ONDRA GALA
Two great looking str8 guys serve up a wonderful Cherry Busting scene today. It is Ondra Gala who gets a cock in his ass for the very first time, from Kamil Banek. Ondra is sitting on the bed when Kamil joins him. They chat, with Kamil asking the questions trying to encourage Ondra to do something with him. Ondra does agree to some kissing and is soon going further as he removes his tee shirt. Kamil runs a hand over Ondra's chest as they kiss some more. Then Kanil removes his tee shirt too. They start to grope each other as well. Kamil's cock is rock hard in is jeans as Ondra's hand finds it. Kamil opens Ondra's jeans and releases his stiff cock. Ondra quickly removes his jeans and Kamil opens his to release his cock. They start to wank each other and Kamil removes his jeans as they kiss again. Fully naked they wank the stiff cocks and then Kamil leans over to suck. He takes Ondra's throbbing cock into his mouth to suck it. He licks up and down the shaft as slides the head down his throat. With lips closed around the shaft his head bobs on that cock and then Kamil leans back for Ondra to take a turn at sucking too. Ondra shows that he is up for that, doing a great job on Kamil's rock hard cock. He wanks the cock as he sucks and then the climbs over Kamil to 69. That lets them both suck cock for a while, enjoying every second of it. Kamil then lays Ondra on his back, with his legs up. He gets between Ondra's legs and slides his big cock into the tight, virgin, hole. That fat cock stretches the hole as Kamil begins to gently fuck Ondra's ass. Then the fucking speeds up, with Kamil really pounding Ondra's hole as hard as he can. With that ass really opened by his big cock Kamil turns Ondra over, cuffing him too, and shoves his cock back into the hot hole. Ondra takes that big cock so well as it slam in and out of his ass. The fucking is hard and relentless as Kamil's hips thrust back and forth. Ondra moans as he feels the cock banging his ass. Moving to spoon Kamil's cock slides back into the ass as Ondra begins to wank himself. His ass gets fucked by that fat dick as he wanks himself. He soon shoots his hot cum as Kamil's dick keeps up the relentless pounding. The fucking gets even faster and then Kamil pulls out and dumps his cum onto Ondra's cock and balls. Then they kiss again to end a fantastic Cherry Busting.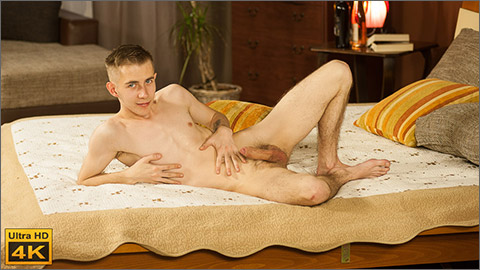 EROTIC SOLO: ONDRA GALA
Ondra Gala is aged 21 and lives in Prague. This cute and sexy str8 guy is unemployed and enjoys sports, jogging and soccer. He looks very cheerful as he sits on the bed for his interview. Then Ondra lays back and starts to feel over his body. Raising his tee shirt he rubs his hands over his chest, playing with his nipples. Then he reaches into his pants to feel his dick too. He takes off his tee shirts and continues to feel in his pants. He pulls on his nipples too. Then, pushing off his pants he releases his stiff cock. Ondra grabs that cock and wanks it hard. His balls are tight at the base of his big, stiff, cock as he keeps wanking. Then he raises his legs into the air and shows off his ass. His hole opens up so well as he shows that ass. Sucking on his fingers Ondra slides one into that hot hole as he keeps wanking. Then two fingers slip into the hole before being replaced by a dildo. He keeps wanking his dick as he shoves the toy into his ass. He fucks the toy in and out of his ass before turning onto his knees to show that hole some more. Ondra pulls on the ass cheeks to really spread the hole. He wanks himself as he fingers his hole some more. Then he takes another dildo and oils it up. He slides it deep into his eager hole, as deep as he can. As he fucks himself with the toy Ondra wanks too. Laying on his back he then wanks his big cock, hard and fast, until he shoots his cum, right up his sexy body. He milks every drop from that cock and then goes off to the shower.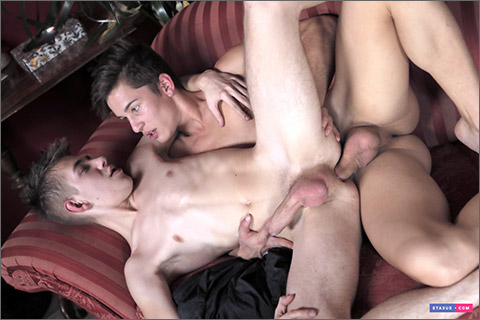 KNEEL & PRAY: ANGELIC LOPEZ DEVILISHLY CREAMS HIS BUDDY'S ARSE MID-FUCK
To any outside observer it seems that young priests, Angel Lopez and Johnathan Strake, are as devout as it's possible to be – reading scripture and praying on a daily basis. Take a closer look, however, and you realise that the temptations of the flesh are all too real for these horny fellows; as Lopez's hand wanders onto his buddy's thigh, and the two beauties slowly abandon their worship of the divine in favour of more carnal adoration. To some, of course, this constitutes a sacrilege of a holy estate. For the rest of us, however, there's no denying that the sight of two cock-hungry twinks lusting after each other almost has a touch of the divine about it; not least of all when Lopez finally strips away his pants so that Strake can gobble away on the thick, meaty flesh that nestles inside.
   An act that Lopez himself is only too willing and eager to replicate; before turning his eye to his buddy's arse-hole, which he promptly rims into submission. By the time that the Spaniard is finally buried balls-deep in his Czech mate's pucker, there's every possibility that you'll have completely forgotten the theological overtones of the scene.
   All the same, you'll be in complete rapture at the sight of Lopez creaming Strake's hole (somewhat prematurely!); before stiffening up again almost immediately so that Strake can ride the said pole like a whore. And with another round of Bible-bashing just minutes away, Lopez draws the action to a stirring close by yanking out a second (albeit smaller) load; before a final gooey smooch marks the conclusion of a truly unforgettable act of worship!
BOY FUN COLLECTION
CZECH HUNTER
TWINKS IN SHORTS
CLICK HERE TO GO TO HIS STAXUS DETAILS
CLICK HERE TO GO TO HIS WILLIAM HIGGINS BIO PAGE