William Higgins Czech Gay Porn Star, John Blunt
Years Active: 2015
WILLIAM HIGGINS INFO:
Age: 22
Home Town: Brno
Height: 187cm/6'1″
Weight: 75kg/165lb
Foot Size: EU45/US9.1/UK8.6
Penis Size: 17cm/6.69″
Profession/Student of: University student
Hobbies: Sport
Favorite Sports: Swimming
Active Sports: Jogging
Movie/Music/Sport Stars: Eva Herzig
Visited Coutries: Poland
Want to Visit Coutries: Ireland
Dream of My Life: I don't know.
Zodiac Sign: Cancer (June 21 – July 22)
John BLunt is aged 22 and lives in Brno. He is a student who enjoys sports, jogging and swimming. What a very sexy guy John is, with his hot body, beautiful cock and his sexy, hairy ass hole. He gave us a great stills shoot and a wonderful video. Now we can also enjoy these fetish pics.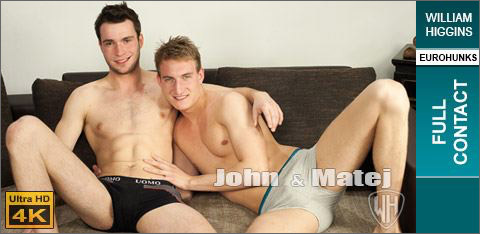 FULL CONTACT: JOHN BLUNT & MATEJ BORZIK – SCREEN TEST
John Blunt is a very handsome straight guy who came into the studio for a shoot. We brought Matej Borzik in as well and explained to John in and interview that we wanted to see how far he might be prepared to go with a guy. Being his very first time with a guy we take things slowly, and start by having John remove Matej's tee shirt, and then his comes off as well. Bare-chested the guys begin to feel each other's chest. Then John is asked if he likes to be massaged and he agrees for Matej to work on his back. Matej sits behind John and starts massaging his back and his shoulders. Then they stand up and Matej opens John's jeans and pulls them down, and off. He reaches round and begins to rub John's hot chest. Then Matej begins to kisses John's neck and shoulders as he rubs his body. He moves round to the front and kisses and licks John's nipples too. As he does so he reaches down and gropes John's cock in his underwear. He reaches inside the underwear and feels the cock. Then John takes off Matej's jeans and they face each other, with John beginning to feel Matej too. As they grope each other they begin to kiss as well. The underwear is removed and they sit on the sofa and begin to wank themselves. The cocks quickly become hard and each guy takes hold of the other's cock and wanks it. Matej leans over and takes John's big cock in his mouth to suck it. He sucks and licks the cock. With his cock so hard John then slides it into Matej's tight hole. He fucks him deep, moaning as he thrusts it in and out. Matej is rock hard too and wanks himself as he gets that dick in his hole. John fucks that ass and it doesn't take long before he needs to blow. He pulls out and quickly releases his hot cum. John agrees that it felt good to fuck Matej's ass and then they both go off to the shower to clean up.
CLICK HERE TO GO TO HIS WILLIAM HIGGINS BIO PAGE

EROTIC SOLO: JOHN BLUNT
FULL CONTACT: MARTIN PORTER & JOHN BLUNT
FULL CONTACT: JOHN BLUNT & MATEJ BORZIK – SCREEN TEST
MASSAGE: JOHN BLUNT