Sexy American Twink Gay Porn Star, Joey Lorenzo
Years Active: 2015
TWITTER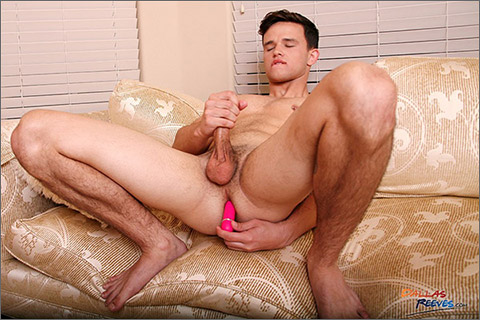 JOEY LORENZO AND HIS TOY
Joey Lorenzo walks into the living room in a jock strap and a dildo – This young stud knows how to start a night out right! He leans over onto the couch and shoves his toy into his ass. Joey has a nice bubble butt, and his asshole has a light amount of hair. His hole is pretty and pink. As he shoves the dildo in deep, his toes curl up and he lets out some great moans, all the while knowing that we are enjoying his bubble butt. After a few minutes of anal penetration, our young friend stands up and takes off his jock strap. With his hard dick in his hand, he begins to stroke. Then, not wanting to miss any sensation, he lies down and sticks the toy back in his hole while he is jerking. Finally he gets into another position so that we can see his ass and cock and balls all at the same time. The pace of the penetration gets more intense and Joey's moans become louder. Once he is close, Joey lies back down to bust a nice creamy load all over himself. Sexy fellow!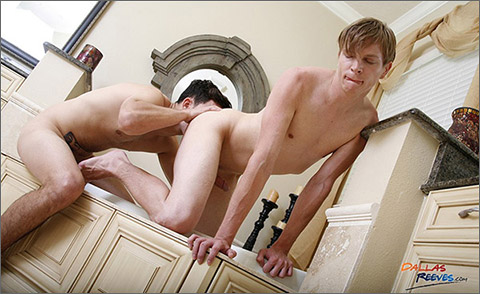 JOEY LORENZO BAREBACKS KYLE EDWARDS
Kyle Edwards is enjoying a nice relaxing bath when Joey Lorenzo walks in. As Joey disrobes, he reveals a raging boner – seeing Kyle in the tub got him horned up! The two make out before Kyle goes down on Joey. Kyle can't resist a rock hard cock, especially when it is in his face just begging for attention. He lovingly grasps the shaft while he wraps his lips around the head. This is one sensual blowjob! Kyle steps out of the tub so that Joey can return the favor, and Joey tries his best to give an equally great knob-job. Joey knows his way around a cock, and every time he allows Kyle's cock to penetrate deep down his throat, Kyle lets out a whimper. Joey continues before bending Kyle over to eat out his ass. Kyle has a hot pink hole, which Joey gets nice and ready. Once he is satisfied with the foreplay, Joey stands up and puts in his bare cock. The mood turns from romantic to wild once Joey is fucking – this young stud is a total fuck machine! After getting railed doggie style on the tub, Kyle sits on Joey's cock. Joey grabs a hold of Kyle and continues the rough fucking – just the way Kyle likes it! As Kyle bounces up and down on Joey's cock, he begins to jerk off. With Joey's dick gliding in and out, Kyle pops off a huge load. Joey licks the few remaining drops off of Kyle's cock, and then he leans back to feed Kyle his cum. Kyle eagerly opens his mouth and takes it, before kissing Joey to finish off this hot bathroom fuck!