Falcon Studios Sexy Blond Power Bottom American Gay Porn Star, Joe Gere
Known Aliases / aka:
Years Active: 1986
FALCON STUDIOS INFO:
Hair Color: Light Brown
Eye Color: Brown
Height: 5'10"
Position: Eager Bottom
Cock: 8″ Cut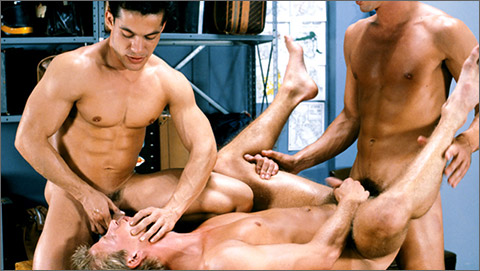 NIGHT FLIGHT (FVP-041): Leigh Erickson fucks Melchor and Joe Gere; Joe Gere gets dildo-fucked
Joe Gere can't find his baggage, but Leigh Erickson finds a package between Gere's legs. Melchor, out looking for a snack, joins in for a tasty treat. Erickson then fucks Melchor on the desk, but Gere wants his turn with Erickson as well. Joe gets fucked by Erickson who then whips out a dildo and stretches the blondes ass-hole even wider. Melchor cums all over himself and Gere, Gere delivers a dribbler cum shot. Erickson, turned on by the ass play, shoot all over himself, messy.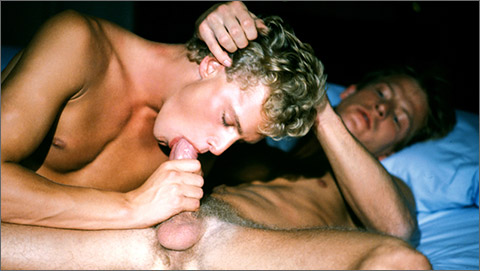 NIGHT FLIGHT (FVP-041): Kurt Marshall fucks and fists Joe Gere
Joe Gere returns home to a romantic evening of sex with Kurt Marshall. These blonds are all over themselves, with a good deal of ass play and munching. Kurt Marshall shoots a load in the middle, then continues to on to fuck Joe. Marshal cums on Gere's ass and then uses it to lube up some near fisting of Joe's butt-hole. Gere likes that hand up his ass, and dribble out another cum shot.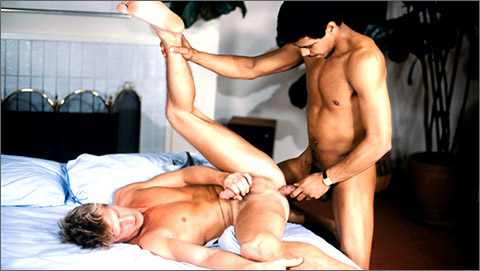 NIGHT FLIGHT (FVP-041): O.G. Johnson fucks Joe Gere
O.G. Johnson barges into Joe Gere's home late at night. It seems Johnson wants to explore his gayness further, and Gere is one to explore. Gere is forced to choke down Johnson's gorgeous dick, and takes it well. Then O.G. throw's Joe onto the bed and fucks him hard. Gere gets flipped onto his back and delivers a shootin' shot while Johnson keeps pounding away. Johnson pulls out and shoot all over Gere's belly and balls.