Hung American Gay Porn Star, JJ Knight
Known Aliases: JJ Thick
Years Active: 2015 – 2020
Lucas Entertainment Stats / Info:
Position: Top
Dick Size: 9"
Height: 5'10
The muscle hunk JJ Knight makes his Lucas Entertainment debut sucking and fucking raw with Jackson Radiz and Hunter Smith in the upcoming "Sharing Allen King's Hole."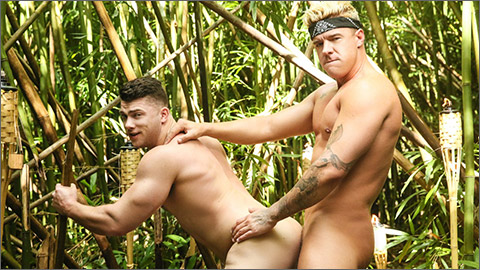 RISE OF THE SIRENS – PART 2
After learning that Beaux Banks was at the scene of his friends' mysterious demise, angry meathead Collin Simpson vows to take revenge, and his buddy JJ Knight knows just where to find him. The guys turn up with torches just as Beaux is trying to explain to Matthew Camp and his friend Colby Tucker that he's innocent. Collin and JJ chase Beaux through the forest, cornering the siren and tying him up. To celebrate their victory, Collin sucks JJ's cock and the guys 69 before Collin eases his ass down on JJ's thick cock. JJ gives Collin's ass the deepest pounding ever before cumming on the bottom's face, then sucks Collin's cock and takes a facial of his own… just in time for them to see Beaux escaping!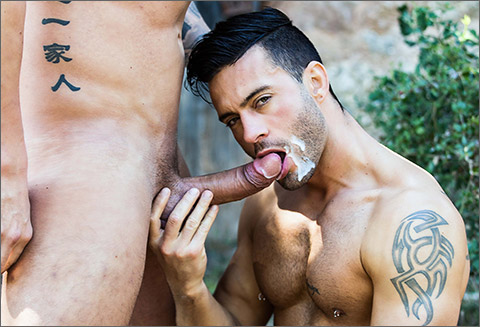 MOTEL SLUTSVILLE – PART 1
3 college buddies (JJ Knight, Lukas Daken, Ken Summer and Andy Star) take a road trip across the country to visit towns with the most bizarre and unusual town names (Dildo, Cocks Lake, Dick Lick Springs). They finally arrive at Slutsville, where they shortly discover that the name is well deserved.

LAST WILL AND TESTAMENT
Gabriel Phoenix has been suddenly admitted to the hospital. As he anxiously awaits the update from Dr. Deane, his best friend JJ Knight and JJ's girlfriend show up to offer moral support. Upon Dr. Deane's return, Gabriel learns that the news is not very promising. Devastated by the results, Gabriel explains to JJ that although he has had the chance to experience wonderful things in his life (money, travel) he never found love and worse still has never had sex.
   
How close will this friendship get and how far is a best friend willing to go to help check off a bucket list item for a dying man?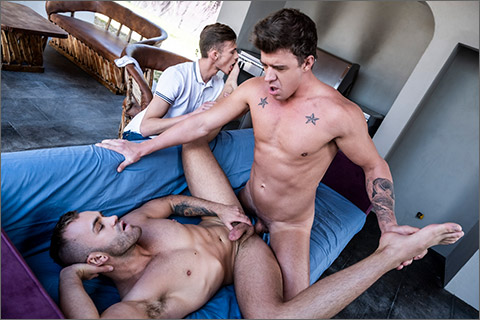 A CUCKOLD'S SUBMISSION: JJ Knight And Jackson Radiz Cuckold Braxton Boyd
JJ Knight treats his young boyfriend, Braxton Boyd, like a prince. He takes him on lavish vacations, buys him whatever he wants, and showers him with attention and admiration. But behind closed doors, JJ and Braxton share a gay cuckold fetish. Braxton wishes to have sex withheld from him sometimes, and instead he watches JJ fuck around with other guys. Braxton is only allowed to interact when JJ and his new lover allow it. Braxton even goes so far as to find guys for JJ Knight to dominate, and it's Jackson Radiz he finds for this particular gay cuckolding encounter. While Jackson worship's JJ's body and raw cock, Braxton is allowed to only suck on Jackson's feet and taste their cocks when JJ allows him!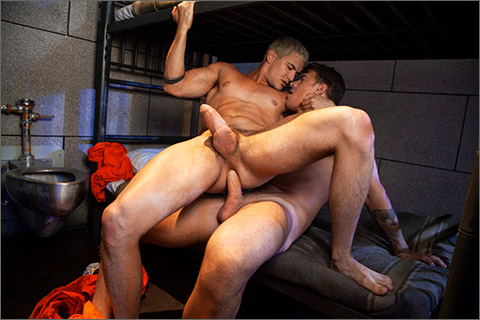 FIVE BROTHERS: FAMILY VALUES: JJ Knight fucks Jay Dymel
As the guard passes by, Jay Dymel, being the prison pig that he is, slips his finger in his cellmates urine stream and takes a sip. But once you have a taste, all little piggies want more! JJ Knight makes sure they have exactly 15 minutes until the next cell check and gets to work on fucking the hot mouth of his horny cellmate. Jay gobbles down JJ's enormous cock all the way to the balls, making his asshole pucker for the same attention. They quickly pull their pants up when surprise cell check. Jay after having a taste of the giant cock, pops up to kiss JJ and beg him to fuck him. Who could resist Jay's perfect ass and throbbing hole? JJ looks around, making sure the coast is clear, spits on his dick and shoves it in raw. Jay clenches the sheets of the bottom bunk, trying not to make a sound as JJ pounds his welcoming ass. Then JJ flips over on his back and Jay pounces on that dick bouncing up and down with Jay's own monster cock standing at attention with each thrust. After riding JJ's massive dick, Jay flips on his back to have JJ finish him off. Jay fucks while getting pounded and then JJ blows his load all over Jay's worn and welcoming hole, shoving his wet, steamy cum back in Jay's ass. Jay smiles with delight, like only the piggiest of all pig bottoms do when they have a fresh load in their ass. They hear the guard making the rounds again and quickly get dressed. The guard informs Jay that his paperwork went through and he's free to go. JJ tells him to stay out of trouble, Jay replies with the most mischievous chin "But I like trouble."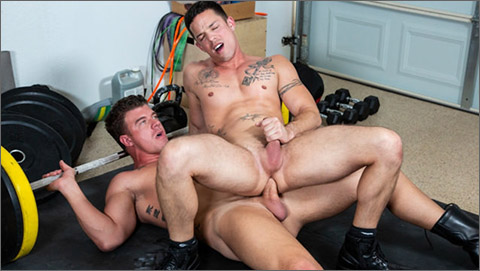 RAW WORKLOADS: JJ Knight fucks Nic Sahara
JJ Knight and Nic Sahara have been hired to organize a client's garage. After finishing the job, the two jocks play around on some gym equipment. As Nic shows JJ how many pull-ups he can do, JJ pulls down Nic's pants and starts eating his smooth hole. All the licking makes Nic rock-hard and he turns around to let JJ suck his long, uncut cock. With Nic's used-up undies pressed to his nose and Nic's dick in his mouth, JJ can't get enough of the hung stud. JJ needs his massive dick sucked too and pulls down his pants to reveal his mouth-watering monster cock. Nic can't resist the sight and gets on his knees to service JJ's pole to the base. After sucking JJ, Nic is ready for his friend in his ass and bends over to take it all. JJ slides his raw swollen dick all the way inside Nic, making the stud moan with each bareback thrust from behind. Both studs enjoy the fuck session and switch up their positions a few times until they settle on Nic getting banged on his back. JJ picks up the pace and brings the bare fucking to a frantic climax. Nic needs to cum soon and as JJ pumps his stretched-out hole, he blasts his giant load all over his ripped abs. JJ loves seeing the pleasure he's caused and pulls out to bust his nut all over Nic's spent cock and balls and then fucks the cream into Nic's throbbing ass.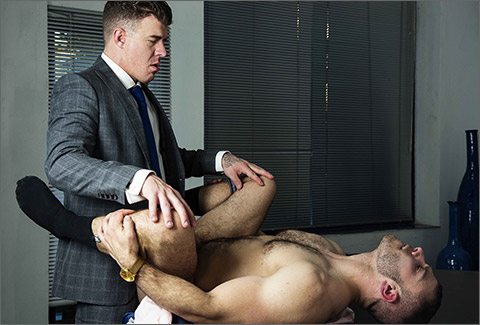 OFFICE SCHEMATICS
It's the first day on a new job for Diego Reyes and understandably he is feeling a little anxious, hoping to make a good first impression on his new boss JJ Knight. As nerves get the best of him Diego has a little mishap which could get him fired but luckily for him, JJ has already taken a liking to him. He tells Diego to take a load off and begins to massage his shoulders to get him to relax, reassuring him that his fate is in JJ's hands and he has absolutely nothing to worry about. Things really begin to heat up when JJ's throbbing 9-inch cock gets a mind of its own and decides that he wants in on the action. Thankfully Diego is all too eager to oblige and offers up his mouth and ass in appreciation, ending in an office fuck-fest befitting of any first day on the job.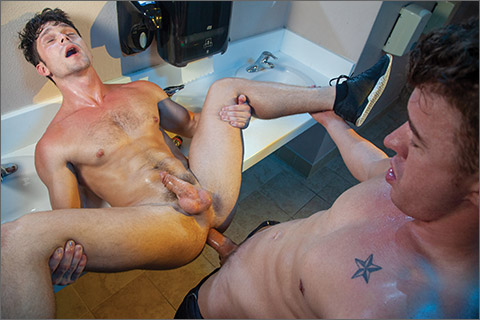 BEACH RATS OF LAUDERDALE: JJ Knight fucks Devin Franco
It's night time in Fort Lauderdale. Do you know where your weed is? Devin Franco has to admit to his buddies that he got rolled in the park and it doesn't go well. With nowhere to go and feeling deserted by his buddies, Devin rides his bike to a public restroom to drown his sorrows with big dick. When a car pulls up, he finds JJ Knight jacking off in the driver's seat. Devin can't resist JJ's monster cock and takes a quick taste. The two move the fun into the restroom where Devin continues his expert cock sucking. JJ plows Devin's face with his massive, raging hard-on and fingers his ass until both sweaty studs are ready to fuck. When JJ knows that Devin is ready for his raw, giant dick, he slips it deep into the panting hunk and quickly picks up the pace. As Devin gets slammed with his face in the sink, a random stranger enters and starts jacking off to the show. JJ wants to see the look on Devin's face as he's getting fucked bareback and gets the stud on his back. JJ keeps stretching Devin to the limits until he makes Devin blast a giant load all over himself. JJ takes his cue and dumps his load in Devin's ass before he fucks it deep inside. JJ isn't one to stick around after he's blown his load, and he takes off to let the stranger take over. Just as the random dude gets inside Devin's spent ass, the restroom door opens and suddenly Devin's fate is changed forever.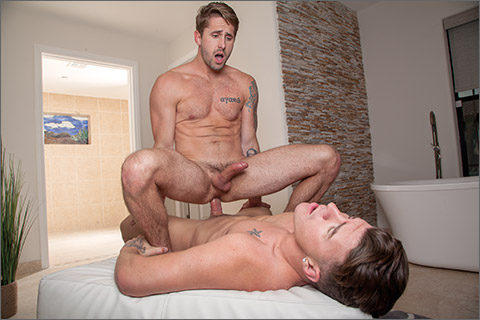 ZACK & JACK MAKE A PORNO: JJ Knight fucks Wesley Woods
Zack and Jack's first big scene of their new porno starts when JJ Knight shows up on set and needs some extra time to get hard. JJ leaves for a little privacy and as the crew takes a quick break, Jack (Wesley Woods) steps in to give JJ a helping hand. JJ is high maintenance and is never satisfied with just a handjob and orders Jack on his knees to have a taste. Jack is happy to help and soon has JJ's massive 10" dick crammed firmly down his throat. Jack can hardly wait for JJ's giant pole to fill his ass and bends over to take every inch that JJ has to offer. The horny jocks switch it up for maximum penetration before Jack hops on top for one last ride. JJ hits just the right spot as he pounds away to fuck the cum out of Jack's throbbing cock. With Jack's cum still dripping down his ripped body, JJ lets loose and blasts a load into Jack's eager mouth. Jack realizes he may have made a mistake for the production by making JJ cum so hard. Did Jack ruin the opening scene by letting the star conquer is hole?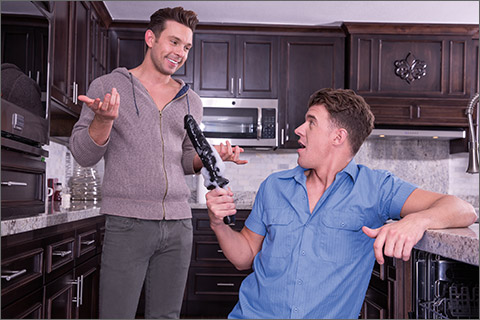 SERVICE ME!: JJ Knight fucks Casey Jacks
Homeowner Casey Jacks calls over plumber JJ Knight to fix a leak with his dishwasher. JJ identifies the problem as a giant manrammer stuck in the appliance. JJ Knight comments how big the dildo is and wants to offer Casey the real thing. Casey doesn't resist so JJ whips out his 10-inch cock and Casey gets to work taking it down his throat. Casey makes sure to cover every inch of JJ's huge dick, but wants more. He hikes his leg up on the kitchen counter so JJ can have complete access to rim his crack. JJ warms Casey up a little more switching from his tongue and his fingers to get the stud ready for the giant cock he's about to receive. When JJ feels Casey is lubed up and ready, he stuffs his rod deep into Casey's hole. Casey wants it even deeper and gets on the counter top on all fours to let JJ pound away from behind. Craving even more, Casey gets on his back and strokes his cock while JJ thrusts away. With JJ's cock deep inside of him, Casey oozes his load onto his smooth abs. The sight of Casey below covered in cum makes JJ blast his jizz all over the studs face.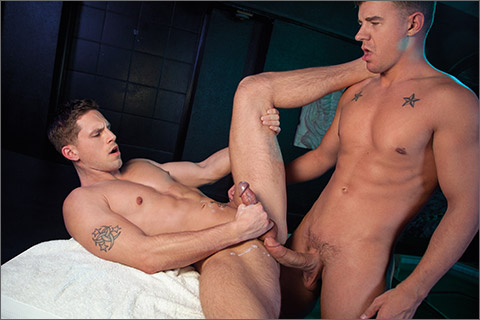 A NIGHT AT THE ENTOURAGE: JJ Knight fucks Roman Todd
When Roman Todd hops in the hot tub, he knows he wants some action, and he's in luck when JJ Knight joins him for a soak. The two lock in an embrace with a kiss as JJ jacks Roman under the water. When Roman is nice and hard, he gets out of the tub and lets JJ satisfy his curiosities by offing up his hard dick. JJ takes it in his mouth and savors every inch as Roman moans out in ecstasy. Roman has his own cravings to satisfy and gets down between JJ's legs to take a taste of the massive 10" JJ has between his legs. He loves what's he's getting and can't wait to have it deep inside his ass. JJ can see that Roman wants his meat and opens the stud's ass to lube it up with his mouth. Both studs are ready to fuck and to Roman's delight, JJ is eager to please. JJ bends Roman over by the side of the hot tub and rams his massive rod deep into the tight stud. The horny studs switch positions a few more times for maximum penetration until Roman blasts a creamy load as JJ keeps pounding away. When JJ sees Roman's cum running down his ripped body, he pulls out and shoots a thick load all over Roman. With Roman covered in cum and still catching his breath from getting fucked, JJ pulls him close and kisses him as a final thank you for the hot and steamy fun.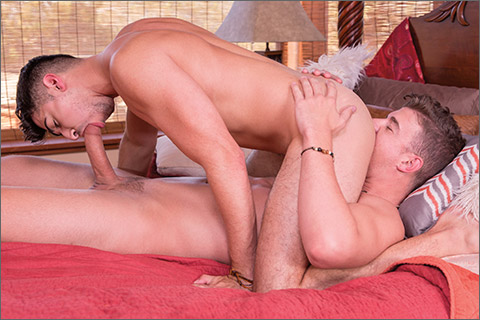 MOJAVE HEAT: JJ Knight fucks Brett Dylan
JJ Knight and Brett Dylan are alone in the desert when they take some time to hit the sheets. The ripped jocks kiss and lick each other until their clothes come off and the real fun begins. Brett can hardly contain the anticipation of seeing JJ's massive dick for the first time as it bounces out of his tight jeans. Brett gets to work servicing JJ, making sure to pay attention to every inch of the hung stud. Brett gets JJ horned up and ready for his ass while he bends over to 69. JJ loves what he sees when Brett spreads his cheeks and goes deep with his tongue to open Brett up. When both studs are ready to go, Brett hops on top of JJ and takes him deep inside his fuck hole. Brett rides the smooth monster dick until JJ takes control and bends Brett over for maximum penetration. JJ enters the hunk from behind and pumps deep as Brett moans out in ecstasy. With JJ still keeping a constant pace behind him, Brett is the first to let go and shoot all over his own body. JJ takes his cue and pulls out to cover Brett's face with cum. With the taste of JJ in his mouth and the sight of JJ's body shuddering from the intense climax, Brett releases a second load, adding to the mix that covers his satisfied body.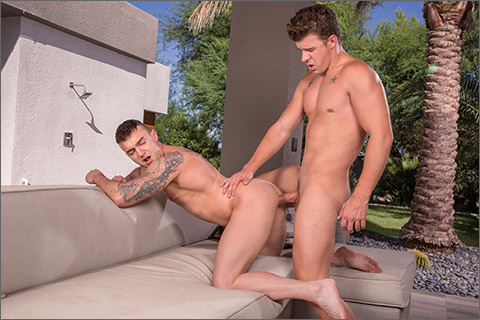 HIDDEN PALMS: JJ Knight fucks Jake Ashford
JJ Knight is floating in the pool when he sees hunky Jake Ashford walk by. Jake heads for the outdoor shower and knowing that JJ is watching, he flaunts his muscled up physique and flashes his amazing bubble butt. After leaving JJ in suspense, Jake heads over to the stud to offer up his services. Jake can't wait to get JJ's big hard dick in his mouth, and JJ feels the same about Jake's tight hole. JJ samples the goods with his finger as he gets head from the eager tatted hunk. JJ is hard and ready to go and needs a taste of Jake's ass before he slides in. JJ savors every bit of Jake's butt, getting his tongue as deep as he possibly can into the moaning and begging stud. Jake demands that JJ fucks him and JJ obliges with a slow and steady rhythm to start. Slowly building to a frenzy, JJ gets deeper inside Jake with every thrust from his engorged cock. The two studs switch it up and Jake takes a ride as he bounces on the massive dick that plunges his eager hole. With JJ deep inside of him, Jake lets go of whatever inhibitions he may have left and covers JJ with his load. With the feel of Jake's warm sperm hitting his heaving stomach, JJ pulls out to add to the mix and triples the amount of jizz on his body with a massive load that runs past Jake's tongue and covers his body for an extremely happy ending in the sun.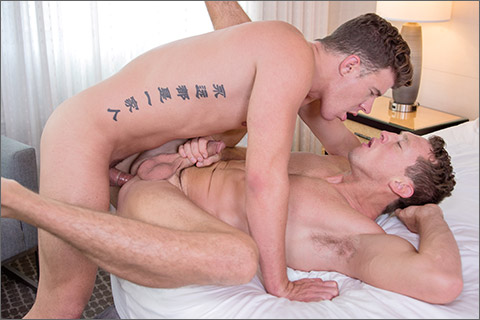 LOVE & LUST IN NEW ORLEANS: JJ Knight fucks Pierce Paris
Last night, JJ Knight and Pierce Paris enjoyed taking in some of the historic sights of the French Quarter in New Orleans. After a good night's sleep, Pierce wakes up next to JJ with a raging hard-on. Pierce starts to take care of business and reaches over to wake JJ from his dreams. JJ is happy to have a helping hand from Pierce as Pierce takes care of both of their needs with a dick in each hand. Pierce isn't satisfied with just a hand job and surprises JJ with a blowjob. JJ wants a taste as well, and soon the studs are 69ing on the bed. JJ realizes that Pierce wants to get fucked and rolls the stud over to eat him out. He eagerly takes care of Pierce's tight, hairy hole and gets it nice and opened up. JJ is ready to enter Pierce and slides his massive dick deep into the muscle stud. He pounds away, making Pierce's back door gape. JJ's dick feels so good inside of him that Pierce shoots a geyser while JJ is pumping him deep. After giving Pierce all the pleasure he can, JJ pulls out and covers the jock with cum. Pierce is so turned on by JJ that he starts jacking again and cums a second time.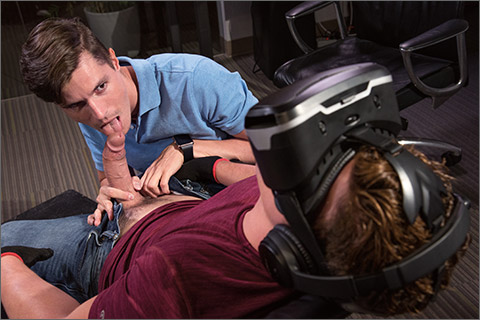 HEAD PLAY: JJ Knight fucks Alex Chandler
Alex Chandler has the object of desire and every time JJ Knight gets near him Alex uses his virtual powers to stop the muscle stud. JJ can't seem to get the upper hand and decides that to win the game, he's got to play dirty. When he corners Alex, JJ strips down and pulls out his massive dick. "This is what you wanted, right?" JJ says as he offers up his own body for the sake of recovering the object. Alex immediately gives into his temptations and starts kissing the hung stud under the bright blue sky. Alex needs JJ inside him at all costs and gets on his knees to take the massive hard-on down his throat. Alex moans out as JJ thrusts into his hungry mouth. JJ wants to feel the inside of Alex from behind and bends the hottie over to rim his ass. JJ takes his time to get Alex nice and opened up and when the time is right, JJ stands up and inserts his extra-large manhood deep into the thin jock's hairy retreat. After a long session of getting his back door serviced, Alex decides to take control and hops on to ride JJ to the finish. Alex is hard as a rock as JJ's big dick pokes in and out of his ass. JJ hits just the right spot and Alex is happy to finally let loose and spill his cum into the beautiful natural setting around them. Alex is still hungry for more and gets down to take every last drop that JJ has to offer all over his tongue. Alex laps up what didn't land in his mouth and as the two studs come down from their heightened sexual senses, only one will be able to grab the trophy and win the game once and for all.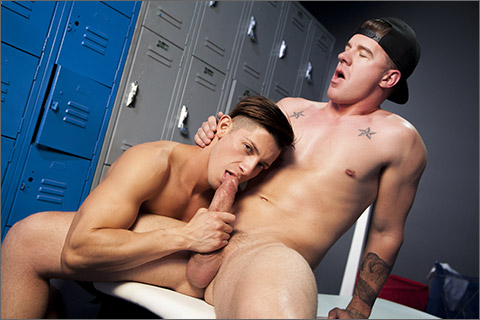 THE SLUTTY PROFESSOR: JJ Knight fucks Danny Montero
After an unsuccessful class field trip to his favorite tree, nerdy Professor Kelp (Ace Era) runs into jocks JJ Knight and Danny Montero in the locker room. They torment the nervous brainiac with sexual advances and tie him up, but he escapes, leaving the studs to finish what they started. JJ kicks back on the locker room bench with his giant baseball bat-size cock in the air. Danny goes down on him, swallowing his cock to the base, then gets on his knees with his ass in the air. JJ licks Danny's hole then fucks him in every position like a beast until he blows. JJ stands up and Danny milks a load out of him, drinking every last drop.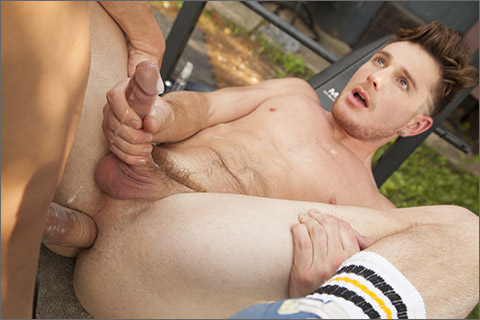 MXXX THE HARDEST RIDE: JJ Knight fucks Brent Corrigan
Reality sets in on the ranch. The guys know if they don't win the motocross competition all will be lost and they don't even have the money to enter. Inside Uncle JJ Knight is buried in bills and has reached the end of his rope with Tom's irresponsible behavior. When the too butt heads Tom does what he does best – puts on his helmet and takes off on his bike. Brent Corrigan sees the fight and comes over to do what he does best – console his horse-hung uncle with his hot mouth and tight hole. The incestuous duo take turns sucking dick but Brent knows what Uncle JJ wants. He spreads his ass-cheeks and JJ dives in, first with his wet tongue then with his legendary 10-inch cock. JJ pounds Brent mercilessly until they both drain their loads on the workout bench. Regardless of what happens to the ranch, these two go their happy ending.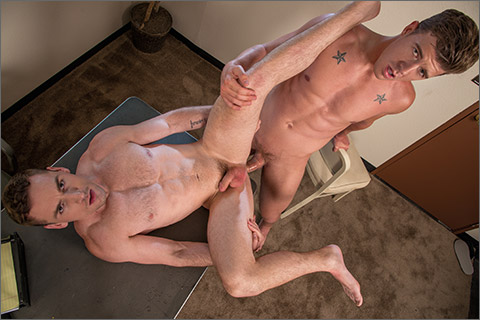 ROUTE 69: JJ Knight fucks Fane Roberts
Fane and Dustin stop for the night at a roadside motel on Route 66. Fane is turned on by his buddy's hot body as Dustin gets out to the shower. And when Dustin talks about the hot gas station scenario, Fane gets totally horned up and makes up an excuse take a breather. He heads to the front desk to complain that the room doesn't have hot water. The slick and sexy hotel manager, JJ Knight, listens intently while he fucks Fane with his eyes. JJ can see some potential to get some action and slowly approaches Fane as he pours himself a drink and edges closer to the hot hunk. It's hard to miss the massive bulge in JJ's pants and when he pulls his extra-large member out from hiding, Fane is right there to suck it. JJ's dick is so big and thick that it's hard for Fane to fit the whole thing in his mouth. After getting JJ hard as a rock, Fane knows that the dick will fit much better in his tight ass. Fane bends over to offer himself up to the hung manager who gets him nice and open and lubed up with plenty of tongue and spitting action. When JJ is convinced that Fane is loose enough to take his massive pole, he stands up and slowly slides it deep inside his new guest. JJ goes slow and gentle at first and when he notices that Fane is used to the dick inside him, JJ picks up the pace and pumps Fane's ass harder and faster. Fane is ready to get stretched as much as possible and rolls over on his back to take the dick even deeper. The massive rod going in and out of him makes Fane explode with pleasure as he covers his stomach with sticky fun. JJ sees the mess and soon follows with a load of his own all over Fane's spent balls.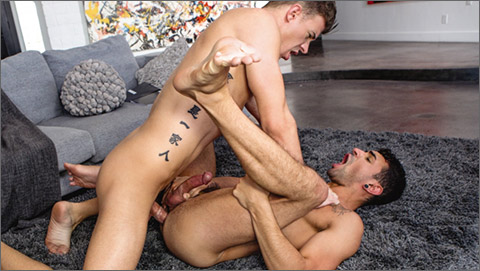 INTIMATE: JJ Knight fucks Ian Greene
Ian Greene and JJ Knight are completely head over heels with each other. Their passion transcends lusty physical instincts and they take their attraction a whole new level when they explore the electricity in each other's gorgeous bodies. They're lounging on the couch together in their tighty whities when Ian initiates the fun by arousing JJ with his toes. That's enough for JJ to stiffen his manhood and Ian doesn't waste a second getting the massive curved member inside his warm and giving mouth. Ian crawls onto JJ and teases his full erection with his ass as the amorous couple kisses and gets deeper into their passion. Ian turns around to 69 while JJ gives his perfect, hairy bubble butt some attention with his tongue. Both of the athletic studs are ready for the next level of play, and JJ slides his hardon inside of Ian to get ridden hard. They move it to the floor where Ian gets on his back and opens his legs wide for JJ to enter him again. JJ pumps his lover with a steady and measured rhythm until Ian lets loose all over his own muscled up stomach. Knowing that JJ has given his man the ultimate intimate pleasure makes him ready to blow. He pulls out of Ian just in time to feed him a gusher of fun and fills his face and mouth full of cream.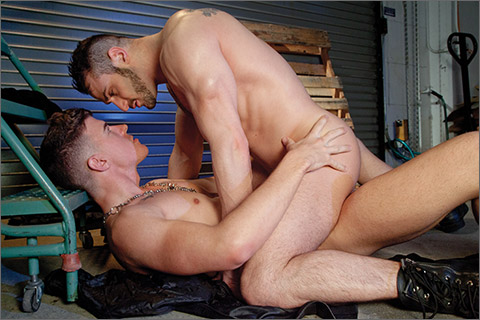 EARTHBOUND – HEAVEN TO HELL 2: JJ Knight as Henchman fucks Blake Riley as Biker
Sent on a fact-finding mission by his employer, Lord, Henchman (JJ Knight) encounters a mysterious motorcyclist. Biker approaches Henchman, and doesn't flinch when Henchman cops a feel. But the moment Henchman tries to remove the Biker's helmet, he gets immediately rebuffed. Ducking inside a dark and dirty warehouse, Henchman removes Biker's motorcycle jacket – no shirt underneath. Clawing at Biker's pants, Henchman opens the fly and services Biker's hard cock. Still, he refuses to remove his helmet. Henchman tongues the sensitive tip of Biker's cock and tugs on his big balls. Rising to his feet, Henchman won't take no for an answer: he has to know who he's dealing with. Finally, acquiescing, Biker reveals his identity: Blake Riley. They kiss passionately, completely caught up in mutual lust. Getting on his knees, Biker fishes Henchman's monster cock out of his pants and gives Henchman an intense oral workout. Biker squats down and sits on Henchman's face, using a set of utility stairs to get at just the right height. Pushing his tongue up into Biker's hole, Henchman eagerly savors the warm, soft flesh. Sitting down on top of Henchman, Biker somehow manages to cram Henchman's humongous schlong into his hole. The enormous length and girth of Henchman's cock stretches the skin of Biker's hole, and he braces himself against the stairs to better withstand Henchman's intense pounding. Jerking his hard dick, Biker pumps out a copious load across Henchman's washboard abs. As Henchman strokes himself, Biker laps up his own load from JJ's torso. As Biker teases Henchman with his tongue, Henchman ejaculates a massive, spurting load that shoots across the room and hits Biker in the side of the head. After licking Henchman's cock clean, Biker shares the taste with Henchman in a final, fiery kiss.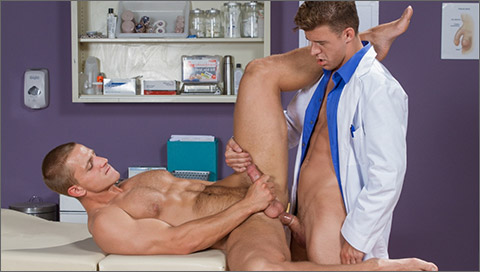 INTERNAL SPECIALISTS: JJ Knight fucks Landon Mycles
Dr. JJ Knight reviews some x-rays with his patient, Landon Mycles, whose back was sore due to muscle tension. Dr. Knight prescribes a massage treatment, which he personally delivers: a convenient excuse to deepen the doctor-patient relationship! With Landon flat on his stomach, Dr. Knight grabs two handfuls of Landon's jockstrapped ass. Parting Landon's furry cheeks, Dr. Knight dives in face first, administering liberal quantities of spit with his tongue. Landon's need for deep, sexual healing clearly requires a specialist's touch; when Dr. Knight takes his dick out, Landon eagerly swallows the monster meat. Dr. Knight's huge cock drips with spit as Landon opens wide and sucks. Returning to Landon's ass, Dr. Knight probes the tight, juicy center with his thumb, then jerks Landon's cock while eating his ass. Teasing Landon's hole with the tip of his cock, Dr. Knight knows it's time to give Landon an internal examination. Landon's ass spreads wide to accommodate the extreme girth of Dr. Knight's rock-hard rod. As Dr. Knight pushes deeper into Landon's ass, Landon's hefty balls swing back and forth. Turning over on his back, Landon throws a leg over Dr. Knight's shoulder. The intensely deep penetration of Dr. Knight's relentless thrusting makes Landon blast a huge load all over his sweaty abs, moaning and gasping uncontrollably. When Dr. Knight blows his load, it arcs through the air in a powerful jet, drenching Landon from his chest to his cock. With Dr. Knight's good loving, Landon's aches and pains are cured for good.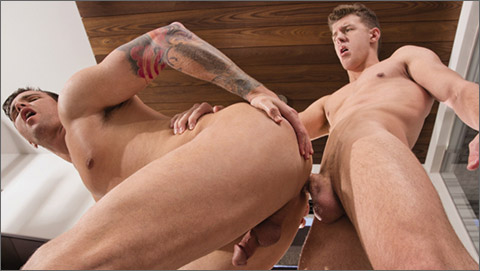 PROPERTY LOVERS: JJ Knight fucks Beau Reed
After a long day, JJ Knight and Brent Corrigan collapse into bed. Brent excitedly tells JJ about how he caught Alex and Dustin fucking on the job, and the sexy story inspires them into a nighttime quickie. The next morning, Beau Reed arrives to finish some work as JJ is still wrapped in a towel, finishing shaving. Beau nervously asks if he should come back later, but JJ assures him it's no problem. Stepping into the shower, JJ rinses off the shaving cream and shows off his massive boner to Beau, whose eyes widen with surprise and lust. Stripping off his clothes, Beau walks over and kisses JJ, then eagerly opens his mouth wide to swallow JJ's anaconda cock. Thick spit drips from Beau's mouth as he works hard to deepthroat JJ's massive meat. Bending over, Beau spreads his ass wide inviting JJ to give him a deep rim job. Using his finger, JJ works his spit down inside Beau's tight, pink hole. Lubing up his cock, JJ slides himself inside Beau doggy style. Flipping over and putting his legs in the air, Beau jerks his cock while JJ fucks him deep and hard. With JJ still inside him, Beau explodes with a massive load that splatters across his smooth torso. JJ pulls out and strokes out a thick, enormous load that coats Beau's cock with cum.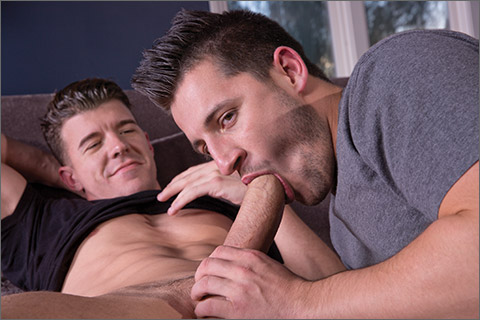 HOOK'D: JJ Knight fucks Alex Grey
With a flick of his finger, JJ Knight opens up his phone and discovers a new match: Alex Gray. They trade dick pics and JJ invites Alex over for some fun. As they make out, Alex gropes JJ's bulge, and JJ grabs Alex's perky butt. Getting down on his knees, Alex unleashes JJ's massive dong and gets down on his knees for oral worship. JJ lies down own the couch and plays with Alex's ass, spreading his butt apart, wetting his fingers with spit, and fingering Alex's tight, pink hole. Putting Alex on the couch, JJ stuffs his face into Alex's crack, using his fingers to push in the slippery saliva. Alex strokes his cock, and his low hanging balls nestle against JJ's face. Alex gets into doggy style position and JJ mounts him from behind, pushing his monster meat into Alex's eager ass. When JJ moves to lie down on the couch, Alex sits down on his cock, and JJ's balls bounce as he thrusts into him from below. With JJ's cock still in his ass, Alex strokes his cock until he shoots cum across JJ's smooth chest. Kneeling on the ground, Alex receives a face full of JJ's cum as a massive load splatters everywhere. They seal the deal with passionate kissing, cuddling on the couch.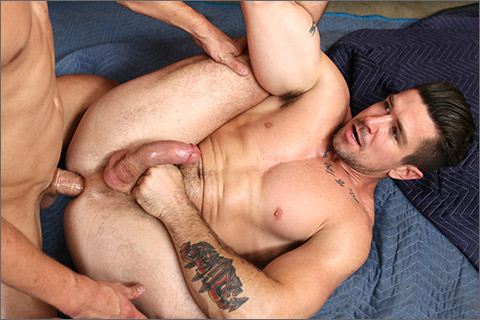 GREASERS: Trenton Ducati & JJ Knight flip-fuck
It's the clash of the bulls as superstars JJ Knight and Trenton Ducati go head-to-head in this flip-flop fucking, cum eating Greaser battle. These two horse hung studs try to outdo each other in a battle of sexual wits. Who will be the new Greaser leader and who will be left in the dust? All we know is you'll be shooting some grease of your own when you take on the Greasers!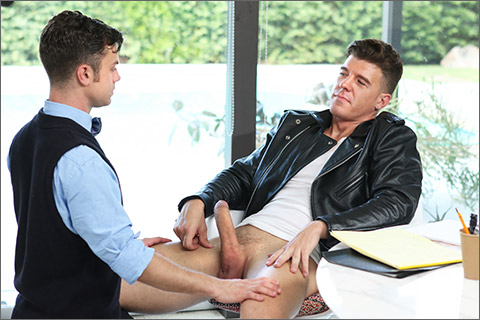 GREASERS: JJ Knight fucks Christian Taylor
Falcon exclusive JJ Knight needs a little help in the homework department and Christian Taylor is more then happy to help – as long as he gets some of JJ's grade-A cock. After demonstrating killer oral skills the Greaser takes the clean-cut tutor to task by jamming his 12 inch prick all the way up inside Taylor's sweet open hole.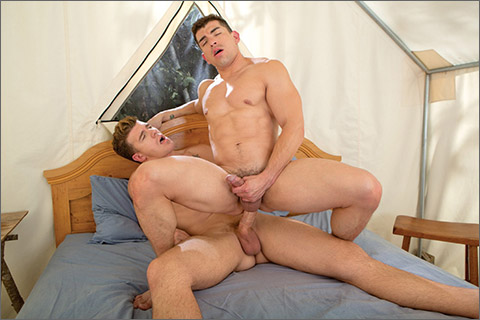 PITCHING TENTS: JJ Knight & Jeremy Spreadums
After horsing around in the river, JJ Knight and Jeremy Spreadums strip off their wet clothes to their tight, white briefs. Their sexual chemistry is so intense, Jeremy can't resist dropping to his knees and sucking JJ's insanely huge cock in broad daylight. Retreating to their tent for more privacy, they make out on the bed and Jeremy deepthroats JJ's massive rod. Reaching down, JJ massages Jeremy's spreadable ass cheeks, then repositions himself behind Jeremy to get a taste. Using his tongue, JJ probes Jeremy's hole with slick spit. With Jeremy ready to receive, JJ pushes his enormous member into Jeremy's hole. Their doggy style fucking picks up speed as Jeremy pushes his ass into JJ's crotch, pushing JJ's cock ever deeper. Dismounting, JJ lies down on the bed and invites Jeremy to go for a ride. As Jeremy rides JJ's cock, his muscular legs and beefy torso flex and swell. JJ thrusts up from above, then moves to missionary position. Jeremy puts his left leg in the air and enjoys the feeling of JJ's massive meat stretching his hole. As JJ pummels Jeremy's sweet spot, the sensation builds until Jeremy explodes with gushers of cum that drench his torso. Pulling out, JJ strokes his load out into Jeremy's waiting mouth. Hot rivers of cum accumulate on Jeremy's chin as JJ empties his balls. When he's finished, JJ leans in for a kiss, and his cum smears across both their faces as they enter a passionate embrace.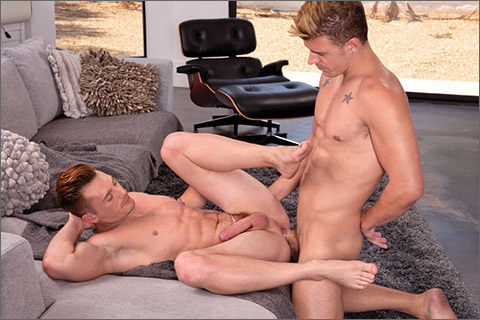 ABOUT LAST NIGHT: Brent Corrigan & JJ Knight
After a long night of bachelor partying, Brent Corrigan finds his buddy JJ Knight, the groom, crashed out on the couch. It's early in the morning, and they've barely slept, but that doesn't stop them from having one last fling before JJ's married off to someone else. Brent pulls back the blanket and opens his mouth wide to get a taste of JJ's monster cock. Reaching into his buddy's briefs, JJ fondles Brent's throbbing boner. After JJ uses his mouth to moisten Brent's cock, they rub their dicks together as they kiss. Turning around, Brent parts his amazing ass cheeks and JJ dives in face first. With JJ's tongue wedged in his hole, Brent moans and shudders with pleasure. Now on the floor, Brent gets in doggy style position and JJ mounts him with vigorous thrusting. They grind together, taking turns providing the momentum for their intense penetration. JJ gets back on the couch and Brent climbs on to ride JJ's cock. Thrusting up from below, JJ's massive balls swing through the air. Rolling over into missionary position, Brent grabs his cock and strokes himself as they reach the point of no return. With JJ still inside him, Brent shoots a white hot load. JJ stands up and sends jets of white cum into Brent's open mouth. After Brent sucks every last drop of cum from JJ's cock, they press their faces together in a final cum-covered kiss.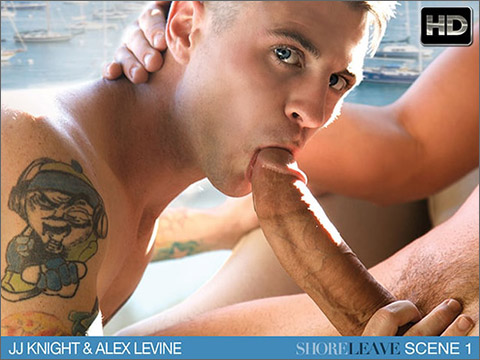 SHORE LEAVE: JJ Knight fucks Alex Levine
Fredderick is one horny seaman on shore leave. He gets home from work and puts on some porn, stroking his hard cock while reminiscing about his sexy navy buddies and what action they might be getting into. In the first scene, Alex is out enjoying the day, looking for some trouble when JJ comes along and invites him back to his place for a few beer. Before long, it's more than beer they are sucking back. Watch this horny navy stud bend over and take JJ's huge cock. Fredderick is getting hornier by the moment thinking about all the past action at the "old hole". The memories of Mikey and Mr. Digler feeding him their hot cocks is enough to make him want to explode. In the next scene Matt, a stranded marine needs a little help, luckily for him, Derek, a hot, dark stud drops by to lend a hand. You won't want to miss this hot marine bend over and take a huge black cock in his hungry white ass. Mike and Shawn are just 2 horny navy buddies returning home from a night of drinking. It doesn't take long before Shawn is begging to be fucked by Mike's huge cock.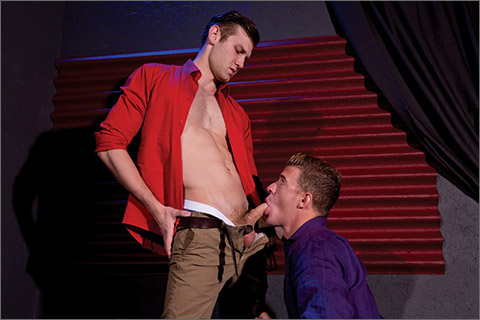 ABOUT LAST NIGHT: JJ Knight & Jacob Peterson
When the party at the club gets a little too wild and crazy, JJ Knight retreats to the back room to chill. JJ's friend, Jacob Peterson, comes in to check on him and help him relax. Falling to his knees, Jacob takes out JJ's dick. With his right hand wrapped around the base, Jacob opens his mouth and sucks on the sensitive tip. As JJ supports himself against the wall, Jacob manages to get JJ's monster cock even deeper down his throat. Trading places, JJ pulls out Jacob's uncut rod and gives him some oral pleasure in return. JJ's back leaning against the wall and strokes his girthy member as Jacob licks JJ's balls. As his eyes roll back in his head, JJ unleashes enormous jets of cum that splash across Jacob's chest. Still on his knees, Jacob works his uncut cock with his hand, his foreskin rolling over the sensitive cock head and providing intense stimulation. When he reaches his climax, Jacob's cum balloons inside his foreskin until it overflows in massive, gooey drops that splatter onto the floor.

DEEP RELEASE (FVP-265): JJ Knight fucks Brendan Phillips
After relaxing in the hot tub, Brendan Phillips arrives to give JJ Knight a rejuvenating salt scrub. When he turns over, JJ's massive cock throbs. As Brendan runs his hands along JJ's body, he gets closer and closer to JJ's meat. When Brendan works out a particular's tight area on JJ's thigh, JJ's cock swells and jumps with excitement. When JJ stands up to rinse off in the shower, he unexpectedly pulls Brendan in with him, pressing his lips against Brendan's with passionate kissing. Stripping off Brendan's wet clothes, JJ presses his enormous cock into Brendan's hand. Dropping to his knees, Brendan gets a taste of JJ's cock stretching his mouth as wide as it can go to accommodate JJ's girth. Out of the shower, Brendan straddles the massage table and opens up his ass for JJ's tongue. When Brendan's hole is lubed and ready, JJ grabs some lube and slides his gigantic cock into Brendan's ass. The intense penetration has Brendan gasping in awe as JJ rams his meat deep down into Brendan's fuckhole. When JJ reclines on his back, Brendan climbs up and lowers himself down on JJ's cock, raising and lowering himself to go on a wild ride. Flipping on his back, Brendan jerks his cock while taking JJ's meat in missionary position. The power of JJ's pounding causes Brendan to shoot a gushing load that spills across his washboard abs. Pulling out, JJ strokes his cock until he blows his load in a series of enormous spurts that shoot across Brendan's torso.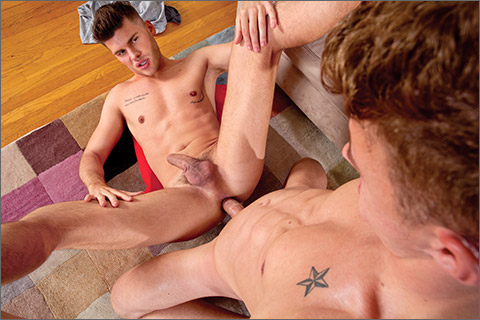 WILD WEEKEND – PART 2: JJ Knight fucks Ken Rodeo
After their adventures up at the Russian River, the guys are back in San Francisco and gearing up for the big Pride celebration. JJ Knight fixes himself a cup of morning coffee and sits down on the couch. Ken Rodeo is crashed out on JJ's living room floor, and something stirs in JJ's pants as he admires Ken's bare ass. Rolling over, Ken wakes up and is more than happy to swallow JJ's immense cock. Jumping up on the couch, Ken spreads his ass and invites JJ to dive in tongue first. With his hole slick with spit, Ken is eager to get filled up by JJ's massive meat. JJ sits on the couch and Ken lowers himself down onto JJ's cock. Ken's back flexes and his firm ass cheeks ripple as he rides JJ hard. After wearing out the couch, Ken reclines on the floor and throws a leg over JJ's shoulder. JJ thrusts his huge dick back inside Ken's hole and pounds him with fast, deep strokes. As JJ pummels Ken's hole, Ken jerks his cock and unleashes a gusher of cum across his smooth torso. Rising to his knees, Ken opens his mouth and makes his face a target for JJ's load. Huge, white globs of cum explode from JJ's cock and drench Ken's stubbled chin. Taking JJ's cock in his mouth, Ken sucks out the final drops as JJ sighs with satisfaction.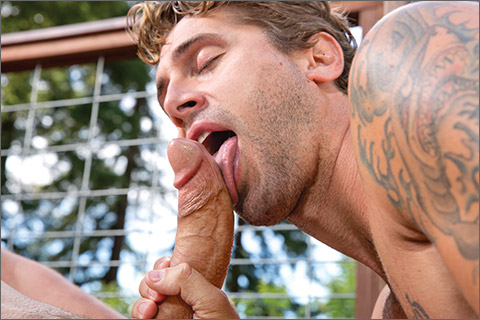 WILD WEEKEND – PART 2: JJ Knight & Wesley Woods (all oral)
JJ Knight and Wesley Woods make out on a wooden deck with a sweeping view of the Russian River wilderness. Peeling off their clothes, they run their hands over each other's ripped, muscular bodies. JJ sinks to his knees and expertly services Wesley's throbbing boner, licking the sensitive tip with his tongue and swallowing the entire humongous shaft all the way down his throat. JJ grips Wesley's cock and strokes while sucking on Wesley's sensitive cock head. Returning the favor, Wesley starts working over JJ's massive member. It's so huge that Wesley can wrap both hands around the shaft and still have plenty of length to suck on with his mouth. Spit drips as Wesley struggles to get every last inch of JJ's dick. The intense oral worship gets JJ ready to blow, and he shoots a huge wad that spurts upwards and splashes across Wesley's face. Cum drips from Wesley's lips as he slurps the last drops from JJ's incredible cock. Standing up, Wesley milks his own load out of his cock and splatters JJ's muscular chest. They press their lips together one more time, enjoying the taste and smell of sweat, spit, and cum.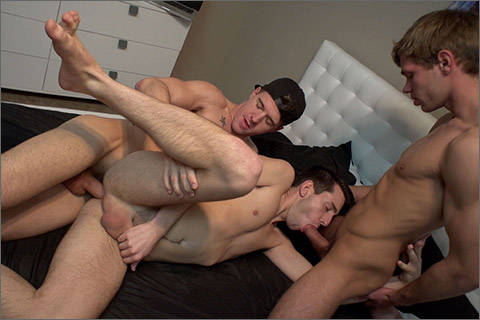 JJ AND DALTON FUCK LANCE
There's a lot of cock in this video. 25 inches to be exact. We took the boys out to the mountains to play and do a photoshoot, and on the way back, Lance decided to whip JJ's 10? cock out and play with it (naturally, we filmed it). JJ's 10? and Dalton's fat 8? was a lot to take, but Lance did it with pleasure! Dalton power-fucked Lance doggy style and then blew his load all over his back while JJ offered Lance his load all over his rock hard abs…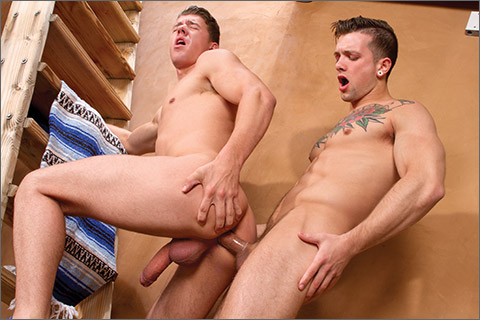 DESERT GETAWAY: Sebastian Kross fucks JJ Knight
After a hike through scenic Joshua Trees, Sebastian Kross and JJ Knight return to the vacation house and head to the secluded back patio. JJ rubs his hands on Sebastian's tattooed chest and undoes Sebastian's belt. Out pops Sebastian's giant boner, and JJ showers it with oral worship. Letting his own shorts fall to the ground, JJ unveils his unbelievable giant cock. With giant gulps and lots of spit, Sebastian gets to work on JJ's monster meat. But it's Sebastian's ass that really gets JJ going: he parts Sebastian's cheeks and works his tongue deep into Sebastian's crack. Standing up, JJ lubes up his dick and tries to be smooth about sticking it to Sebastian. Turning around, Sebastian says, "Maybe next time, but I came out here to fuck you." That works just fine for JJ: he bends over and offers his ass up to Sebastian's tongue. When his ass is wet and ready, JJ throws his legs over Sebastian's shoulders, and Sebastian slams his cock into JJ's hole. When they switch to doggy style, JJ's massive cock flaps back and forth with the motion of Sebastian's thrusting. JJ's tight ass brings Sebastian to climax: he pulls out and unleashes a massive stream of cum that drenches JJ. Sebastian slaps his dick on the puddle, splashing white semen everywhere. Turning around, JJ jerks out a massive load into Sebastian's open mouth.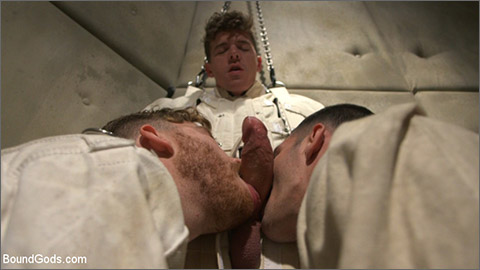 PATIENT AND NURSE BATTERED AND ASS FUCKED BY SADISTIC DOCTOR AND HIS 10 INCH COCK
Brogan Reed is having problems with his cock, and decides to visit Dr. JJ Knight and his assistant Nurse Sebastian Keys. After rigorous testing, Dr. Knight concludes that the best solution is to attack Brogan's erection until it goes down. Nurse Keys grabs Brogan, while Dr. Knight beats Brogan's hard cock, using his hands, and a crop. Dr. Knight pulls out his ten inch cock and shoves it down Brogan's mouth. Dr. Knight's new patient takes all ten inches in his throat, until the doctor can't restrain himself, and fills Brogan's mouth with hot cum. Nurse Keys wants some sloppy seconds, and ties Brogan to the bed before sticking his stiff cock down Brogan's throat. Dr. Knight decides that only he can treat the patient, and proceeds to savagely beat Brogan and Nurse Keys with a crop. Nurse Keys dreams of the doctor in a maxcita sleep slack, while he and Brogan lick all over the doctor's luscious dick. Nurse Key's awakens from the sweet dream, and finds himself in a padded cell next to Brogan. Dr. Knight towers over his bound nurse and patient. The vengeful doctor paddles Nurse Keys and Brogan as they grovel on the floor. Dr. Knight then chains them to the ceiling, and brutally flogs them until they cry for mercy. Dr. Knight lets them down and then presses them against the wall. The three form a fuck train as Dr. Knight thrusts his massive cock in Nurse Keys' ass, while Nurse Keys butt fucks Brogan against the wall. Nurse Keys wants even more cock, and takes both Dr. Knight and Brogan's dicks up his ass simultaneously. The intense double penetration leads Nurse Keys to shoot his sticky cum all over Dr. Knight's chest. Dr. Knight pushes the nurse off his cock and bends Brogan over to fuck the cum out of him. Brogan takes Dr. Knights thick dick up his ass while Nurse Keys strokes the cum from his cock. Dr. Knight then pulls Nurse Keys and Brogan to the floor, where he showers their faces with his cum.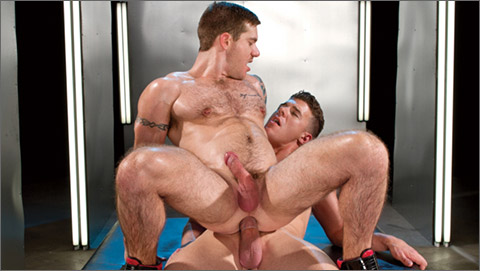 ULTRA SEX: JJ Knight fucks Skippy Baxter
Sexy JJ Knight's jockstrap can't even contain all of the meat he's packing. Lowering himself down to his knees, hot Aussie Skippy Baxter begins swallowing JJ's monster cock. Deep throating such a massive sword is daunting, but Skippy knows what he's doing, and his cocksucking skills have JJ eager for more. Skippy lays on his back with his legs in the air, parting his ass cheeks and inviting JJ to play. JJ uses his tongue to get Skippy's hole lubed with spit, then slides in a finger to explore. A second finger follows, stretching Skippy's hole and preparing him for the pounding to come. After teasing Skippy's ass with the tip of his dick, JJ plunges his supercock deep inside. Power bottom Skippy keeps one hand on his hard cock and the other hand holding his leg up, giving JJ deep access. Switching things up, JJ leans back and Skippy sits down on his cock. Using his beefy, hairy legs, Skippy raises and lowers himself on JJ's huge fuck stick. This expert bottom knows what he's doing! After getting his cock milked by Skippy's ass, JJ's ready to bust a nut: he stands over Skippy's face and blasts his load right down Skippy's open mouth. Skippy releases his spunk and sprays it across his hairy torso, and the two studs seal the deal with primal kissing.
[jwplayer mediaid="22714″]
REKINDLING COCKS
Johnny and JJ Knight were high school buddies. It's finally reunion time and JJ is late. As he's just about to enter the reception hall, Johnny is walking out. They're excited to see each other, so they go back to JJ's place to have a couple beers and catch up. When JJ asks Johnny about old flames back in school, he's surprised to learn that Johnny always had a crush on HIM!
   JJ decides to go with it, so the two engage in some passionate kissing. Soon, Johnny is on his knees servicing JJ's big, swollen cock. High school was never this much fun!
   After more smooching, JJ returns the favor by sensuously sucking Johnny's super-hard erection. Then, JJ takes things further by licking Johnny's tasty and tight asshole. Johnny didn't think he'd like it, but he can't believe how good it feels!
   Once Johnny's hole is good and ready, JJ bends Johnny over the counter and inserts his rock-solid, completely bare cock! Johnny can't believe he's finally getting fucked by his old high school crush. This is a reunion that couldn't have yielded a hotter fantasy. Join them as Johnny lets JJ put him into some very interesting positions, and watch both guys end this sexual encounter of a lifetime by shooting big, meaty loads for each other.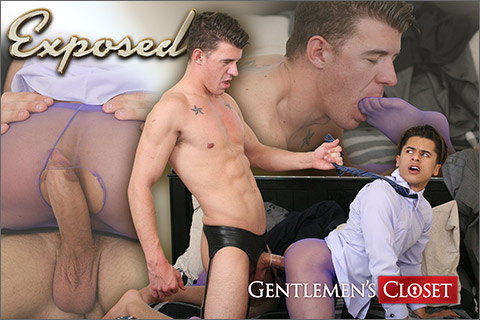 GOLDEN HOUR / REVEALED / EXPOSED
Driven by the scent of another, Armond Rizzo aims to please his master JJ Knight. JJ kicks back in his casual wear and the eager boy starts to worship the shoes then he starts to lick the amazing gold toe socks JJ had on. Armond is lit perfect during this golden hour. His body is a chiseled masterpiece. Light licking followed by deep throating, Armond knows how to worship feet. JJ stares at Armond's body and enjoys the mouth massage on his feet.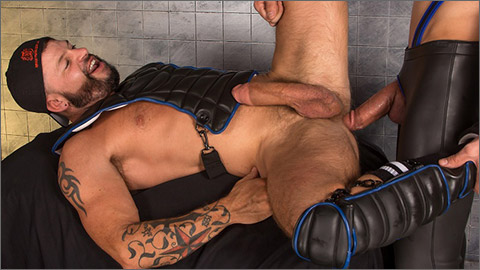 ICONS : JJ Thick fucks Tex Davidson
Tall, smooth and toned JJ Thick locks lips with hunky Tex Davidson, whose hairy chest bursts out of his baseball harness. JJ pulls Tex in closer for a kiss, the two smiling as their huge cocks grind. JJ wraps his gorgeous lips around Tex's big shaft, Tex reaching around to spread JJ's ass. Tex sucks back, opening wide as he tries to take it as deep as he can. JJ smiles down at the sucker, who spits on it as he wraps his bearded face around the shaft again. He grips JJ's sac and tugs it as he goes deep, spit strands falling down as Tex's huge boner throbs below in excitement. They kiss, their cocks sliding against each other in stiff swordplay. JJ fucks the stud from behind, Tex's big meat splayed out against the table. The bottom turns over, his beautiful dick still rock hard—and so big it reaches up under his harness—as he gets pounded some more, JJ building a great rhythm. JJ then sits on Tex's thick meat, riding him before getting on his back before they squirt.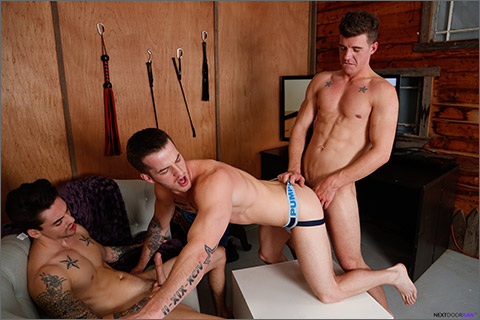 THE BREEDING HOUSE
There's no mystery about what goes on down at the Breeding House. It's the city's most active bathhouse and Quentin Gainz has recently become a regular. Johnny Torque and his partner in sexual adventure, JJ Knight, are visiting the place tonight for the first time.
   A little while after Quentin arrives and gets nice and comfortable with a big, anonymous cock in his mouth, courtesy of whoever's on the other side of the glory hole wall, Johnny and JJ enter the establishment. As they're checking in at the front desk, Quentin happens to be taking a little break, having a look at the latest dudes to drop in. He and Johnny lock eyes for only a few moments, but from that point, Johnny knows exactly whose hole he wants to breed.
   They find Quentin inside and convince him to do what they say. Soon, Quentin is switching back and forth between two enormous cocks. He's only had dicks in his mouth before, and is very nervous these boys want more.
   He's right. After taking Johnny and JJ's stiff erections hard and deep in his mouth, Johnny bends him over and slides his bare cock into that tight, virgin hole. This is NOT what Quentin had bargained for! It's happening now, and Johnny and JJ wouldn't like it if he raised a fuss, so Quentin does his best to take their massive dicks in his tight ass. After Johnny pounds his hole for a while, JJ takes a turn slamming him with his uncovered boner.
   Join them as JJ and Johnny teach Quentin a lesson about proper behavior at a bathhouse. You'll see Quentin realize in just what type of activity he's really become involved when these no-nonsense, RAW fuckers erupt their hot loads all over this gentle sweetheart who was just looking for a good time.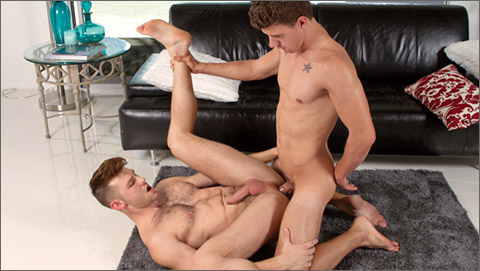 HEATED – PART ONE: JJ Knight fucks Jacob Peterson
Jacob Peterson jacks off on a deck chair while watching ripped stud JJ Knight frolic naked in the pool. Enticed by Jacob's exhibitionism, JJ takes the bait and it's not long before they're locked lip to lip. Jacob has a furry chest and 5 o'clock shadow, and JJ is smooth and clean shaven. They smash their uncut cocks together as they kiss, until Jacob bends to suck JJ: balls first, then his tongue traveling to the tip of JJ's cock and finally swallowing his cock whole. JJ lays back and spreads his legs, giving Jacob total access to his mouth-watering goods. They flick tongues, then JJ redirects his attention to eating Jacob's hot hole, with intermittent slurps of dick. Jacob finger-fucks himself while JJ rims him, then he grabs JJ's cock and guides it into him. Groans compete with the sound of flesh slapping flesh. JJ's up-curved cock sprays its load in a high arc that coats Jacob's torso from chin to nuts. Jacob grabs his meat and doubles the load.
CLICK HERE TO GO TO HIS LUCAS ENTERTAINMENT DETAILS
VIDEO ON-DEMAND: JJ Knight @ AEBN SMUTJUNKIES THEATER
DVDs & ON-DEMAND: JJ Knight @ TLA VIDEO
Hot or Not? Let us know.
[Total:

101

Average:

3.9

]