Uncut Ripped Muscle Italian Gay Porn Star, Jimmy Durano
Years Active: 2009 – 2017
COLLEGE DUDES INFO:
Height: 5′ 11″
Weight: 186
Cock: 9″ uncut
Sexuality: Gay
Position: Top
Jimmy Durano has the most amazing abs we have seen, but they only server to compliment the rest of his perfect body and wonderful attitude. We are pretty sure that a lot of you will appreciate his thick uncut dick as well. At first when Jimmy arrived he was holding his hands over his crotch whenever he was nude, but he sure was not when the cameras were on!
Jimmy Durano's Take:
I have really enjoyed hanging out with the other guys and have definitely learned alot about being in front of the camera. I am not a shy guy but I am sometimes modest. I work out like crazy and watch my diet, although I like a hamburger now and then. I am pretty much always horny, which helps in this business. Tell me what you think.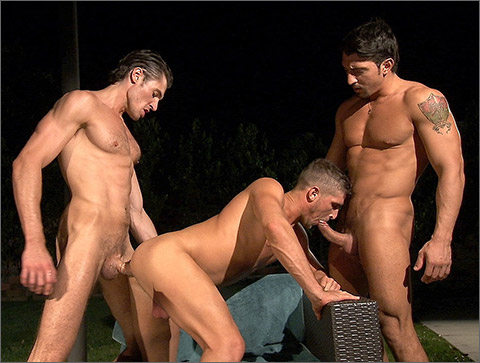 BLIND SPOT: Jimmy Durano and Adrian Long fuck Jayden Grey
Resort waiter Jimmy Durano tells co-worker Jayden Grey about the hot sex he witnessed. "You wanna show me what they were doing?" asks Grey, his big boner soon bobbing in dark-haired Jimmy's face. He teases the red-hot shaft with his tongue, smiling as he rubs Jayden's smooth body. Jimmy sucks his bud, reaching up to feed him fingers. Jayden unzips the tattooed hottie, sucking the thick throbber and teasing his foreskin ("Tastes so fucking good!"). Scruffy-haired Adrian Long approaches, soon feeding his big dick to Jayden. Adrian falls to his knees as the two kiss, a suck chain following as the three jack out their loads. Jimmy and Adrian take turns ramming Jayden, the bottom's dick staying solid. The hottest sequence has ripped Adrian pinning Jayden from behind, nibbling the bottom's ear as he inches closer—with Jayden licking Jimmy's chest. It all ends with an explosion of cum on Jayden, the three kissing to close it out.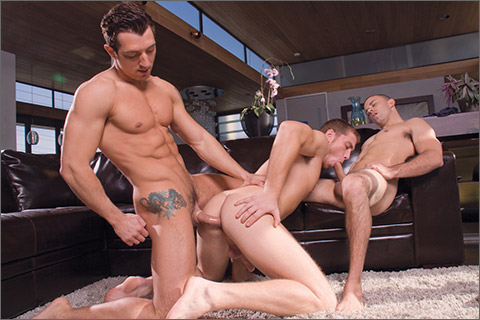 HUNGOVER: Jimmy Durano & Chris Tyler spit-roast Connor Maguire; Chris Tyler gets fucked
Connor Maguire is the lucky middle of a triple decker manwich — just as he hungrily sucks on Chris Tyler's tool, Jimmy Durano is rimming his asshole. Chris bends forward to nurse on the randy redhead's cock while Jimmy is still licking, fingerfucking and juicing up his crack with spit. Soon, Connor is getting plugged at both ends with Chris' cock down his throat and Jimmy's pole in his hole. Then it's the brave marine's turn to get fucked and the durable Durano proves his determination as he screws Chris while sucking Connor off. The action escalates until the guys can no longer hold back and they squeeze out three explosive spasms of jizz.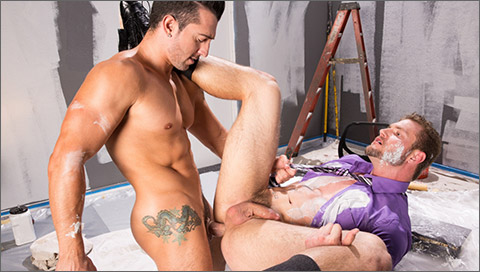 DIRTY WORK: Jimmy Durano fucks Ace Era
Jimmy Durano should have finished painting the office already, but he's barely halfway done. Jimmy's boss, Ace Era, is furious with him, but Jimmy doesn't give a fuck: he shows Ace what he thinks of him by rolling a giant stripe of paint across Ace's expensive dress shirt and tie. Ace is so mad he tries to fight Jimmy, but Jimmy has the upper hand because he knows how to subdue his blustering boss. Grabbing the back of Ace's head, Jimmy pushes Ace's face into his crotch. Whipping out his dick, Jimmy slaps it across Ace's lips, and since Ace is such an eager cock whore, he can't resist opening his mouth and allowing Jimmy's meat down his throat. Jimmy strips off his shirt, revealing his perfectly smooth torso and bulging muscles. Ace bends over a desk and Jimmy eats his ass. Paint splatters across ace's face and arms as their rampant connection gets more and more intense. Jimmy strokes his hard, uncut cock as he presses his face into Ace's ass. After teasing Ace with the tip of his cock, Jimmy thrusts his thick meat inside Ace's hole. He pounds Ace with vigorous, slamming pumps, and the tattoo that says 'FUCK ME' across Ace's ass bounces with the force of the impact. Turning over, Ace throws his right leg over Jimmy's shoulder and gets totally drilled by Jimmy's cock. The intense pressure makes Ace spill his seed, shooting it across his muscular torso. Getting down on his knees, Ace opens his mouth as Jimmy blows his load; cum spills everywhere. When Jimmy stands and heads toward the door, Ace asks, 'Where are you going?' 'You fucking finish the job,' says Jimmy, as he slams the used condom against the sticky paint on the wall.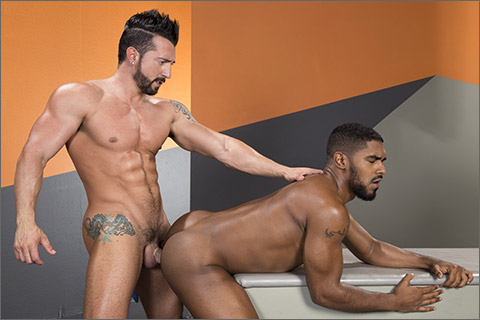 STATE OF AROUSAL: Jimmy Durano fucks XL
Jimmy Durano and XL kneel before each other, their senses heightened and their cocks at attention. The intense mental attraction to each other becomes physical as making out leads to deep cock sucking, with XL performing the impressive feat of swallowing Jimmy's extra-large uncut meat. As he sucks Jimmy's cock, XL's gorgeous ass crack spreads wide, revealing his tight, hairy hole. Jimmy's an ass man, and XL's perfect bubble butt is irresistible. Lapping with his tongue, Jimmy slathers his spit on XL's hole. When XL's ass is slippery and wet, Jimmy slides in with his girthy anaconda. Bracing himself, XL revels in the high-energy, connected sex. As Jimmy pounds with his considerable strength, glistening sweat reflects the light from their toned, muscled bodies. XL takes Jimmy's cock sideways, enabling Jimmy to penetrate deeply and hit XL's sweet spot. At the last second, just before he cums, Jimmy pulls out and unleashes a streaming gusher of cum that drips across XL's cock, balls, and taint. Stroking himself, XL blows his load on his stomach in a thick, white jet. Jimmy and XL's final kisses show their passionate 'State of Arousal.'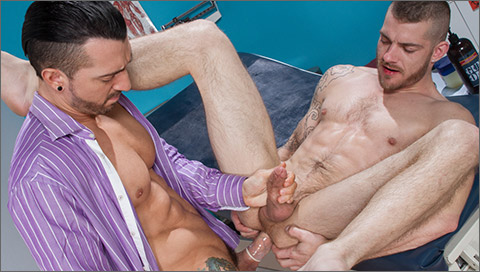 DOC'S ORDER: Jimmy Durano examines / fucks Tryp Bates
Sexy patient Tryp Bates is visiting Doctor Jimmy Durano about not being able to take his man's huge cock. Doctor Durano is more than happy to help Tryp out. After examining Tryp's hole with a few fingers, Doctor Durano gradually widens Tryp's ass with multiple toys, each one bigger than the last. Doctor Durano says 'I think you're ready for something bigger,' alluding to his massive meat. He bends Tryp over his examining table and glides his humongous, uncut instrument swiftly into Tryp's hairy ass. Tryp follows his 'Doc's Orders' and gets on his back to take even more. Tryp's legs are high in the air, and Doctor Durano stretches Tryp to the max until he busts his wad onto the examination table, leaving Doc to coat Tryp's fuzzy ass in cum.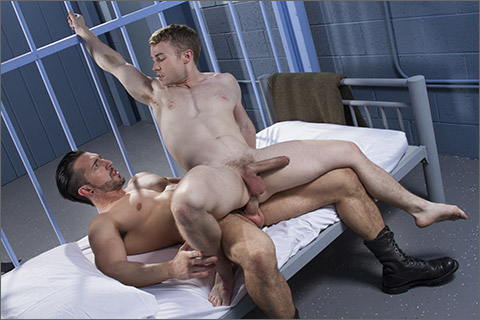 STIFF SENTENCE: Jimmy Durano fucks Gabriel Cross
Muscled and big dicked officer Jimmy Durano stands next to inmate Gabriel Cross' cell and wakes him up by putting his nightstick into Gabriel's mouth. The inmate shows Jimmy his skills before taking the officers thick uncut cock down his throat. Jimmy remains outside the cell when Gabriel bends over exposing his hairless hole. Officer Durano loves a tight hole and buries his tongue deep between Gabriel's tasty ass. Taking things to the next level, Jimmy shoves his nightstick into Gabriel's hole prepping it for the upcoming pounding. Officer Durano lets himself into the inmate's cell and bends Gabriel over to fucks his ass hard. At first pounding Inmate Cross doggy, then switching positions leaving Gabriel riding Jimmy's fat member. Gabriel lets out countless moans as his hole gets pounded and his load goes flying onto the floor. Ordered to his knees, Inmate Cross gets a load fed to him by Officer Durano.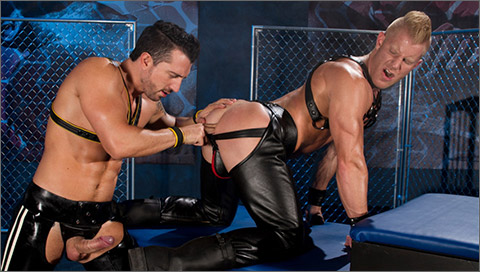 THE URGE – HUNTIN' FOR ASS: Jimmy Durano fucks Johnny V
Big-dicked Jimmy Durano paces the fence clenching his cock and biting his lip while he stares at blond, beefy Johnny V who is teasing his nipples and anxiously awaiting a playmate. Johnny abandons his lookout and rushes over to suck on Jimmy's thick uncut meat through the holes of the metal fence. Jimmy feeds Johnny his cock until it is sopping wet with spit. After Johnny is finished choking on Jimmy's dick, he bends over to let Jimmy finger his smooth, muscled ass. Jimmy pries Johnny's hole open and licks his fingers to get a taste. Eager to fuck, Jimmy gets behind Johnny and plows him doggy style shoving his cock in deep making Johnny scream 'fuck yeah' repeatedly. Jimmy spanks Johnny's perfect muscle ass as he thrusts harder and harder with each pump. To gain more leverage, Jimmy hooks his leg over Johnny's and digs balls deep. Johnny flips on his back and holds his legs in the air while Jimmy pounds away. Johnny finally releases his cock out of his jock and strokes it vigorously until he cums so hard he shoots his load on his face leaving Jimmy to spurt his load onto Johnny's flexing six pack.
VIDEO ON-DEMAND: Jimmy Durano @ AEBN SMUTJUNKIES THEATER
DVDs & ON-DEMAND: Jimmy Durano @ TLA VIDEO