Ripped and Hard Hungarian Bel Ami Gay Porn Star, Jim Kerouac
Years Active: 2010 – 2015
BEL AMI INFO:
Zodiac: Taurus
Height: 178
Weight: 62
Hair Color: Brown
Eye Color: Blue-Green
Dick Size: 19
Dick Type: Thick
Jim is not an archetypal cutie. But he is very sexual and one of the best tops we've had in a long time. He is imaginative and very intense in bed. A native Hungarian, he has what G. Duroy calls "an over-developed sense of humor. There are very few boys who are able to surprise me with their humor, but he does. Here and there he goes too far with his jokes, even for me. But that's how he is." Jim can be very sensitive and stubborn, which can be occasionally difficult, especially as he speaks no English or any other language other than his own. But he is clever and industrious, so this will be rectified soon. Jim is actually trained as a nurse.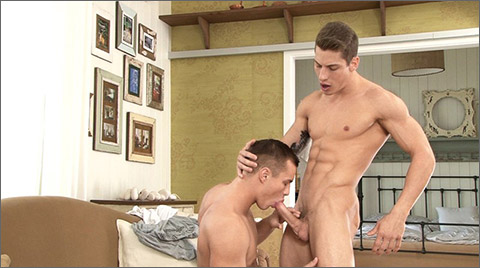 EARLY DAYS with HOYT KOGAN & JIM KEROUAC
Jim is a strong top. No matter who you pair him with, he's always in charge. That's why Hoyt admitted to being a bit nervous shooting his first scene for BelAmi with Jim. He didn't know what to expect from this aggressive ass pounder. Later on Hoyt admitted he came for the first time while being fucked. What a great first time!


2 BOTTOMS FOR 1 TOP: JIM, PHILLIPE & COLIN
EARLY DAYS with Hoyt Kogan & Jim Kerouac
BIG DICK FOR JOHNNY with JIM KEROUAC & JOHNNY BLOOM
BEST FIT: JIM KEROUAC & JULIEN HUSSEY
COLIN HEWITT BOTTOMING FOR JIM KEROUAC
JIM KEROUAC & ANDREI KARENIN
JIM KEROUAC FUCKS CLAUDE SOREL
JIM KEROUAC & CLAUDE SOREL
24 BOYS BAREBACK ORGY
JIM KEROUAC FUCKS TOM POLLOCK
JIM KEROUAC TOPS GINO MOSCA
JIM KEROUAC FUCKS MICK LOVELL
JIM KEROUAC FUCKS SEAN DAVIS
JIM KEROUAC & DARIO DOLCE – PARTS 1 & 2
JIM KEROUAC & STEVE PEYROUX
JIM KEROUAC & BILLY COTTON
PIN-UP: JIM KEROUAC
JIM KEROUAC & HARRIS HILTON 2D/3D
JIM KEROUAC & DARIO DOLCE
KINKY ANGELS – ISSUE #7
BEL AMI'S JIM KEROUAC FUCKS MAX RYDER!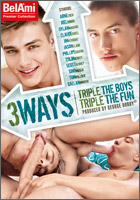 3WAYS
THE ONE & ONLY HOYT KOGAN
ALL THAT JIZZ
BELAMI FRESHMEN 2
HEARTBREAKERS
NEVER ENOUGH
AN AMERICAN IN PRAGUE – THE REMAKE
KINKY ANGELS – PART FOUR
SUMMER WITH MICK
3D BEL AMI
LET'S TALK ABOUT SEX
BEST FRIENDS
REBELS
SIZE MATTERS
ALL THE WAY
BODY PERFECT
BIGGER THAN BIG 3
DRILL BABY DRILL
THE OTHER SIDE OF GINO
TOUGH & TENDER
BIGGER THAN BIG
DEEP INSIDE
JIM
MORE THAN YOU CAN HANDLE
SKIN ON SKIN 4
BEL AMI
BEL AMI'S KINKY ANGELS