Smooth College Jock Gay Porn Star, Jett Jax / Jett Jaxx
Known Aliases:
Years Active: 2013 – 2015
TWITTER @JettjaxX
KINK MEN INFO:
Body Type: swimmer
Height: 5'10"
Weight: 170
Hair Color: brunette
Gender: male
Cock Girth: normal
Cock Length: 7
Foreskin: cut
Scene Role: switch
Pubic Hair: stubble
Ethnicity: white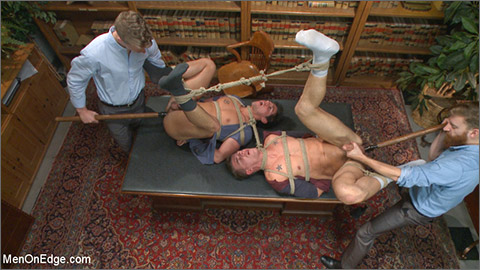 DIRTY COP CAUGHT IN A TRAP!
JJ Knight and Jett Jax got caught cheating on their midterms, so Professor Forrest drags the boys into the headmaster's office. With no tolerance for cheating, Headmaster Keys pulls out a rope from his desk and promises an ample punishment for the boys. Jett and JJ find themselves bound together at the neck as their administrators strip the boys and inspect their cocks. The punks moan in unison as they're edged repeatedly, sucking their hard dicks and working them tender with fleshjacks and vibrating cock sheaths. The professors flip the boys' legs up and jam dildos far up their asses. The pressure on their prostates feels unbearable to Jett and JJ, who suffer through the intense pleasure without an orgasm. Now standing in rope harnesses strung from the ceiling, the boys have their nipples, pits and toes worshipped as Mr. Keys and Mr. Forrest trade off on double blow jobs before allowing them both to blow their load. With their faces covered in their own cum, the two delinquents endure an excruciating tickling to ensure they'll never cheat again!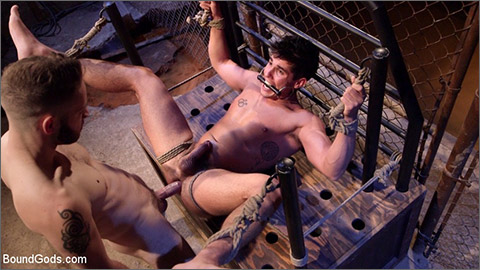 DIRTY COP CAUGHT IN A TRAP!
Back at it again, sexy Wolf Hudson has captured himself another dirty cop, Officer Jett Jax, after catching him abusing his authority. To give Jett a dose of his own medicine, Wolf has him cuffed with painful clover clamps tormenting his chest and aching balls, all while he's made to swallow uncut cock. Down in the sewer, Officer Jax gets a mean flogging on his backside before enduring the sting of the cane. Wolf plunges his big, thick cock into the officer's hole as his screams grow louder and louder. Finally, Wolf shoots a hot load all over the bound officer and makes him clean off every drop.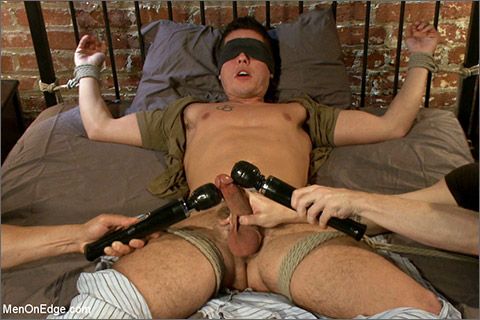 TWO EDGING PERVERTS TAKE DOWN A SEXY STUD WITH A FAT COCK
Jett Jax is fast asleep as Sebastian and Van sneak through his kitchen window, looking for a late night edging. They pounce on the sleeping stud and quickly bind him to the bed. Jett tries to scream for help but his screams are muffled as the perverts handgag his mouth and start teasing his cock. His pajamas are torn away, revealing his rock hard cock, begging to be edged. Jett gets a little surprise from the hitachi's on his cock before the perverts torment him with some tickling. Using his mouth, Sebastian edges the boy's cock until he's about to cum, only to receive a flogging at the last second instead. The perverts then turn him around and spread his cheeks, shoving a vibrator up his ass till they milk all the cum out of his cock.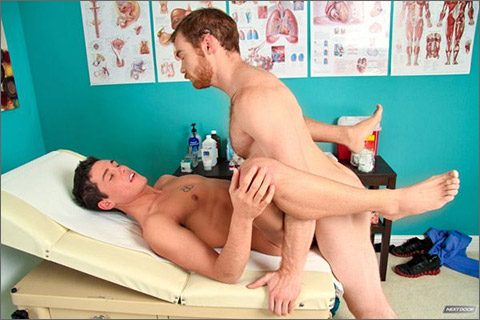 NO SCRUBS
It's break time at the hospital and for two orderlies, James Jamesson & Jett Jax, that means sneaking off to an adjacent, unused office to sneak in a quickie. James leads the way as Jett pushes him up against the examining table, wasting no time pulling down his scrubs and swallowing his big dick. James runs his fingers through Jett's hair as Jett gags on his cock, teasing the head and then working his lips down the hard shaft. James can only stand so much, and their break is only so long, so James preemptively breaks off, turning Jett over and lubing up his ass before plunging his meat deep inside. Jett moans as James pounds him from behind, before turning him over and throwing his legs over his shoulders to get even deeper. As James thrusts, Jett strokes himself off, shooting a massive load all over himself as James pulls out and blasts him with even more serious jizzness.
KINK MEN
NEXT DOOR STUDIOS
COLLEGE DUDES