Blond Handsome Tattoo American Gay Porn Star, Jeremy Stevens
Known Aliases / aka: Jeremy Parker
Years Active: 2012 – 2013
DIRTY TONY INFO:
Age (2012): 36
Height: 6′
Weight: 195
Orientation: GAY
I love surprises. Jeremy Stevens is one incredibly smoking hot surprise I am happy to have grace my casting couch. I was out shopping one day and spotted this California stud hard at work at his place of business. I was more than happy to have this yoked salesman come help me in my time of need, so I laid on some of Tony's charm. I got more than a nibble from Jeremy. To my delight, he started flirting right back at me. It turns out that we had a lot more in common than I thought. I told him who I was and what I did, and Jeremy practically invited himself over! Now this fine hunk of man is a budding porn star ready to explode, and yours truly had the pleasure of getting him first. Jeremy has it all: muscles, a sexy tan and most importantly a great big dick. Jeremy popped a boner in his jeans just talking about what a filthy pig he is in his personal life. This blond cum lover is into hairy guys and multiple partners. His eyes start to shine when I explained to him exactly what a bukakke was. I think this sexy cum slut just might be the next victim; I mean volunteer for the next round of jizz slinging fun. Jeremy can't keep his jeans on any longer and releases his huge pink cock from its denim prison. He cups his low hanging balls and moans with pleasure while he slowly strokes. Jeremy kneels on my coffee table to really show off his rock hard six pack and beautiful pecs. Jeremy's tight ass falls forward and gives a great view of his hairy hole. After a little finger play gets him close to the edge, Jeremy flips on his back and lets loose a torrent of man juice. Very pleased with what he had just accomplished, Jeremy satisfies himself by feasting on the load resting on his tanned tight abs. I cant wait to see more and more of Jeremy!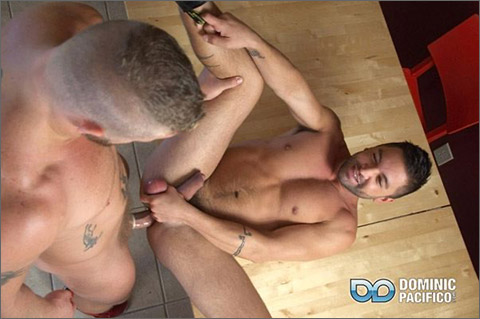 DOMINIC FUCKED BY A MARRIED MAN
Like so many straight married men Jeremy is in desperate need of some action for his cock, and although at first reluctant, he soon gives in to Dominic's advances and sinks his hard throbbing cock into his ass! Jeremy needs to cum so bad, especially after ramming a big splashing eruption out of his buddy!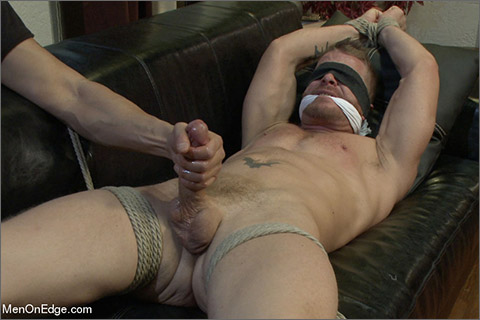 JEREMY STEVENS AND THE PERVERTED UNDERWEAR THIEVES – PART 1
Hot muscle stud Jeremy Stevens is supposed to be out of town for the weekend, and what more perfect timing for a panty raid. Thinking that Jeremy is out of town, Van and Sebastian lurk inside Jeremy's apartment, sifting through his laundry and perving on all his dirty jocks and underwear. Just as their fun begins, the front door slowly opens and Jeremy discovers the horny intruders. Before he knows it Jeremy is wrestled to the couch, bound and stripped, exposing his hot hard body and even harder cock. Jeremy is edged again and again as the pervs shove a dildo in his ass and mouth. Unable to stand it anymore Jeremy blows his giant load all over Sebastian's face. As Sebastian is in the bathroom to clean up, Van and Jeremy are brewing up something evil…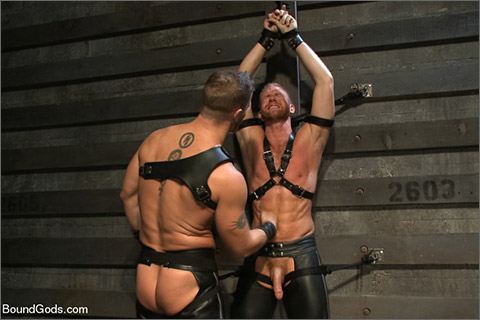 50/50
Super stud Christopher Daniels is hanging out with another super stud Jeremy Stevens. Both want to play but neither want to submit. They decide to take turns. Being new on BG, Christopher gets tied up first. He endures the gut punching and the flogging fairly well. Christopher says, "Now, it's my turn." He straps Jeremy to the concrete wall and uses electricity on the stud's ass and balls. Jeremy says, "Is that all you got?" Pissed off, Christopher pulls out the cattle prod and the party begins.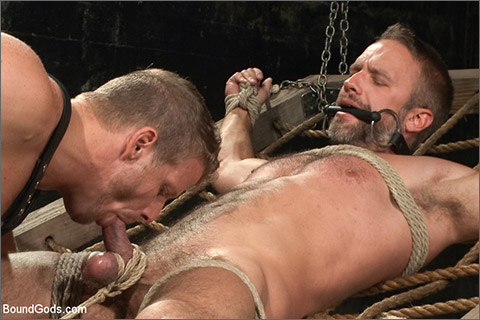 A STRUGGLE FOR POWER
Two muscle studs roam the halls of the dungeon late at night. Horny and without a slave the two men start making out and rubbing each others leather, each one trying to gain the upper hand. Jeremy Stevens eventually wins out and makes Dirk Caber suck his cock. With his arms up Dirk is given a hard flogging while Jeremy yanks on his balls. Spread eagle and tied to a suspended rack Dirk is given a shower of hot wax all over his hairy chest and his cock. Jeremy takes him to the fuck room and hogties Dirk. Jeremy fucks his ass in the hogtie then flips him over and fucks the cum out of him with wax still on his chest. Dirk promises that next time he'll be the one on top.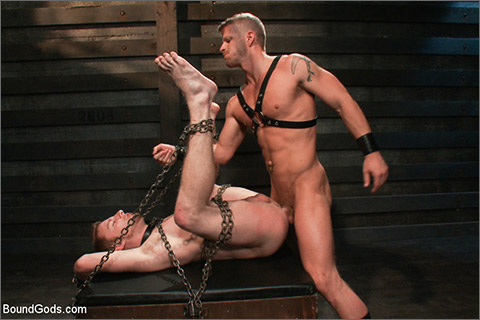 DOM TRAINING 101 BG STYLE
Jeremy Stevens is brand new to BDSM and wants to know what it takes to be a dom. He's paired with our house slave Sebastian Keys in order to show him what skillful domming can produce, but first he must go through it himself. With his arms tied back we strip his clothes off and make Sebastian suck his cock as he's flogged. Now that he's felt the sting of subbing the training can commence. We teach Jeremy how a sub should act BG style as Sebastian polishes boots. After a short flogging lesson Jeremy makes Sebastian submit to him. A hard fucking leaves the slave covered in cum and Jeremy has found what it will take to become a dom.
CLICK HERE TO GO TO HIS KINK MEN INFO PAGE