American Military Active Duty Amateur, Jeremy Diesel
Years Active: 2015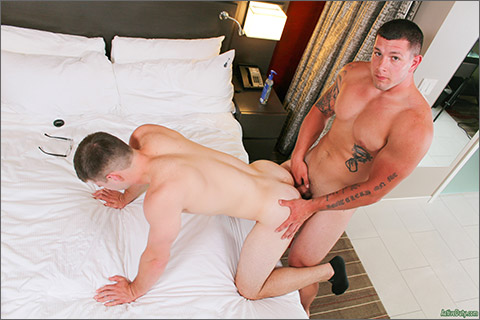 JEREMY DIESEL & IVAN JAMES FLIP-FUCK
Well this one will certainly be an adventure to remember. We have Jeremy, who came on and joined Quentin just recently, and we also have Ivan, who's a brand new recruit (and cute as a button!).
   After Claude, our man on the front lines, chats the boys up for just a bit, the two strip down, side-by-side on the bed, and ripen up their luscious cocks for our eyes to consume. That dick on Jeremy just won't quit. It's exquisitely shaped and looks so hot being stroked in his masculine hands. Ivan obviously liked it, as he didn't waste much time before leaning over and wrapping his mouth around the throbbing thing.
   Then we have Jeremy leaning over to suck Ivan's hard meat. Jeremy makes great eye contact with Claude's camera as he pleasures his new buddy. Before too long, Ivan is working the stiff cock on Ivan into his tight hole. Jeremy had to help him with the initial penetration, and also help him work into a good rhythm. Once they get going, we see this team work cohesively as Ivan bounces on Jeremy's cock while Jeremy jerks Ivan. At one point, Jeremy lets Ivan's swollen dick bounce on his chest.
   Then they switch things up so Jeremy can fuck Ivan's ass from behind. 'It must feel good, 'cause his dick is hard,' Claude observes out loud at one point. At this, Jeremy reaches for Ivan's cock to find Claude's words to be ringing true. He jacks Ivan some more while they fuck. Finally, Evan goes to his back so Jeremy can pound him a bit more before they switch.
   Ivan enjoyed fucking Jeremy's ass so much. I think he had built up a good haul of anticipation. And he sure makes the most of it! I enjoyed very much the verbal back-and-forth these two had while Ivan was pounding him. 'Do you like that?' Ivan asks. 'I love it,' Jeremy tells him. And I know that boy wasn't lying!

JEREMY DIESEL & QUENTIN GAINZ FLIP-FUCK
Well Claude has been very busy lately working with incoming recruits and keeping things at the Active Duty San Diego bunker running full steam ahead. He's been knockin' 'em outta the park with these new guys, and managing to pair them up very nicely. This time, we take a look at a very nice recipe Claude has put together, using two very hot ingredients!
   Jeremy doesn't have any trouble getting hard once Quentin wraps his mouth around that fat cock. Wow, does Quentin enjoy that thick ol' thang! He bobs real nice and deep for a while. Jeremy, like I said, is certainly not standoffish. He gets right in there and jerks Quentin's dick while enjoying the thorough sucking.
   Afterwards, Quentin fits that huge erection into his tight hole, he rides it real good. I couldn't wait to see how Jeremy did with his dick inside a man, and oh YES did he exceed my expectations!
   From there, the duo repositions so Jeremy can slam him from behind. This way seems a bit more familiar to Jeremy, but maybe it's only because he's pushed past those initial first-penetration jitters.
   Then we get to the real meat of it. Just as Jeremy is sitting down on Quentin's cock, the very first time he's had a dick inside him, he looks at Claude with a big smile and says, 'This is it, first time real deal.' All three guys laugh and Jeremy gets on with it.
   We get to see him slowly work his virgin hole up and down while on top of Quentin for a while. Then he goes to his back and Quentin takes the power role. This is the best. Quentin doesn't hold back much, and really delivers a good pounding. Claude even remarks, 'He's earning his money.'
   Join these two beautiful recruits for an explosively good time, and enjoy seeing them spray their warm loads for a great finish.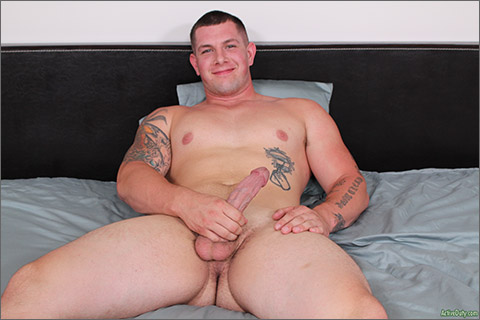 JEREMY DIESEL
This offering is what I would describe as FINGER LICKIN'! Jeremy Diesel is definitely one of the yummiest new recruits we've ever had at Active Duty, and as you probably know, that's sayin' something. He came in wearing a pair of black boxer briefs. When Claude leaves, Jeremy gets to plumpening up nice, thick erection for us. I will admit I liked his style of getting his meat to swell up. He has a semi-aggressive rubbing style that's fun to watch. He's not on the bed for very long before getting to his feet and pulling those briefs off. And POW! What a luscious dick! Jeremy is hung so nicely, my mouth was watering. A large, girthy, exquisitely shaped cock is just the right match for Jeremy's chiseled physique. He's a true work of beauty!
   Claude did some awesome work this time, getting good, tight shots of everything we wanna see. We have a nice look from the top, where we get to see Jeremy's large, masculine hands tugging his boner. He wears a pair of bright, neon green socks, which I thought was a fun touch. Jeremy does a great job, particularly for a first-timer, of giving the camera some nice eye play. He flirts with us a lot during this solo and I loved it. He's such a handsome recruit, I wanted to see his face just as much as the rest of him. There's also some very sexy stuff happening from a low angle. We get to look upwards at him as he occasionally peeks around his big stiffy, giving us that smile.
   Then we get some ol' fashioned pillow fucking. This is a great opportunity to enjoy Jeremy's fine buttocks as they thrust into the bed. There's a LOT of power in those thighs and ass. Enjoy this great session with Jeremy, a fine recruit we'll be seeing again soon!