American Exhibitionist Gay Porn GayHoopla Amateur, Jeff Niels
Years Active: 2014 – 2015
GAYHOOPLA INFO:
Height: 5'8″ / 1.73m
Weight: 185 lbs / 83.9kg
Cock: 7″ / 17.8cm cut
Thick muscular baseball jock with dark hair, a few tats and a hot bubble butt. Even though he has a tough, macho athletic look, Jeff enjoys bottoming every time we have him out for a visit.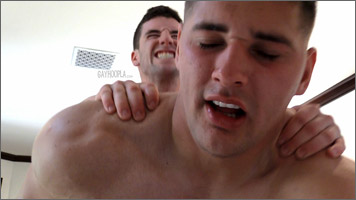 MAX SUMMERFIELD & JEFF NIELS
Max Summerfield and Jeff Niels got a long really well during our weekend getaway. They were virtually inseparable, talking about their lives, cracking jokes, and comforting each other during there first gay sex scenes ever. We've released a few videos of both these guys, but this was actually the first cock each of them had ever taken. Jeff was a pro from the beginning who seemed to thoroughly enjoy his friend Max. Max on other hand had the jitters and was super nervous. After Jeff completely made him feel comfortable, and gained Max trust, Max let Jeff spread those ass cheeks apart. Max said,"I was nice to you, be nice to me." I think this particular scene was special to see to young men, enjoying something new in their lives they'd never expected to happen. Clearly they enjoyed it enough to come back for much more.
MAX SUMMERFIELD & JEFF NIELS
GAYHOOPLA CAMSHOW JUN 15, 2014: JASON KEYS & JEFF NIELS
DMITRY DICKOV FUCKS JEFF NIELS
JEFF NIELS
   CLICK HERE TO GO TO HIS GAYHOOPLA DETAILS