Slender Pierced American Gay Porn Star, Jed Athens
Known Aliases:
Years Active: 2012 – 2015
STATS / INFO:
Cock: 7″ cut w/ PA
Height: 6′ 3″
Hair Color: Brown
Eye Color: Hazel
Position: Versatile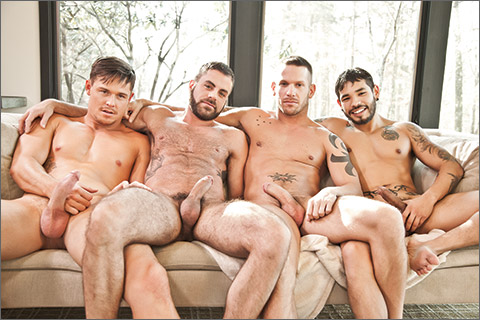 BAREBACK SEX FEST: Jed's Birthday Party Retreat Turns into a Wild Sex Party
Jed Athens and his fuck buddies Draven Torres, Shane Frost, and Marcus Isaacs retreat to a cabin in upstate New York to celebrate Jed's birthday. After he opens his presents — which all wind up to be sex toys — they strip off their clothes to give Jed his real gift. The guys daisy chain each other, fuck toys, get wet and long blowjobs, and best of all, they fuck each other raw long and hard. Jed proves his topping skills at his party, because he takes his turn on every guy in the room!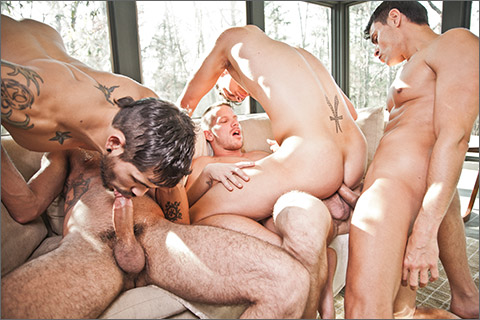 BAREBACK SEX FEST: Jed's Bareback Sex Fest Heats Up When Rafael Carreras Stops By
It's always a party when Rafael Carreras is involved — he's one of Lucas Entertainment's favorite performers, and he was at the top of Jed Athens' birthday wish list when he and his buddies planned their gay bareback sex trip to upstate New York! Rafael means that there's going to be hardcore ass fucking, because he's a Cuban power top who knows how to use his raw uncut cock with hungry precision. It's an all-out bareback fuck fest as Rafael pounds the birthday boy's ass without mercy while everyone else around them sucks and fucks like wild animals!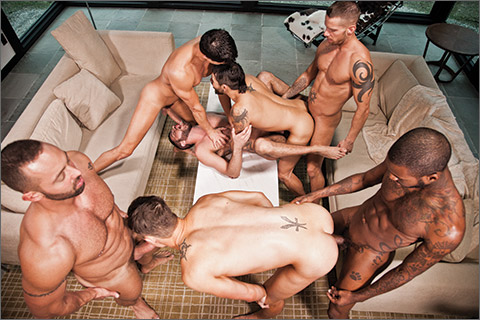 BAREBACK SEX FEST: Jed Athens Takes Bareback Double Penetration for His Birthday Gift
The gay bareback sex party has reached its conclusion and everyone is on board to make sure Jed Athens' birthday bash is a smash hit! That includes all of the guys: Draven Torres, Shane Frost, Marcus Isaacs, Rafael Carreras, Hot Rod, and Fabio Stallone. Who's going to get fucked and who is going to be doing the ass pounding' You'll have to watch the scene. But here's a hint: Jed Athens gets to enjoy raw bareback double penetration!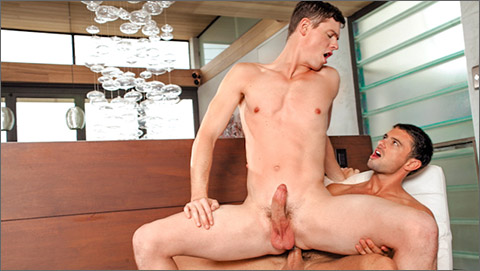 SIT TIGHT 2: Donny Wright fucks Jed Athens
In the glass-and-chrome living room of a swank new home, tanned Jocks' Exclusive Donny Wright tangles with clean-shaven newcomer Jed Athens. All-American good looks and a swimmer's build are bonuses to Jed's urgent need for avid kisses and sloppy cocksucking. Jed sucks in Donny's big, uncut cock, chewing the ample foreskin. With surprising ease he straddles Donny and guides his lover's burning cock into his blazing furnace. Jed pounds Donny's cock with all the weight he can throw, his cock smacking loudly against his belly with each plunge. When they stand up Donny pile drives aggressively into Jed's ass. They try to hold off as the fuck speed flares, but are finally forced to give it up and shower each other with milky strands of liquid lust.

SIT TIGHT 2: Spencer Fox & Jed Athens flip-fuck
Exuberance zips into overdrive as sexy Spencer Fox gets it on with rock solid Jed Athens. Their hot kissing session steams up the picture window next to the oversize tub that's home to their high spirited sport fuck. Spencer worships Jed's meat and savors his lengthy shaft and tight balls. His cock couldn't be harder with anticipation as he settles his granite ass down on Jed's cock. He rides so hard in that sweet saddle you'd think his steely pipe would crack clear off. Before that can happen, Spencer and Jed switch their roles, and Spencer shows what his strapping dick can do when it's welcomed up a eager hole like Jed's. It's so intense the tightly clasped pair launch a mutual jack-off that lets their cream erupt.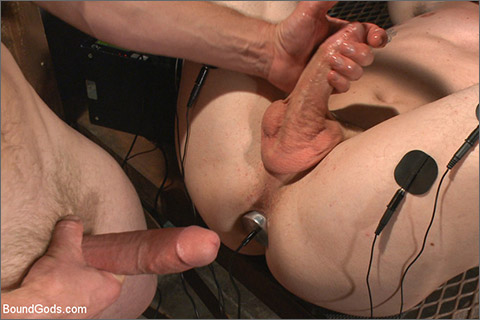 NEW CAPTIVE BOUND, BEATEN AND ELECTRIFIED
Adam Herst has another captive in his lair and this time it's the muscle bound stud, Jed Athens. Blindfolded and fully bound, Jed is stripped down. Adam teases the man's cock through his boxers and clamps his teeth down on his hard on. He makes the new slave suck his cock and delivers a hard flogging with Jed tied to the ceiling. Anxious to get at the hot stud's hole, Adam fucks him where he stands before administering an electro challenge. Jed's freshly fucked ass takes the electric butt plug and makes him squirm in agony with Adam's cock in his mouth. A final fucking leaves Jed covered in both the men's loads and left alone in the bondage for Adam to use him again at his will.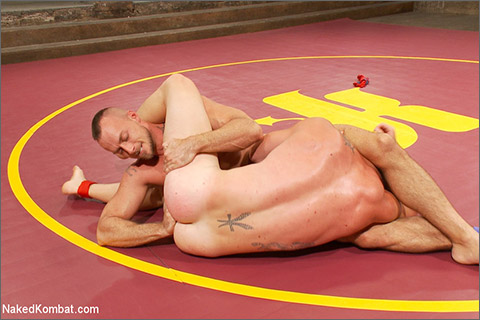 JED "ASS-WRECKER" ATHENS VS JESSIE "CUT-THROAT" COLTER
Newcomer Jed "Ass-Wrecker" Athens comes to Naked Kombat with collegiate wrestling under his belt, and not to mention military background. Who better to see if he's up to snuff than one of NK's own veterans, Jessie "Cut-Throat" Colter. With an even record of 3-3, Cut-Throat's looking to add a win under his belt before leaving his opponent drenched in a puddle of cum. Ass-Wrecker doesn't seem threatened by then veteran, he just thinks Cut-Throat's nothing but a big bottom who's ready for a deep dickin'. Will the newcomer prove himself here on Naked Kombat or will the challenge be too much for him and have no other choice but to submit to Cut-Throat? Let's get it on!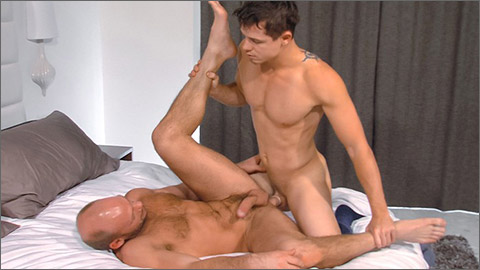 SPUR OF THE MOMENT:
Jed Athens fucks Mike Tanner
Jed Athens and Mike Tanner "This your rugby gear?" asks Jed Athens, lounging in bed with a beer as he stares at Mike Tanner—wearing nothing but a towel, fresh out of the shower after his match. Jed wants his bud to put it on, but Mike turns the tables—asking Jed to put on his sweaty uniform. Jed strips down and suits up as Mike watches, taking a swig of beer as his throbbing boner escapes underneath his towel. Jed strokes his own meat as the two stare at each other. Jed gets closer, Mike eyeing Jed's cock and repeatedly looking up at him before sucking him—a bead of pre-cum forming on Mike's big dick head. Mike stands up, Jed rubbing their dicks together before sucking him back—Mike's boner throbbing up as Jed opens wide to take it. Jed gets on his back in bed, moaning "Like that hole? Pound it!" as Mike fucks him hard. Mike then gets fucked, Jed marveling at the bottom's boner: "Look at that hard dick! Fuck!" Mike's pecs shake as he gets slammed, Jed soon standing over him and dumping his load, the bottom then shooting his thick white wad.
CLICK HERE TO GO TO HIS LUCAS ENTERTAINMENT DETAILS
CLICK HERE TO GO TO HIS KINK MEN INFO PAGE
CLICK HERE TO GO TO HIS TITAN MEN DETAILS
VIDEO ON-DEMAND: Jed Athens @ AEBN SMUTJUNKIES THEATER
DVDs & ON-DEMAND: Jed Athens @ TLA VIDEO