Young Czech Twink Gay Porn Star, JD Black / Ivan Jedlik
Known Aliases: Jaydee Black, Pedro Ramos
Years Active: 2017 – 2018
WILLIAM HIGGINS INFO:
Ivan Jedlik is aged 18 ad lives in Prague. This cute str8 guy is a student who enjoys sports, swimming and jogging. He looks so good as he sits on the sofa feeling his body. Letting a hand run under his tee shirt Ivan feels his chest. He gropes himself too, through his jeans as he slowly exposes his torso. Ivan removes the tee shirt, baring his sexy chest, and continues to feel himself. He slips a hand into the jeans to grope his cock. Then he opens the jeans to reveal his cock which is already hard. Taking hold of the cock he starts to wank it. He takes off his jeans and carries on wanking his thick cock and rubbing his chest. As he wanks the foreskin runs up and down the cockhead. Ivan gropes his balls too as he wanks. Then he takes some oil and rubs it all over his hard cock. He continues to wank that dick and then raises his legs to show off his ass. Reaching down he pulls on the ass to part the cheeks and show off his tight hole. He rubs his fingers over that hot hole too. When he drops his legs he continues to wank his hard cock, speeding up as he get close to cumming. The balls tighten at the base of the shaft too and then the cock releases the squirting cum, shooting out in big spurts. He milks the cock dry and then goes off to the shower to clean up.
Model Name: Ivan Jedlik
Age: 18
Home Town: Prague
Height: 173cm/5'8″
Weight: 55kg/121lb
Foot Size: EU41/US8.3/UK7.8
Penis Size: 15cm/5.91″
Profession/Student of: High school
Hobbies: Sport
Favorite Sports: Swimming
Active Sports: Jogging
Movie/Music/Sport Stars: Serena Williams
Visited Countries: Croatia
Want to Visit Countries: USA
Dream of My Life: I do not know.
Zodiac Sign: Aquarius (January 20 – February 18)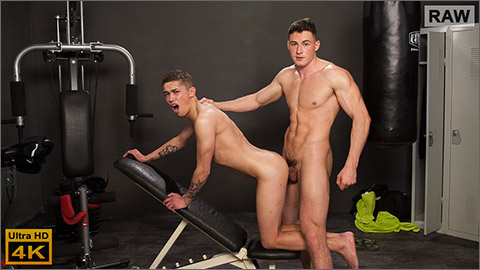 FULL CONTACT: OTO USEDA & IVAN JEDLIK RAW
Oto Useda and Ivan Jedlik are two very good looking straight guys. In this scene we find Oto doing some training with the boxing bag, His hot body glistens as the punches the bag. Then he removes his gloves and does some practice punches as Ivan comes in from the shower. He chats with Oto about training too hard and they admire each other's body. Then they begin to kiss with Ivan kissing his way down Oto's hot body to his shorts. Ivan pulls down the waistband of Oto's shorts, allowing his big cock to flop out. Ivan takes that dick in his mouth and sucks it. Ot's huge cock is rock hard as Ivan's mouth works hard on it. Then both guys are naked, with Ivan bending over and presenting his sexy ass. Oto slides his big cock into the waiting ass as starts to fuck. His cock works in and out of Ivan's hot hole, fucking it hard and fast. Oto pounds the sexy ass and gives it a few slaps as well. Ivan takes the big cock so well in his ass as it fucks deep. He is turned over, onto his back for more hard fucking. Ivan wanks himself as Oto continues to bang that eager hole. The fat cock really stretches the ass as Ivan keeps wanks hard and fast. He soon shoots his hot cum all over his body as Oto continues to fuck his hole. Ivan milks himself dry as Oto keeps up his fucking. Then Oto is ready to cum too and he pulls out, shooting his hot cum onto Ivan's sexy body. Then Oto leans forward and kisses Ivan again to end a very good scene.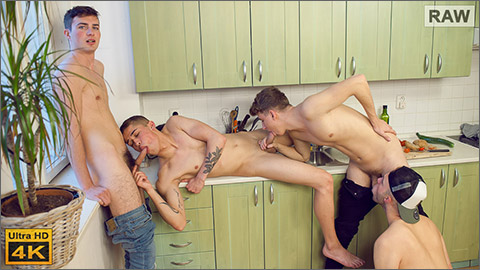 WANK PARTY #104
Wank Party #104 features Ivan Jedlik, Jan Nurad, Gabriel Gusak and Klark Junak. In this first part we see Jan and Kalrk checking out a motorcycle on Klark's phone. They are joined by Gabriel and Ivan. Ivan says he will make some breakfast but he doesn't get to far into that before Gabriel has interrupted to kiss him. Jan and Klakr watch and them move to join in. Jan kisses Ivan as Klark and Gabriel do the same, baring their chests as well. Soon all are bare-chested and groping each other as they enjoy the kissing. Ivan kisses his way down Jan's slim body to open his jeans and release his rock hard dick. He sucks on that cock as Gabriel goes down on Klark. Thye work on the throbbing cocks for a while before moving. Then Ivan lays on the counter sucking Klark, Jan sucks on Ivan's dick at the same time while Gabriel's mouth works on him. Then it is all change again as Gabriel stands and Klark goes down on him while Jan lays on the counter for Ivan to suck him. Ivan then works a cucumber into Jan's hole ass, opening up nice and wide. Jan wanks himself as he takes the big cucumber deep into his hole. Klark's hot mouth continues to work on Gabriel's big, hard, cock too setting thing up nicely for part 2.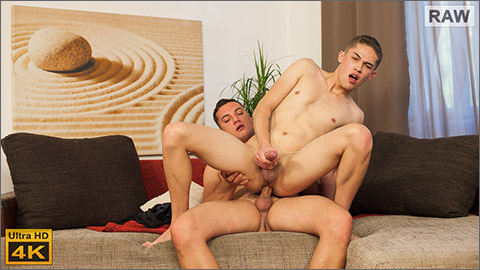 CHERRY BUSTING: IVAN JEDLIK & JIRKA MENDEZ
Ivan Jedlik is such a cute, goodlooking str8 guy we just has to pair him with another stunner for his Cherry Busting, so we opted for handsome, str8, Jirka Mendez. They sit on the sofa as Jirka conducts a brief, exploratory interview . Then Ivan moves onto his knees and they begin kissing. Tee shirts are removed to show off two sexy chests. Jirka kisses Ivan's chest and runs his hands all over it. Then he is helped to take down his jeans, by Ivan, who immediately goes down on a rock hard cock. Jirka's dick is big, and very hard, as Ivan's mouth works all over it. He sucks, licks and wanks on that big cock. Then he sucks on JIrka's balls too . Then places are switched and JIrka's eager mouth works on Ivan's beautiful cock. His head bobs up and down on the dick as his lips are wrapped tight around it. He licks along the shaft and wanks taht cock too, They kiss each other again and then Ivan moves onto his knees with Jirka going behind him to slide his throbbing cock into the virgin hole. He begins to fuck that hot,tight, hole as Ivan reaches down to wank himself . Jirka's hips thrust as his big cock works deep into the hot ass. His fucking gets faster as that dick plows deep into the hole and Ivan wanks himself some more. Jirka the pulls out and sits on the sofa for Ivan to straddle his legs and slide his ass down on the big cock. He rides up and down on that dick as he wanks his own cock hard. That sexy ass takes every inch of JIrka's hard meat as Ivan wanks hard and shoots his hot cum all over the place. He continues to ride that dick as he milks his cock dry. Then he goes back onto his knees to be fucked from behind again. JIrka's dick stretches the hole wide as he pounds the sexy ass. His fucking gets harder and faster until he is ready to cum too. Then he pulls out and dumps his cum over that sexy ass, rubbing his spent cock up and down Ivan's crack. Ivan moves up to kiss Jirka again after having his cherry well and truly busted.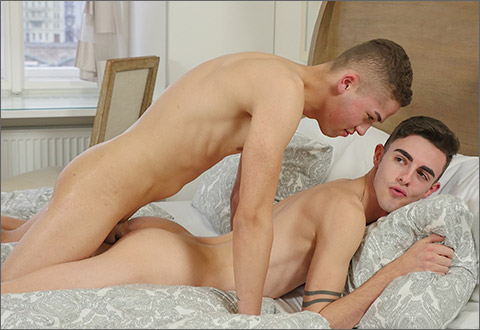 DIRTY MAG DISCOVERY
Although the trusty porn magazine is something of a rarity in this modern age of Internet entertainment, and none of us would have it any other way, there is certainly still a special appreciation for vintage skin mags. When gorgeous little Jesse Evans gets an invitation to check out JD Black's uncle's apartment he doesn't hesitate to pay his friend a visit, where the two discover a secret stash of gay porn under the mattress. It's just the kind of inspiration – or excuse – a couple of horny young guys need to begin engaging in some private BoyFun! After skimming through the pages their passions are quickly ignited, their interest in each other spilling over into a loving embrace. Inspired by the models the two are soon making out, with shirts quickly slipped off and Jesse's incredibly meaty uncut cock released from his pants. JD doesn't waste a moment, wrapping his experienced lips around his friend's engorged manhood, slurping his buddy's cock with the kind of passion suited to a starring centerfold role. Needless to say, smooth boy Jesse is just as eager to taste his friend's incredible dick, returning the favor, the boys swapping back and forth as moans and slurps bounce around the bedroom. With their youthful erections wet with spit and precum their passions are only encouraged more when Jesse slips his tongue between his friend's smooth butt cheeks, exploring JD's hole and lapping at his pucker. Prepped and ready for more JD takes every thick inch, his naked rump stretched around Jesse's tool while the boy takes him from behind. Not one to be outdone, and having experienced the warm and naked thrusting of his good pal, JD takes the lead to get a shot at his friend's most delectable zone. Jesse's plump cheeks are parted to reveal his winking pucker, orally savored before the boy eases his own throbbing length between them, slipping his bareback bone inside and fucking Jesse face-down in the pillows. As their groans of growing climax become more determined their shared bliss is almost ready to spill over in white liquid pleasure, but not before the boys switch one more time. The final deep thrusts of Jesse's big dick have JD splashing his cream from his cock, making a hot mess over his uncle's sheets, a gooey celebration soon matched by Jesse's load pumping out over the boy's freshly fucked ass. I wonder if JD will tell his uncle about the magazine they found?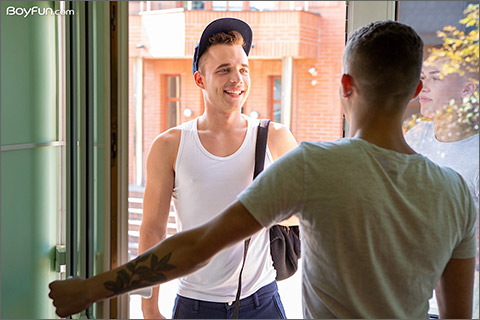 CZECHING OUT THE TUTOR
Educators usually have to work by certain rules when it comes to their interactions with students, but that's not the case when it's a private agreement like the one Florian Mraz is seeking. He's calling on sexy young JD Black to come and teach him English, but you know there's an ulterior motive for him choosing the gorgeous twink. After a few minutes it becomes clear to JD that this isn't going to be easy, especially when fit young hunk Florian unexpectedly decides to take a shower. The pretext for some BoyFun is soon set when JD barges in to find out where his reluctant student is and catches him naked. Surprisingly, Florian returns to the lesson fully clothed, but just as horny. All it takes is a little caressing and some suggestive talk and the handsome guy has seduced his slim friend, kissing and stripping on the bed, their uncut cocks quickly out of their pants and slipping into their mouths. Florian is an expert cock sucker, but he's even more skilled when it comes to sliding his naked uncut boner into a boy's willing butt hole. JD takes it from behind, savoring the pleasure of a deep thrusting from his handsome new friend. The sight of them spooning with legs spread is so delicious it's enough to entice anyone into fantasizing about making this duo a threesome, and after a little ass-to-mouth with JD getting an extra taste of that big dick he hops on for a ride, impaling himself on his buddy. Florian might not learn a whole lot of English but he does reward young JD for his efforts to teach with an impressive cum load to the face, which soon has the gorgeous young twink erupting his own juicy goo from his boner! Looks like this handsome young hunk might need a few more lessons, although hopefully he'll learn to say more than "I'm gonna cum"!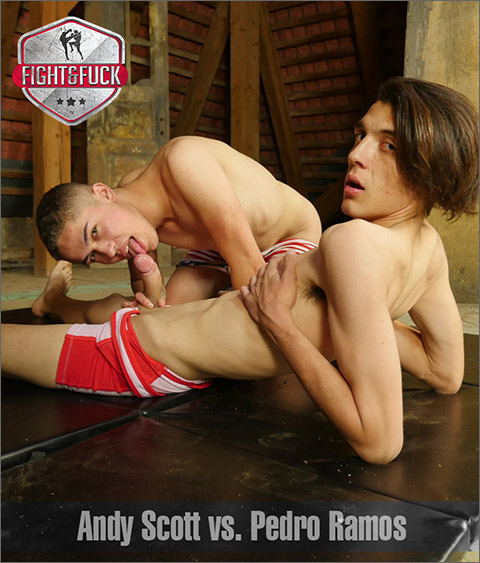 PEDRO RAMOS vs ANDY SCOTT
Pedro Ramos from Spain and Andy Scott from England are with us in this new episode of FightAndFuck.com! Both guys have known each other for a couple of years and they are inseparable Pedro told us. As we understood, they do everything together, even showering! They are very close and always had sexual chemistry together but never ever tried anything. When they heard of our website, they wanted to give it a try for fun. So here they are, ready to fight and see who's going to fuck the other one 🙂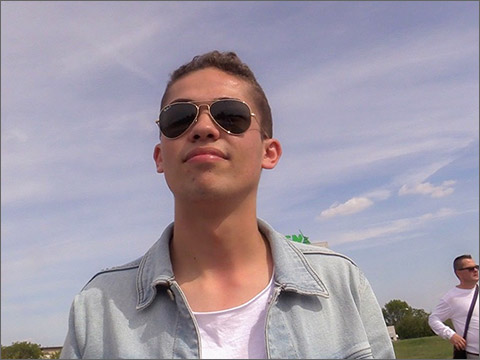 CZECH HUNTER 377
The boy was waiting for his girlfriend and fortunately she was late. He agreed to chat with me while waiting for his tardy bimbo. He came to Prague to see her and she couldn't turn up on time. He was really cute and I was prepared to pay a lot. I think he wanted to buy his girlfriend something really impressive because he went after my money like crazy. We couldn't do anything naughty at a bus stop so I took the guy behind nearby bushes. There the little devil shown his true face. He gobbled my cock and then agreed to take it up his tiny ass. I wonder if his girlfriend ever showed up because after all this she might be in trouble. I wasn't sure if the dude ever needed a girlfriend in his life again. He had fun with me and he would definitely try it again in the future.
BOY FUN
EAST BOYS
RAW EURO
WILLIAM HIGGINS
WILLIAM HIGGINS STR8HELL
CZECH HUNTER
FIGHT AND FUCK
CLICK HERE TO GO TO HIS WILLIAM HIGGINS BIO PAGE
CLICK HERE TO GO TO HIS STR8HELL BIO PAGE
JD BLACK BOY FUN PROFILE