American CockyBoys Gay Porn Star, Jay Mercer
Known Aliases:
Years Active: 2016 – 2017
TWITTER @jaymercerx
COCKYBOYS INFO:
CockyBoys is excited to bring on board Jay Mercer as an exclusive model — one look at Jay and he'll bring a smile to your face. He beams with positive energy, charisma, and is always eager to meet new people. You'll be so swept away by his charm that when he takes off his clothes, his near-perfect physique is a welcome surprise. Jay's the type of guy who takes care of himself as much as he takes care of others… meaning he's the type of top who can get a bit merciless when turned on pounding a nice bottom. And that thick cock of his is something that's impossible to go unnoticed! The "full package" in every sense of the word, Jay is one CockyBoy to watch!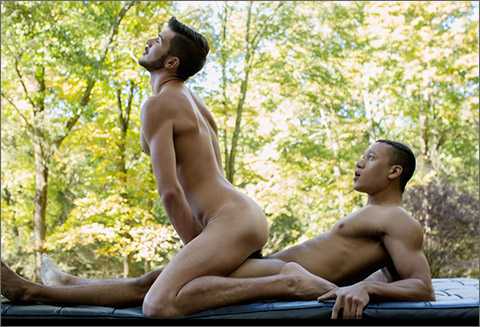 JAY MERCER FUCKS JUSTIN DEAN
Jay Mercer & Justin Dean are brand new models here at Cockyboys and these two can't wait to get it on. Both guys are totally into kissing and Justin goes so far as to say if you're not willing to make out with him you can forget fucking him. It turns out Jay is an above average kisser so things get started on the right foot.
   They head out back to get things started and Justin is quick to strip off Jay's pants and take his thick cock cock in his mouth. Bobbing his head up and down the length of Jay's shaft as his new buddy sits back and enjoys the ride. Jay isn't going to let Justin have all the fun and starts sucking Justin's own sizeable cock. He comes up for air and the two kiss a little more before Jay asks, "You want me to eat your ass?" Needless to say, Justin sticks his ass in the air and is treated to a first class rim job.
   It doesn't take long before Justin is begging to get fucked so Jay lubes up his dick and shoves in Justin's ass with a grunt. He fucks Justin doggy style before pushing him flat on his belly so he can keep pounding that ass from a new angle. The camera is right there to capture every detail as Jay's beautiful cock stretches Justin's hole and drives this handsome young twink crazy with pure pleasure.
   Justin tells Jay he wants to ride him so Jay lays back on the bench as Justin sits on that dick. He bounces up and down on that tool to maximize the pleasure for both of them and before you know it Justin is close so they change positions one more time. Justin on his back so Jay can see every inch of his smooth body as he shoots his load. A couple of thrusts later and Justin is grunting and groaning as he lets loose an enormous load that paints his stomach with piping hot jizz.
   Jay pulls out just in time to shoot his own load and their duplicate loads make a sticky mess all over Justin's smooth twink belly. He leans in the two make out a little before Justin says, "You fuck as good as you kiss!"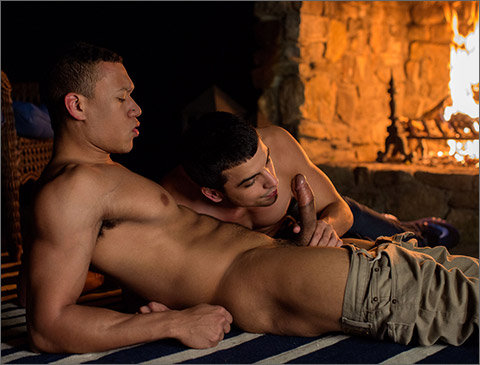 JAY MERCER FUCKS JUNIOR FERNANDEZ
Jay Mercer and Junior Fernandez are camping out by the fire and getting to know each other, when suddenly it gets too hot and Jay takes his shirt off to reveal his ripped muscular body. Of course Junior can't help himself but to start touching it, so Jay tells him "I think this is the part where you take your shirt off."
   Of course Junior is more than happy to do so. Once the shirts are off, it's pretty obvious there this is going and neither one of them seems to mind. Especially since Jay is already rock hard and Junior can't wait to put that dick in his mouth. As the fire lights up their bodies, they start taking turns sucking each other off until Jay says that he wants to fuck Junior.
   Finally once they're back at the house and a little more comfortable Junior wastes no time bending over to show Jay his hungry hole. Jay eats, fingers, and spits Junior's ass to open it up but Junior clearly can't wait to have Jay's big cock up his hole. As Jay starts to pound Junior doggy style they both watch themselves in the mirror which only turns them on even more and makes Jay drill Junior even harder. Then Jay tells Junior "I want you to ride my dick" and Junior immediately climbs up on top and sits right down on Jay's big cock.
   After riding it like a champ for a while, Junior gets on his back and tells Jay to "stick that dick in him" until he shoots a massive load all over his chest. However, nothing could have prepared Junior for Jay's cumshot which seemed to last forever as Jay kept shooting cum on top of Junior's chest as if he hadn't cum in years. These two might be new to Cockyboys but they sure as hell know very well what they're doing!
CLICK HERE TO GO TO HIS COCKYBOYS DETAILS