Titan Men American Gay Porn Star, Jay Bentley
Years Active: 2013 – 2015
TITAN MEN INFO:
AGE: 29
SEXUAL ROLE: Versatile
HEIGHT: 5'10"
WEIGHT: 195 lbs
TURN-ONS: Beefy daddy types with big dicks that like to kiss.
I am currently in school finishing my Masters in Sports Physiology. Hope to graduate in 2016.

UPPER HAND: HANS BERLIN FUCKS JAY BENTLEY
Jay Bentley shows off his hot bod in an outdoor shower. He's spotted by handyman Hans Berlin, who takes out his own boner and strokes. Hans steps inside, the two kissing as their cocks touch. Hans grips them in his hand and strokes them, his foreskin sliding. Jay sucks Hans, gagging as he goes deep, spit falling from cock to floor. Hans sucks him back, Jay's abs tightening as he gets fingered at the same time. In the bedroom, their cocks poke each other as they kiss. Hans eats Jay, spitting down on his own cock before fucking him. Jay gets pinned to the bed as Hans crouches down on him doggie style, the top using his muscular arm to cradle the bottom's head. Jay gets on his back, then sits down on Hans, who grabs the bottom's cheeks and spreads them as he fucks, soon fingering him again. Jay fires off a load that soaks Hans' facial hair, the top then shooting a rocket that flies in the air, hitting both of their bods in a climax to remember.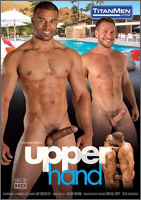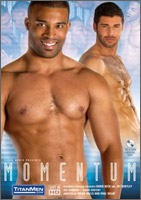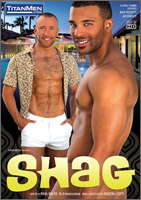 UPPER HAND
HEAVY LOAD
MOMENTUM
RESORT
SCRUF / SCRUFFY
SHAG
WORKED OVER
CLICK HERE TO GO TO HIS TITAN MEN DETAILS