Broke Straight Boys American Gay Porn Star, Jaxon Ryder
Known Aliases: Steven Womack
Years Active: 2013 – 2015
BROKE STRAIGHT BOYS INFO:
Age: 22
Height: 6'3"
Weight: 175 lbs
Dick: 7.5" Uncut
Orientation: G4P
Position: Top/Versatile
(can only bottom for average sized guys)
Location: Las Vegas, NV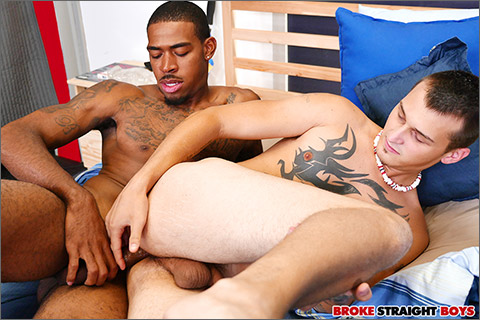 BRICE JONES FUCKS JAXON RYDER RAW
Neither Brice Jones or Jaxon Ryder enjoy kissing much, so they've worked out other ways to get their cocks hard that don't involve much lip locking. They strip down and stand up, each playing with themselves a little before the more experience Jaxon gets down on his knees and stuffs his mouth full of Brice's giant cock.
   Jaxon takes his time with Brice, sucking that dick as it grows bigger and harder in his wet mouth until finally, when Brice can't get any harder, Jaxon climbs on the bed and prepares himself for what's next. Brice straddles Jaxon's ass, holding his fat cock at Jaxon's entrance and then slowly pushing it in, spreading Jaxon's ass to get it in deeper and then slowly starting to pump in and out.
   Brice's huge, bareback cock can barely fit all the way inside of Jaxon, but he takes that dick like a pro, letting Brice fuck him a few different ways as he strokes his own dick nice and slow. When Brice has Jaxon on his back with his legs spread and ass open wide for him, he pounds him raw and hard, grabbing Jaxon's prick and stroking it before Jaxon takes over and releases his cum, then Brice has to pull out and bust a nut, unloading onto Jaxon's balls and cock!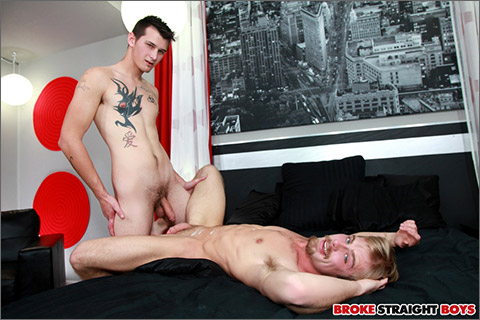 JAXON RYDER & TATE THOMPSON FLIP-FUCK
Jaxon and Tate are Southern country boys with some fine asses and eager cocks! These two studs make quite a pair…and just wait till they fuck! Tate's ready and waiting to get his ass pounded, and he gets the show on the road as he kisses his way down to Jaxon's cock and sucks on that dick like it's the best meat he's ever had the pleasure of tasting.
   Once Tate's gotten his fill of Jaxon's mouthwatering cock, Jaxon goes down on Tate and works his prick with his mouth and hands until these two are both ready to take it up a notch! Tate tops Jaxon first, fucking him hard as Jaxon moans in pleasure and cringes in pain as he feels that massive dick slamming him from behind. Once his tight ass stretches to fit Tate's big cock, Jaxon starts to beg for more of that hot bareback action…but Tate's looking to fucked hard, too, and they flip, Jaxon lubing up Tate's super tight entrance before shoving his dick inside.
   He bends Tate over the bed, making sure to get him in a position where he can get his cock in nice and deep. Tate's ass bounces as he bottoms for Jaxon, getting plowed hardcore before he turns onto his back and takes it up the ass in a new way, crying out in pleasure as his sore ass takes a pounding! The energy between these two is sexy as fuck and as Tate's ass is filled with Jaxon's thick cock, he strokes one out and shoots his load onto his abs. Jaxon can barely get his dick out of Tate's ass before he's cumming all over, too! Damn, these Southern boys can fuck!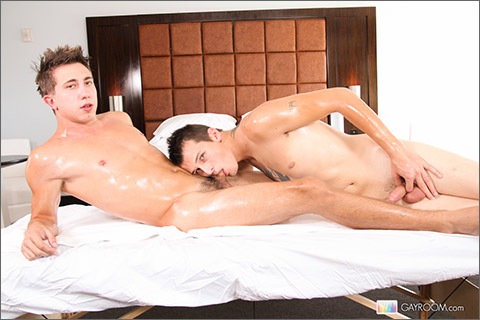 BACK TO THE ROOM (HOTEL COCK MASSAGE)
After a short rubdown though, his friend's cock all of a sudden end's up inside his ass… Not that he's complaining.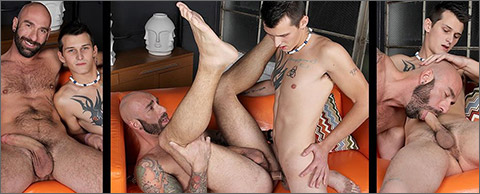 JAXON RYDER FUCKS DREW SEBASTIAN
Hung Dad Drew Sebastian and Hot Lad Jaxon Ryder make out in the living room. The shirts come off and Jaxon sucks Drew's massive cock. Drew cockslaps the lad's tongue and Jaxon struggles to fit the giant rod in his mouth. They kiss and get fully undressed. Drew blows Jaxon's uncut cock, playing with the lad's foreskin. They relax on the couch and kiss as they stroke their cocks. Jaxon goes down on Drew. He fits as much of the huge pecker in his mouth as he can. Drew returns the favor by happily deep throating Jaxon's stiff dick and eating his tight ass. Jaxon slides his cock into Drew's hairy man hole. They fuck doggystyle on the couch as Jaxon slams his cock hard. Drew turns on his back and Jaxon pounds him deep. Drew Sebastian shoots a hot load across his hairy chest and abs. Jaxon Ryder pulls out just in time to cum on Drew's abs. Drew eats Jaxon's cum and cleans his dick with his mouth.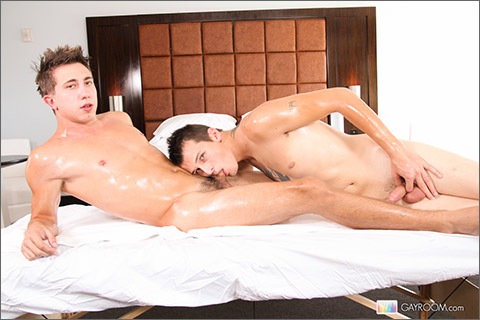 BACK TO THE ROOM (HOTEL COCK MASSAGE)
JAXON RYDER FUCKS DREW SEBASTIAN
BRICE JONES FUCKS JAXON RYDER RAW
JAXON RYDER FUCKS BRODY LASKO RAW
DUSTIN POWERS, JAXON RYDER & CHANDLER SCOTT
JAXON RYDER & BRODY LASKO & JUSTIN RIGGS 3 WAY
JAXON RYDER FUCKS JAMES ANDREWS RAW
PAUL CANON FUCKS JAXON RYDER
JAXON RYDER & TATE THOMPSON FLIP-FUCK
JAXON RYDER FUCKS ROMEO JAMES RAW
JAXON RYDER FUCKS IAN DEMPSEY
DAMIEN KYLE SUCKS JAXON RYDER
JAXON RYDER SOLO
BROKE STRAIGHT BOYS
JAKE CRUISE'S COCK SURE MEN
JAKE CRUISE / HOT DADS HOT LADS
GAY ROOM
CLICK HERE TO GO TO HIS BROKE STRAIGHT BOYS DETAILS