Handsome Hung Gay Porn Superstar, Jason Branch
Known Aliases / aka:
Years Active: 1999 – 2005
STATS/INFO:
Nationality: U.S.A.
Birthday: December 5, 1963
Hometown: Chicago, IL. (Born and Raised)
Now Resides In: San Francisco, CA.
Height: 6′ 2″
Weight: 195 Lbs.
Hair: Light brown
Eyes: Green
Cock: Thick, 9 inches
Cut/Uncut: cut
Jason Branch is a Chicago native born on December 5, 1963. He began shooting porn in 1997 along with his boyfriend as a way to make some extra cash. Jason caught the eye of several studios and in 1999 he was able to make porn his full-time gig. Throughout his career Jason has been the recipient of many awards including a 1999 Grabby for Best Performer and a 2000 GayVN Award for Best Oral Scene. Jason was also named Best Top by Unzipped Magazine and in 2003 the readers of Men Magazine-Germany named him Man of the Year. Jason is often a fan favorite not just for his all-American good looks but also for his versatile performances. When not working on a film Jason loves to travel. He has visited several exotic locales and spent some time living in Paris. He is a highly educated individual with several degrees including a Masters Degree in International Relations from Boston University. Jason is fluent in English, French, German, and also speaks some Mandarin Chinese. Outside of the industry Jason is very involved with AIDS organizations. In the past he has worked at the Center for AIDS Prevention Studies – UCSF doing behavior AIDS Research and continues to volunteer whenever possible.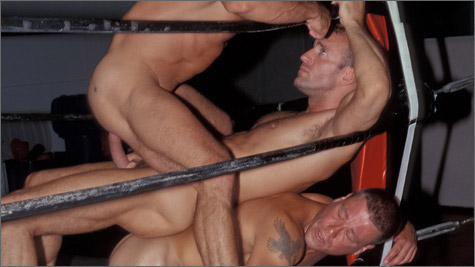 TAG TEAM: Josh Perez, Paul Dawson, Jason Branch
Josh Perez and Jason Branch, two humpy bodied buddies, step into the ring to warm up after the opening foursome leave to shower. Their friendly banter and massaging hands are extended to Paul Dawson after he approaches the ropes. The warm up quickly combusts into full flame as their three hard, gorgeous cocks grapple for attention. Dawson takes both Perez and Branch down his throat, then eagerly slurps around Perez's hole as Branch slowly circles the target area with his prize winner. Dawson then is used as a ring corner bench on which Branch reclines. Perez impales his muscled ass on Branch's upturned cock using the ropes as springs for greater thrust – another great sports first! The three then create a fuck train with Dawson in the lead, Perez in the middle and Branch as caboose. The action is then taken outside the wrestling ring as Dawson's ass ring squares off against the double penetration assault of Branch and Perez. Prize winning cum shots follow from each, which are hungrily gobbled down by Branch and Perez.

CATALINA
CHANNEL 1 / RASCAL
ALL WORLDS
BOUND & GAGGED
OH MAN! STUDIOS
GRAPIK ART PRODUCTION
MEN OF ODYSSEY

CLICK HERE TO GO TO HIS TITAN MEN DETAILS

MEN MAGAZINE PRESENTS: TITAN MEN
MEN June 2002, August 2003
[2] Nov/Dec 2001
UNZIPPED January 18, 2000, March 2007
HONCHO October 2000, September 2001, August 2002, September 2002, November 1999
INCHES May 2000, February 2004
ALL MAN July 2002
BLUEBOY October 2003
DUDE January 2000 (Vol. 4, No. 1)
JOCK November 2000, October 2001, January 2002
MANSHOTS September 2000, March 2001
HOT MALE REVIEW (HMR) July 1999
XXX SHOWCASE v13 n08
ZIPPER r033
MEN SPEZIAL 2: RASCAL SUPERSTARS
BRUNO GMUNDER: FALCON – HEROES – MEN OF FALCON
BRUNO GMUNDER: FALCON – LEGENDS – MEN OF FALCON
BRUNO GMUNDER: TITAN MEDIA – TITAN MEN
BRUNO GMUNDER: TITAN MEDIA – TITAN MEN POST CARD BOOK
ADAM GAY VIDEO: 400 PORN STARS
ADAM GAY VIDEO: 500 WORLD'S GREATEST PORN STARS
ADAM GAY VIDEO: THE FALCON MOVIES OF JOHN RUTHERFORD
ADAM GAY VIDEO: XXX INTERVIEWS
TITAN MEN 2002 CALENDAR
MEN MAGAZINE PRESENTS: TITAN MEN
[2] HOT MALE COUPLES 2006
VIDEO ON-DEMAND: Jason Branch @ AEBN SMUTJUNKIES THEATER
NOW STREAMING: Jason Branch @ NAKEDSWORD