Super Cute Czech Gay Porn Star, Jan Nurad
Known Aliases / aka: Matthew Sommer, Ray Rio, Kevin Jade, CzechHunter 441
Years Active: 2018 – 2020
WILLIAM HIGGINS INFO:
Age: 20
Home Town: Melnik
Height: 179cm/5'10"
Weight: 72kg/158.4lb
Foot Size: EU43/US8.7/UK8.2
Penis Size: 17cm/6.69″
Profession/Student of: University student
Hobbies: Sport
Favorite Sports: Soccer
Active Sports: Floorball
Movie/Music/Sport Stars: Keira Knightley
Visited Countries: Portugal
Want to Visit Countries: Canada
Dream of My Life: I do not know.
Zodiac Sign: Scorpio (October 23 – November 21)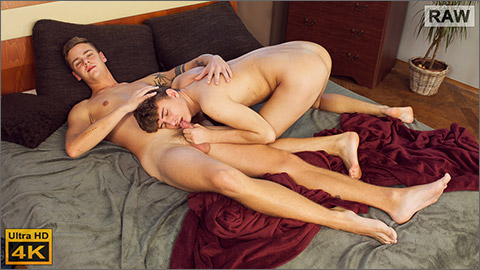 FULL CONTACT: MISKO SINAK & JAN NURAD RAW
Misko Sinak is asleep on the bed as Jan Nurad stealthily creeps up on him. Jan begins to feel and kiss Misko's sexy ass, lowering his underwear in the process. Misko wakes up as he feels the hot lips and hands on his ass. He still feels sleepy but begins to respond as Jan moves further up his hot body. Jan continues to kiss and caress the sexy body as Misko turns over some so that he can respond to the kisses. Jan's groin presses against Misko's ass as they kiss. As Misko lays on his back Jan presses his mouth into the bulging groin. He pulls down Misko's underwear to release his cock and balls. Jan takes the burgeoning cock into his mouth and sucks it. He sucks on the balls and licks up and down the shaft of the cock too. Misko rubs Jan's head as the hot mouth works on his fat cock. Jan wanks on the stiff dick as he sucks on Misko's balls before going down on the cock again. Jan then removes his underwear to release his own stiff cock. Then he leans over and kisses Misko again. He turns around and climbs over Misko so they can suck each other. They both suck so well as the stiff dicks fill the mouths. After kissing again Mikso moves onto his, presenting his sexy ass. Jan pulls the underwear off that ass and slides his rock hard cock into the waiting hole. That cock fucks deep into Misko's ass as a hand runs all over his back. Jan grabs the hips and fucks harder, as his cock fills the tight hole. Misko turns onto his back and is fucked some more as he wanks himself. Misko wanks hard as the cock pounds his tight hole. Soon his dick gives up the squirting cum shot as Jan continues to fuck hard. Then Jan pulls out of that tight hole and unloads his cock too, shooting his creamy cum onto Misko. He milks his cock dry and then leans forward so they can kiss again.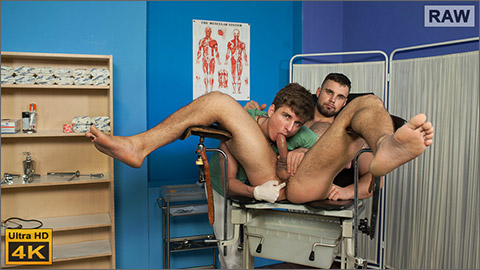 CZECH UP: JAN NURAD & LEO LOMBAR RAW
Jan Nurad is doing the army Czech Ups today and Leo Lombar is due for his. Leo comes into Jan's office and looks so hot in his uniform. Jan tells hi to strip to his waist so he can check his chest. He uses his stethoscope to listen to Leo's sexy chest and his abdomen. Then he feels Leo's sides with his hands before turning him around to listen to the back of the body too. He feels the lower back too. Then he tells Leo to remove his pants. Leo bends to remove his boots, then the pants come off as well. Leo isn't wearing underwear so hi cock, balls and ass are exposed when the pants come off. He takes off his socks too and then is ready for Jan to continue his checks. Jan drops to his knees and check Leo's balls, and the cock too, with his hands. Everythis seems fine so he has Leo move into the exam chair with his legs in the stirrups. That exposed Leo's tight ass hole and Jan uses his gloved hand to check it. A finger is pushed into the tight hole as Leo enjoys the feeling as he lets a hand rub against his cock. Jan's finger works deeply into that hot hole and he leans forward to lick as well. As he feels that hot tongue on his hole Leo uses both hands to rub his cock. Jan moves to the side and fingers that hot hole as he takes Leo's stiff dick into his mouth. He fingers the ass as he licks and sucks on Leo's throbbing cock. Leo pushes Jan's head down on his cock as it is sucked hard. Jan works that rock hard dick so well and continues to finger Leo's tight ass hole. Then Jan has Leo climb down from the chair. He gets naked hmself and takes Leo's place in the chair. He is quick to rub Jan's tight hole and has a quick suck on his dick too. Then he moves into position to slide his rampant cock into Jan's hot hole. Leo fucks that ass hole deep and hard as Jan grabs his own cock and starts to wank it. He wanks himself as Leo's fat cock is deep in his ass fucking hard. Leo's fucking gets faster as Jans wanking speeds up too. That hot hole is stretched wide as Leo's dick pound in and out of it . Jan keeps wanking hard and soon shoots a hot load all over his belly, He milks his cock as the cum runs down his side. Leo keeps up his fucking until his cock is ready to cum too. Then he pulls out to unload his cum onto Jan's balls. Jan rubs the cum over his balls as Leo milks himself dry and then leans forward to kiss Jan.

FULL CONTACT: TOMAS SALEK & JAN NURAD RAW
Tomas Salek has hooked Jan Nurad and he entices him into some kissing. Jan doesn't need much encouragement as he is very eager too. He kisses Tomas and rubs his hot body too. Tomas' hands are all over Jan and he kisses his way down the sexy body to the jeans. Pulling down Jan's jeans, so that his hard cock flops out, Tomas starts to suck . He takes the stiff cock in his mouth and sucks hard on it. His hot mouth works all over the cock and his tongue licks up and down the shaft too. Jan's hand is on Tomas head, encouraging him to suck. Jan pulls on his own nipples as his dick is worked hard. Then the guys swap places and Jan opens Tomas' jeans to relelase his rock hard cock too. He takes that cock into his mouth, cupping the tight balls as he sucks. Jan licks the shaft and suck on the cock head. He wanks that throbbing cock too as Tomas removes his shirt. Tomas' cock is so hard as he hot mouth works on it. Jan licks at the balls too and takes the dick deep into his mouth as Tomas hips thrust in and out. That big cock fucks Jan's mouth and he grabs it to wank it as he keeps sucking and licking. Tomas' balls are so tight at the base of his cock as he fucks into Jan's hot mouth. Then then move so that Jan can kneel on the foot stool and present his hot ass. Tomas' stiff cock finds the hole and pushes deep inside. He fucks Jan's hot ass ahole deep, opening it wide. Jan reaches back and pulls his ass wide open as Tomas fucks him, pulling out and shoving all the way inside again. As he feels that cock working hard into his ass Jan moans loudly. Tomas' rock hard cock pounds the hot hole deep and hard as Jan takes it so well. That rampant cock works the hole so good. Chaning position Tomas sits so that Jan can ride on his cock. Jan's hot hole works up and down on the hard dick. His own cock is standing proud too as he works his ass on Tomas' pole. Jan rides hard on that cock and grinds his ass onto it, taking every inch in his hole. Then they move again, with Jan laying back and feeling that dick stretching his hole. He wanks himself as his ass is fucked hard. His hard wanking pays off as he shoots his huge cum shot all over his hot body as Tomas' dick continues to fuck his eager hole. Tomas is soon ready to cum too and pulls out to dump his load all over Jan's ass, balls and leg. He leans forward to kiss his partner again to end a wonderful scene.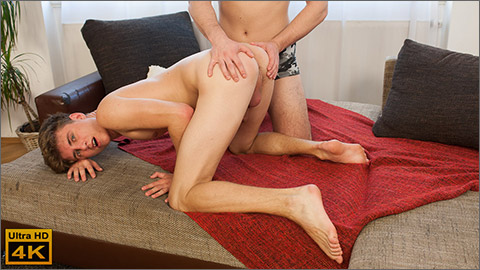 MASSAGE: JAN NURAD
Jan Nurad is a very cute and sexy guy who is in for a massage. He strips to his underwear and lays, face down, on the sofa. The masseur arrives and takes some oil to start work on Jan's hot body. The hands work on Jan's neck and shoulders and down the back. His arms are massaged too and the hands glide all over the back as Jan relaxes to enjoy his massage. The masseur straddles Jan's legs to continue working on the back. The hands move down to Jan's ass, squeezing the cheeks through his underwear. Then underwear is lowered to show that sexy ass and the hands massage it. Moving up the back and all the way back down to that sexy ass the masseur moves to the side and pulls Jan's underwear off. Then he starts to work on the legs and feet too. Then it is back up to that sexy ass. The hands reach between Jan's legs to feel his cock and balls. His sexy ass hole is shown off too as the hands parts the cheeks. A thumb rubs over that hot hole, and then a finger slides inside. It works deep into Jan's hot hole fucking it gently. Then the finger is removed and the cheeks are spread so that hole can be inspected again. The finger goes back inside to fuck a little more. Jan moves onto his knees, spreading his ass wide as the hands reach for his cock and balls, The cock is wanked between his legs. Then as that cock is wanked Jan's ass is fingered again. More oil is used on the cock as it is wanked. Then a dildo is produced and pushes into Jan's hot hole. It fucks in and out as a hand reaches down to wank on Jan's cock as well. His tight hole takes the toy deep inside. The toy is removed from Jan's ass and he turns onto his back to have his cock oiled and wanked some more. The balls are rubbed too as Jan's cock is wanked. The wanking continues as Jan's dick gets very hard and delivers his hot cum onto his body. Then the cock is milked dry and the hands run all over his body.
CLICK HERE TO GO TO HIS WILLIAM HIGGINS BIO PAGE
CLICK HERE TO GO TO HIS STR8HELL BIO PAGE
VIDEO ON-DEMAND: WILLIAM HIGGINS @ AEBN SMUTJUNKIES THEATER
ENDLESS STREAMING MEMBERSHIP: WILLIAM HIGGINS @ NAKEDSWORD