Czech BelAmi Gay Porn Star, Jamie Durrell
Years Active: 2015
BEL AMI INFO:
Eye Color: Brown
Zodiac: Virgo
Dick Type: Thick
Dick Size: 19
Hair Color: Brown light
Height: 178
Weight: 66
Jaime's father wanted him to become a hockey player. Jaime's ideas about his future however were rather different. He got our telephone number from a friend who did a casting with us several years earlier, and so he called and said that he wanted to film porn. We invited him for an interview and he arrived with a big suitcase, moved into Kevin's room and stayed for 3 months. In those 3 months he got plenty of personal attention from Kevin and has turned into a good friend and great model. Right now we are having some difficulties as he has fallen in love and has trouble concentrating on the set, so some of the newer scenes are not his best. Knowing Jaime though I also know that he will handle it well and be able to strike a balance between love and being a professional lover.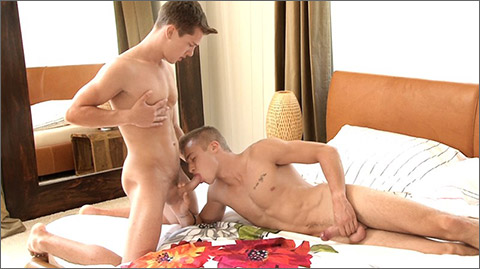 BEST FRIENDS with JAMIE DURRELL & FELIX GAUL
Felix is a big fan of 'street workouts', rather than going to the gym. He wants to show Jamie some good exercises to keep his body in great shape. But Jamie gets distracted by Felix's smooth rounded butt which he wants to see wildly riding his big dick.


JAMIE DURRELL GETS IT ALL FROM DYLAN MAGUYRE
Even in BelAmi Iand we get little lovers tantrums and jealousy. Dylan Maguire thinks he's been waiting too long for his boyfriend Jaime Durrell to arrive home and he is building up images in his mind of Jaimie running around fucking everyone he can find. Of course nothing can be further from the truth and to prove it he shows just how much sexual energy he has left to share with Dylan. Both boys turn in 5 star performances although it is Dylan who is capturing the hearts and firing the libidos of so many at the moment with his big brown puppy dog eyes, big d!ck and insatiable appetite for s.e.x.
LIVE CHAT & PRIVATE SHOWS @ FLIRT 4 FREE