Classic Colt Studio Muscle & Gay Porn Star, Jake Tanner
Years Active: 1991 – 1993
COLT STUDIO INFO (1992):
Colt Stats (1992):
Height: 5′ 10″
Weight: 215 lbs.
Hair: Brown
Eyes: Blue
Sign: Virgo
BIG MUSCLE PROFILE INFO:
hungmslstud #( 888 )
Name: J
Year Born: 1967
Height 5′ 8"
Weight 214
Waist 31
Chest 48.0
Arms 18.0
Thigh 27.5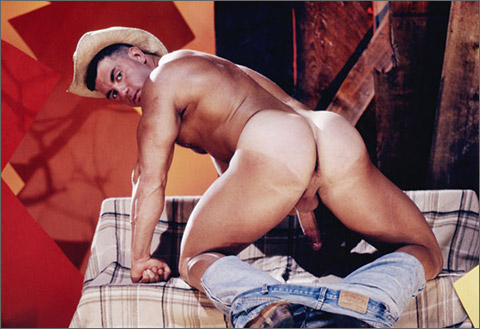 MUSCLE RANCH
When superstud rancher ED DINAKOS sees an intriguing photo contained in a farm-hand job application, you'd better stand back and get ready for some explosive, all-male sexual fireworks! Incredible JAKE TANNER is the man who ignites the fuse in MUSCLE RANCH.
   Returning to the homestead, Ed takes a closer look at Jake's photo and soon feels that urge that men sometimes do. Putting a favorite video on, Ed strips down for some good old do-it-yourself release. On the screen bodybuilder Wayne Mills stars in a fantasy scene of a nude greek statue come to life. When Wayne sees his reflexion in the waters of the pool for the first time he flexes every muscle and admires the perfection of his sculpted male form. The manly display on the screen has Ed pumping and jerking, all the while thinking about his new ranch hand Jake Tanner.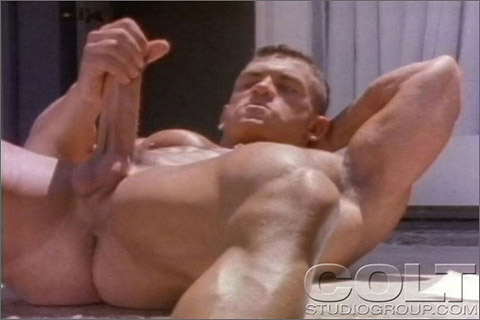 A LETTER FROM HOME
A LETTER FORM HOME – Corporal Jake Tanner is on active reserve duty but as he wanders the military base he's thinking about his sexy ranch boss back hom, Ed Dinakos. Stripping off his army fatigues Jake checks his mail and finds a welcomed letter from his hunky man. Reading the hot letter from Ed gets Jake's cock standing at attention. Thinking about his man, Jake strokes his massive dick outside in the hot sun as images of Ed stroking his big meat fill his mind.
CLICK HERE TO GO TO HIS COLT STUDIO DETAILS

COLT CALENDAR MEN #11 – LEATHER
COLT Calendar Men Digital Magazine #11 – Leather is a full-color digital compilation of major highlights from various COLT Calendars which features some of our most iconic COLT Men from over our 52+ years in PDF downloadable format.
Features COLT Men Icons: Cover man Walt Ford, Pete Kuzak, Mike Pereyra, Joe Falco, Mark Alexander, Haus, Neal Howard, Nick Dipalma, Franco Corelli, Joel Hancock, Tony Mills, Beau Wheeler, Pat Webb, Ed Ventresca, Mike West, Skip Piston, Tom Chase, Erik Korngold, Buddy Houston, Ken Ryker, Buck Hayes, John Bell, Tony Lombardy, Jake Andrews, Wade Neff, Rod Roddick, Rio Majeska, Jesse Ditmar, Jake Tanner, Chet O'Roark, Mike Dasher, Billy Herrington, Marshall Cline, Todd Maxwell, Jason Brahm, Carlo Masi, Nick Battle, Scott Butcher, Frank Vickers, Link Benedict, Gus Mattox, Ray Dragon, Diego De La Hoya, Zak Spears, Gunner Hyde, Paul Underwood, Bruce Abidor, Matt Horner, Fritz Bowman, Tony Ganz, Taylor Burbank, Jeff Williams, JD Amos and Brant Royale.
ADVOCATE MEN  April 1991
UNZIPPED  July 2007
COLT ANNIVERSARY ALBUM #2
COLT ANNIVERSARY ALBUM #3: MACHO IMAGE
COLT ANNIVERSARY ALBUM #4
COLT CALENDAR MEN #7
COLT CALENDAR MEN #5
COLT MEN 25
COLT STUDIO PRESENTS 18: MIGHTY MEN OF STEEL
COLT SPURS 18: BUTT BEAUTIFUL
COLT SPURS 25: WHOPPERS #2
COLT SPURS 26: UNDERCOVER
COLT ANNUAL MAN CALENDAR 1991
COLT CALENDAR 1991
COLT CLASSIC CALENDAR 1992
COLT CALENDAR 1994
COLT LEATHER CALENDAR 1997
COLT COUPLES CALENDAR 2001
COLT HAIRY CHESTED CALENDAR 2005
COLT COUPLES 2010 CALENDAR
COLT MEN 2010 CALENDAR
COUPLES 2011 CALENDAR
COLOR PRINTS: CP-246
COLOR PRINTS: CP-247
COLOR PRINTS: CP-284
COLOR PRINTS: CP-285
B&W PRINTS: N 46
B&W PRINTS: Y 45
SLIDE SET: S 305
SLIDE SET: S 324
JIM FRENCH: masc.
MEN MAGAZINE 15TH ANNIVERSARY
MEN MAGAZINE PRESENTS: COLT STUDIO
MEN MAGAZINE PRESENTS: 20 YEARS OF MEN
COLT ICON DILDO: JAKE TANNER