American Gay Porn Star & Webcam Performer, Jake Karhoff
Years Active: 2015 – 2016
TWITTER @jake_karhoff
CHATURBATE INFO:
Real Name: Jake Karhoff
Birth Date: Nov. 30, 1990
Age: 24
Sex: Male
Interested In: Men, Women, Transsexuals, Couples
Location: Arizona, United States
Body Type: Athletic/Muscular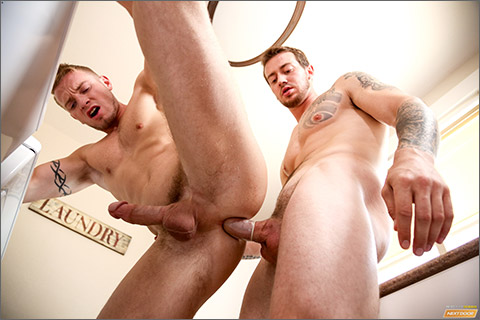 LAUNDRY ROOM HOOKUP
Mark Long is quite a horny young man. So horny, in fact, he's jerked off in semi-public places more than a few times. He's never been caught, but there've been a few close calls. Today, as Mark waits in the community laundry room for a load of laundry to work through a cycle, he gets that feeling where he's just get off!
   Jake Karhoff is a fellow condo resident and is having a nice, lazy laundry day. But when he discovers that the door to the laundry room has been locked, he must find Pete, the building manager, to unlock the door.
   When Jake enters the room to find Mark, mid stroke, Jake stays cool and doesn't act too excited. Mark, on the other hand is extremely embarrassed. He pulls up his pants and turns beat red. Jakes certainly likes the look of Mark's enormous cock. And in this particular situation, he can pretty well guess that Mark might be game for some fooling around, seeing as he must be very horny.
   When Jake suggests they hookup, Mark doesn't hesitate accept his advances. Jake goes to Mark and they kiss passionately. Soon, Mark's dick is making its second appearance, and Jake is slurping it as deep as his throat will allow. Mark can't believe his luck! The hot guy he's seen around the condos is sucking him off.
   It's not long before Jake is presenting his tight hole for Mark to fuck. Once Mark squeezes his swollen dick into Jake's ass, the action intensifies quickly. Mark bangs Jake's hole while Jake props his foot up on a dryer. After a while, they move to a chair where Jake climbs atop Mark and goes for a good, stiff ride. Mark loves how much Jake enjoys taking his fat cock.
   They move back over to the dryer to finish things off with a hard fuck session, where Jake ends up getting blasted in the face with Mark's hot, sticky cum. Now this was a load worth waiting for!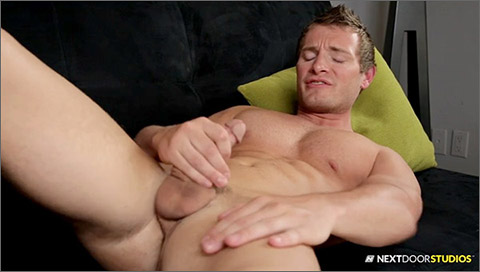 JAKE KARHOFF NEXT DOOR MALE SOLO
Jake Karhoff is ripped and cocky, and ready to put on a show for you. Originally from the midwest, Jake looks more like a quintessential golden boy from California, with his six pack abs, bleach blonde hair and blue eyes. We catch up with him in the weight room as he works up a sweat, then cool down with him in the bedroom, where he perches himself against a window as he strips out of his clothes, his bronze skin warmed by the daylit afternoon. After getting naked, Jake strokes himself as he lay reclined on a futon, working himself up to a fever pitch before unleashing his load all over his washboard stomach, rubbing it in as he throws his head back against the cusion, satisfied, sated and ready for more.
Amateur, Blonde, Solo, Masturbation, Athletic, Climax, HD Movies, Caucasian, Muscular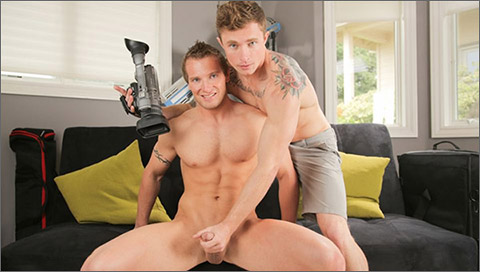 BUDDIES CASTING: JAKE KARHOFF
For Ohio native Jake Karhoff, the west coast has been a rather eye opening experience. He's seen some things he'd never seen and done some things he never thought he'd do. But he's not quite done trying new things, as Markie More is about to ensure. Markie seems amped to try out this new eager boy toy on the casting couch, and Jake's blond bod and ripped physique only add to the enticement. It becomes obvious as soon as they meet that Jake also is willing and able to do whatever Markie tells him to do, which Markie gladly exploits, choking his throat as Jake struggles to suck his first cock, then plunging his meat deep into Jake's virgin asshole, slowly opening him up and breaking him in, before rewarding Jake with a little taste of his own, bending over and letting the newbie pile drive him into the floor as Markie jacks his dick, exploding his load all over Jake's face as he sucks Markie off like a pure pro.
Condom, Hardcore, Anal Sex, Cum swallow, Deep throat, Facial, Ass Play, Athletic, Rimming, HD Movies, Gay Porn, Caucasian, Jock, Jerking off, Blowjob, Reality
CLICK HERE TO GO TO HIS NEXT DOOR STUDIOS DETAILS