American Daddy Gay Porn Star, Jake Jennings
Known Aliases / aka:
Years Active: 2013 – 2015
FAB SCOUT INFO:
36 y.o. 6′ 184 lbs Athletic Build
Brown, Brown, 7.5" Cut, Gay, Versatile,
Based in Arlington, TX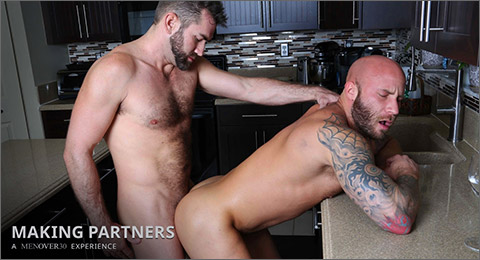 MAKING PARTNERS
Jake is home from work and has amazing news to tell his BF Drake. After a short conversation about how their day went Jake breaks it down and tells him that he is now Partners at the law firm and is receiving a huge promotion up the corporate ladder. They crack open a bottle of the finest bubbly and start the celebration with cocks in champagne. Nothing like a little added flavor, some cock and balls as well as some bubbly in the hole to sweeten the taste buds up. Jake pounds Drake's nice smooth ass going deep and hard but eventually he bends his ass over for Drake so he can give him a well needed fucking for his awesome work. They both flip flop back and forth from sucking to fucking with lots of champagne tastings for their sweet adventure and top it all off with some loads of hot cum all over Jake's hairy chest.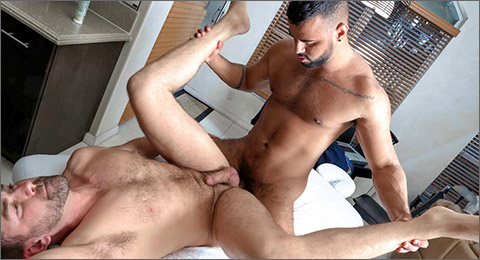 HOT MASSAGE FANTASY
Tony has had a devastating day at work full of stress and endless meetings and all he can think of his a nice long massage. Once home he immediately sits down turns his computer on and loosens his tie. He finds Jake on a massage website and becomes very horny and decides to call him up for a massage. Tony is tired beyond belief and just before he calls he slowly drifts off into a dream state where Jake is setting up his massage table. Jake is eager to get his hands all over Tony so he has him strip down and lay on the table legs spread and ass perked up. After a few minutes of fondling his ass and sniffing that round hairy ass he has Tony flip over to start the real massage. Tony has a raging boner and is ready to fuck his massage therapist deep and hard. Passionate as can be he goes slowly into Jake's awaiting ass and pushes deep within showing pleasure on both ends. Now the real fun begins with lots of fucking slow and fast as well as a 69 spread all over the table and lots of cum sticking to both of their hairy chests. Then all of a sudden Tony's alarm goes off and he wakes up to realize it was all just a dream – but a very hot sensual dream.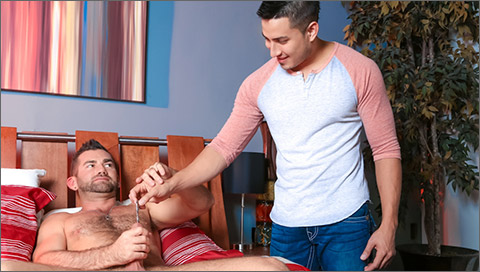 SOUNDING IT OUT
High Performance Men is pleased to present Hunter Vance & Jake Jennings in SOUNDING IT OUT. Jake is alone in bed and playing with his new sounding rod. He slowly inserts the metal rod all the way down his shaft as he strokes his uncut thick cock up and down. He manipulates the sounding rod for maximum pleasure just as Hunter enters the room. Hunter is a bit shocked at first by what he sees, but shock soon turns into fascination as Jake helps guide his hand so he too can push the rod in and out. With a little nervous laughter it is obvious that this is turning Hunter on and he soon pulls out his cock and Jake is soon deep throating it as it grows inside his mouth. Hunter then starts sucking Jake's thick cock and the two share a nice hot 69 for a while. Jake then throws Hunter's legs over his head and buries his tongue deep in Hunter's ass and you can tell Hunter loves every moment of it as he moans with gusto. Jake then flips Hunter over and puts him on all fours on the bed as he continues to eat his ass and get it nice and wet for his fat cock. He slowly puts the huge head of his cock into Hunter's tight ass and then begins a nice slow steady fuck. Sensing that Hunter is ready for more, Jake increases the speed and he is soon fucking Hunter deep and hard. Hunter loves every moment of it and grunts in delight with every thrust of Jake's cock. Jake then has Hunter on his side and then his back as he drives his cock deeper and deeper inside Hunter's gorgeous hole. He then pulls out and shoots perhaps one of the biggest cum explosions our cameras have ever seen. It just continues to spray and spray and the first shot goes directly into Hunter's mouth. Jake then licks his cum off Hunter and kisses him before asking him to shoot his load all over his face. Hunter strokes off a huge load of his own which coats Jake's face and the two, exhausted, embrace in a deep kiss.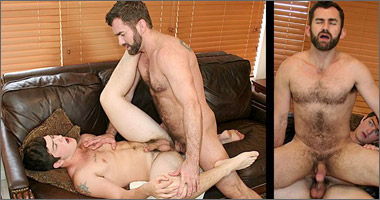 CAMERON JACOBS & JAKE JENNINGS
PRIDE STUDIOS
GIO CARUSO'S BAIT BUDDIES
JAKE CRUISE'S COCK SURE MEN
CLICK HERE TO GO TO HIS PRIDE STUDIOS DETAILS