Corbin Fisher Amateur College Man, Jacob
Known Aliases: Bobby @ Sean Cody
Years Active: 2013 – 2016
CORBIN FISHER INFO:
Age: 19
Waist: 32
Eyes: Blue
Height: 6′ 1″
Weight: 178 lbs
Hair: Blond
Build: Athletic
Cock: 7.0″ cut
Shoe: 12
When Jacob arrived here at CF, you can imagine I began thinking of all the different types of scenes I'd love to see this guy in. His blue eyes are nothing short of mesmerizing, his body is incredible, and he's also just a treat to have around! I could not wait to see him stripped down and stroking, and couldn't contain how much I wanted to see him in some action!
   Thankfully, Jacob ended up being open to the idea of getting in to some action right away which was a welcome surprise from a guy who had the usual first timer questions and awkwardness around the other guys. What began as an innocent enough conversation about the various scene types he could do here at CF led to him eventually saying, "Sure! Why not?". While I wasn't expecting him to express an interest in doing some guy/guy action right away, I sure as heck wasn't going to turn down the opportunity once he'd expressed openness to it!
   What better way to kick of Thanksgiving week than something I'm sure we are all thankful for – hot young straight studs willing to fuck another CF stud!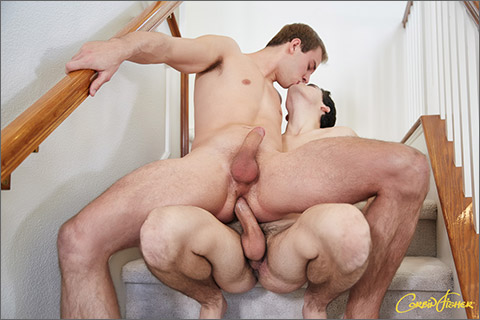 JACOB RIDES NOEL
Noel has that dark hair with those deep hazel eyes, the smile of an angel, and the dick of a stallion. Jacob is a tall and confident good old Southern boy and an appetite for adventure that extends into the bedroom- or rather anywhere!
   The men are so horny they can't keep their hands off each other long enough to make it to the bedroom, making it as far as the stairs before they're tearing each other's clothes off for some hot sex!
   Not sure if Jacob knows exactly what he's in for when he decides to give Noel a try. Noel's big thick dick is quite a lot to take one, but with quite a plethora of sexual prowess under his belt, Jacob's more than capable of taking the challenge. He gets his ass completely stuffed, fucking in every position he can, until shooting out a hot load while bouncing on Noel's cock. Jacob cums so hard that it sends Noel over the edge. Noel feeds his entire load into Jacob's mouth!