Naked Bodybuilder Muscle Hunk, Jackson Gunn
Known Aliases:
Years Active: 2013 – 2015
MUSCLE HUNKS INFO:
There's always something particularly appealing about short, solidly built musclepups with an obvious predilection towards doing lots of heavy sets of squats. Jackson Gunn, with his handsome, almost pseudo-tough face – the guy seems determined at all costs never to crack a smile – is put through the usual paces of wandering aimlessly through our favorite tropical resort, but it's all just an opportunity for you, dear members, to contemplate his exceptionally handsome flanks. Dive in.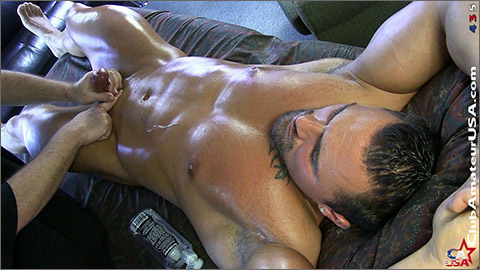 435 JACKSON GUNN
I do believe that through Jackson Gunn's muscle worship line of work with private clients, he is used to always being in control. As a result, having Jackson on the CAUSA massage table was, shall we say, a tough nut to crack (and with his ass, he could definitely crack all sorts of nuts). Read the full story on the blog…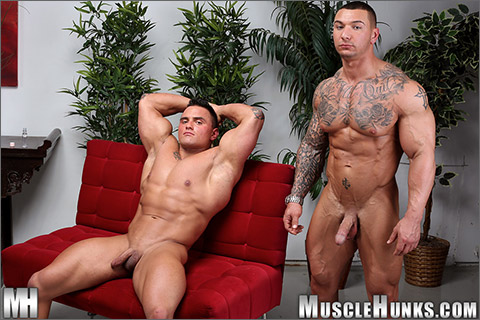 MUSCLE WRESTLING CHALLENGE
Big bodybuilders are often challenged when they spot another big muscle guy, determined to match crunched abs, flexed guns, bouncing pecs, batwing lat spreads, and supersized quads. These guys just have to compare their muscle assets to find out: who's the bigger? So it came as no surprise when handsome muscleman Mr. Jackson Gunn spied the tat-covered big boy Caleb del Gatto on a Miami street, followed him and introduced himself. Soon enough, these two big bodybuilders were planning their muscle match: a competitive posedown, a hardcore wrestling match, and their duo JO. But you're the real winner here – you get to watch!
CLUB AMATEUR USA
MUSCLE HUNKS
LIVE MUSCLE SHOW
THE GUY SITE
PARAGON MEN
CLICK HERE TO GO TO HIS MUSCLE HUNKS DETAILS
MORE JACKSON ACTION
JACKSON ACTION
MUSCLE WRESTLING CHALLENGE
GUNN BUTT
PARAGON MEN: AUGUST 2015
PARTY AT ASTON AND MARIO'S
BRO JOB