Cute Hunk William Higgins Czech / Slovakian Gay Porn Star, Igor Zobor
Known Aliases / aka:
Years Active: 2018 – 2019
WILLIAM HIGGINS INFO:
Model Name: Igor Zobor
Age: 19
Home Town: Cadca, Slovakia
Height: 184cm/6'0″
Weight: 76kg/167.2lb
Foot Size: EU44/US8.9/UK8.4
Penis Size: 17cm/6.69″
Profession/Student of: University student
Hobbies: Sport
Favorite Sports: Ice-Hockey
Active Sports: Football
Movie/Music/Sport Stars: Katie Price
Visited Countries: Portugal
Want to Visit Countries: Croatia
Dream of My Life: I don't know.
Zodiac Sign: Pisces (February 19 – March 20)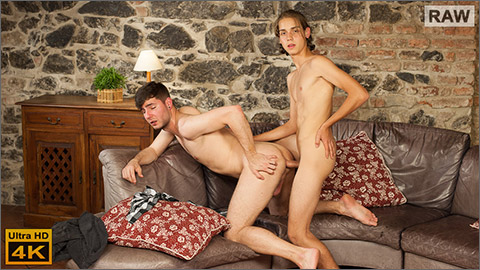 FULL CONTACT: IGOR ZOBOR & PETER HRONSKY RAW
Gay guy Igor Zobor wants some hot sex with a str8 guy and he gets exactly that from Peter Hronsky. He finds Peter on the sofa, naked and already quite hard. Igor takes Peter's cock in hand and starts to wank it. Then he licks up and down the shaft of that hard cock. He holds it as he swirls his tongue around the big head of that dick. Then he takes it into his mouth and starts to suck. Igor' head bobs up and down on the cock and he then starts to kiss Peter's sexy body too. Moving up to Peter's mouth he kisses that too and then returns to sucking that big cock. Taking his time Igor enjoys kissing Peter's hot body, sucking his nipples and kissing him. Returning to the cock he sucks on that again taking it all in his mouth. As he sucks Igor removes his shirt and moves onto his knees. Then, naked, he lays on the sofa and Peter kneels between his legs to suck him too. Peter sucks and licks Igor's throbbing cock for a while and then climbs over him, head to toe, to 69. Both dicks are rock hard as they suck each other. Peter soon wants more and positions Igor to fuck him from behind. Peter's dick slides deep into Igor's willing hole. He fucks with long strokes, filling that hole and stretching it wide. Igor takes it well, enjoying the feeling of big cock in his ass. Peter fucks harder, sliding his dick all the way into that ass. The he pulls out and sits on the sofa for Igor to ride that big cock. Igor's hole slides down on the cock and he rides it well as Peter fucks him hard. Igor grabs his own cock , pulling on it as he rides Peter's dick. He wanks his cock hard as Peter continues to fuck his hot ass. Soon Igor's cock erupts, releasing a stream of creamy, thick, cum. The cum drips onto the sofa and some sticks to Igor's fingers as he wanks himself dry. Then he moves onto his knees before a wanking Peter as he cums too.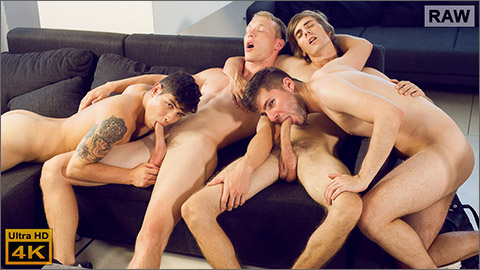 WANK PARTY #99
We have a great line-up for Wank Party #99, with some very sexy str8 guys. Part one sees Tomas Berger, Igor Zobor, Vadim Covrescu and Martin Pesek. Their thoughts soon turn to sex and everyone gets bare chested as they kiss each other. In this Wank Party video we get to enjoy them and we watch them set up for the scene and interact with each other. Then we see some action as well as they make the scene that became the complete video.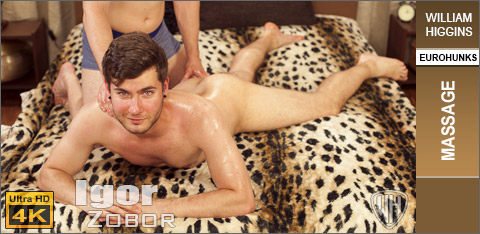 MASSAGE: IGOR ZOBOR
Igor Zobor is a good looking str8 guy who came in for a massage. He strips to his underwear and lays, face down, on the bed. The masseur arrives and gets to work, taking some oil, and massaging Igor's back and shoulders. Igor relaxes as the hands glide over his back, coating it with oil. The shoulders are massaged deeply and the masseur straddles Igor and works on the lower back. Then the underwear is pulled down a little so that Igor's sexy ass cam be massaged. The hands squeeze and spread the ass cheeks to show off Igor's tight hole. His underwear is removed competely and the legs and feet are massaged, getting coated in oil. As one hand rubs over that sexy ass the other reaches between Igor's legs and wanks his cock. Fingers rub over the tight hole as his cock begins to swell. The finger slips deep into the tight hole too. and the cock gets very hard. Igor moves onto his knees, fully exposing his hot ass. His cock is rubbed between his legs. The cock is wanked hard between his legs as a finger fucks deep into Igor's hot hole. As the hole relaxes two fingers fuck deep inside, stretching it wide. The fingerfucking gets harder as his cock is wanked fast too. Igor announces that he is cumming as the creamy juice shoots from his cock, onto the bed, as the fingers ram into his ass. The cum is milked from Igor's cock as the fingers keep fucking his hole. Then the fingers are withdrawn and Igor turns over, onto his back to have the hands work all over his sexy chest. as he relaxes after cumming.
CLICK HERE TO GO TO HIS WILLIAM HIGGINS BIO PAGE
CLICK HERE TO GO TO HIS STR8HELL BIO PAGE