Corbin Fisher Amateur College Man, Ian
Years Active: 2015
CORBIN FISHER INFO:
Age: 21
Waist: 32
Eyes: Green
Height: 5′ 11″
Weight: 175 lbs
Hair: Brown
Build: Muscular
Cock: 6.5″ cut
Shoe: 11
Twenty one year old Ian has brought his hot body to CF for his first video. Although he recently celebrated his big birthday he's not a partier, preferring to spend his time working out, which he does two to three times a day. He's a sprinter and weight lifter but has played football and done martial art- and his body sure does reflect it!
   There is no part that is physically lacking- from his strong legs to his muscular arms and chest. His ripped abs lead to a nice big dick that he plays and rubs on for the cameras.
   While he take his time playing with himself, the camera circles around, taking in the view. His hot plump ass, his handsome face, and how his muscles contract and bulge in tune with the sensations he feels with each stroke.
   Laying on his back Ian shoots out a thick loads that lands directly in his belly button and splashes over those abs we'd been admiring!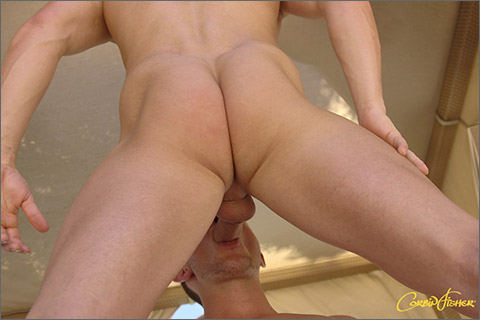 IAN & KENNEDY'S SUMMER FLING
Ian and Kennedy have some fun out by the pool, but as cooled down as they are by the water, their sexy bodies heat them up. Ian plays hard to get- but he so badly wants to be caught!
   They want it too badly and fuck right out in the open. Ian licks on Kennedy's balls, sucks on his dick, and shows his body off at Kennedy's request. There is no mistaking how bad these guys want it!
   Ian's jacked body is on full display as he pounds into Kennedy's mouth. Then he lays back to give Kennedy full reign of his tight ass! As much as Kennedy loves being a bottom, he's definitely enjoying topping Ian- and Ian's surprised how hard he can cum from being fucked!
   Pool or not, Ian ends up drenched!
IAN & KENNEDY'S SUMMER FLING
IAN TAKES ON CONNOR
IAN