Handsome Spanish Gay Porn Hunk, Hugo Arenas
Years Active: 2015 – 2016
TWITTER @hugoarenasxxx
FUCKERMATE INFO:
This hot Latin cuban guy has an open mind and a big appetite, he give it all when he has sex. This is Arenas's porno debut on Fuckermate. Welcome Hugo.
Its a pleasure for Fuckermate to bring you news of hot new guys. Today is the turn of this hot Latin candy, Hugo. We´re just giving you a taster of this Fuckermate discovery, but we promise to bring you lots more of this guy soon. Here you can see Hugo in his porno debut and he shows you how he plays alone with his beautiful body and huge dick.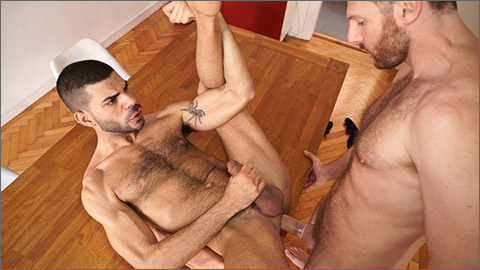 TIM KRUGER FUCKS HUGO ARENAS
We had seen Hugo Arenas a few times a Top and he was quite impressive.
   We were even more impressed when we noticed that he is also a very hot and insatiable Bottom. Tim took advantage of this and gave Hugo a real nice Assfuck.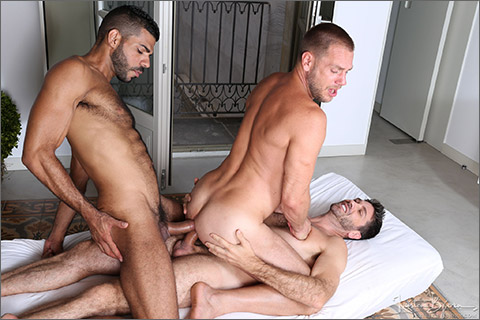 SKINS – DOUBLE OR NOTHING: CRAIG DANIEL & HUGO ARENAS DP HANS BERLIN
While checking out the goods in the shop windows, Daniel and Hugo find themselves being checked out by Hans. Hans knows what he wants and is ready to close the deal. Daniel and Hugo immediately take Hans back to their new apartment where he is quickly put into action. Hans finds that Daniel and Hugo like it rough, just like himself. Hugo unleashes his mammoth cock and begins stuffing Hans' mouth and throat to capacity. Daniel then whips out his huge cock and takes Hans by the head and fucks his mouth hard. Hans' limits are stretched with these enormous cocks as Daniel and Hugo tag-team Hans' hungry mouth. Hans is spun around as one man fucks his hairy, pink hole with his tongue as the other fucks his mouth with his hot cock. After both men tongue fuck his ass, Hans' mouth is then jammed full with both of those huge cocks. Now that these two gargantuan cocks are hard as rocks and well lubed, Hans sits down on Daniel's cock. Just as he gets Daniel's raw cock all the way inside of him, Hugo comes from behind and rams his raw cock deep in his ass as well. Both men gyrate and pump their cocks in that hot hole as Hans repeats "that's too big" but he never stops the incredible sex. Hans is then flipped and squats down on Daniel's cock. With his legs spread wide open Hugo comes along and shoves his cock back in his drenched pucker hole. The fucking continues until Hans can no longer hold back and lets his hot load of cum fly. While Hans' cum is flying Daniel showers his load all over Hans' balls and ass as Hugo shoots his thick load and mixes it with the other two loads. You never know what you might find while shopping!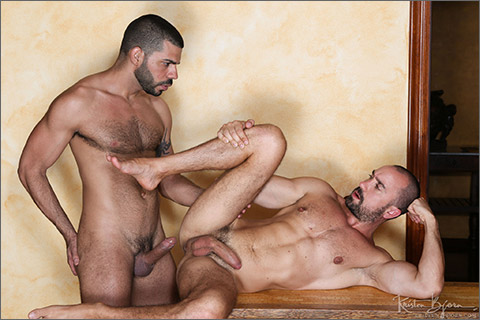 BARE TO THE BONE #10: HUGO ARENAS FUCKS MANUEL OLVEYRA
Manuel and Hugo are heading out for a wild night, but aren't able to get fully dressed. Walking around the house fully erect is always a deterrent. As they grope and fondle each other their excitement for one another rises even greater. Hugo takes Manuel's hard cock deep into his mouth and fills his senses with intense desire for more. Manuel then takes Hugo's fat cock as deep as he possibly can as Hugo forces his cock in and out of Manuel's greedy mouth. Without skipping a beat, Hugo flips Manuel over and caresses his smooth hole with the fat head of his cock before shoving his raw cock deep inside of Manuel's eager hole. Hugo continues to tease and taunt Manuel's hole by penetrating him hard and deep then pulling out completely and repeating the action over and over as Manuel opens his hole completely. Hugo flips Manuel onto his back and keeps fucking his raw hole, much to Manuel's pleasure. Manuel's pleasure has risen to a feverish pitch that he strokes out his thick creamy load as Hugo continues fucking his ass. Hugo pulls his cock out and showers Manuel's balls and ass with his hot load before shoving his cum slicked cock back inside of Manuel. Now it's time to go out for a drink!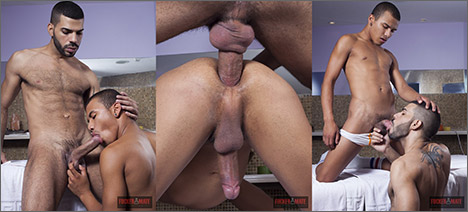 PORNO DEBUT: HUGO ARENAS & RONNY
We made it our mission to find new horny and beautiful guys for Fuckermate.com. this week we bring you the perfect Latino mate, he's only 19 years old and ready to play his name is Ronny. Imagine that this young guy is your masseuse. Hugo decided to call to Casanova Sauna and he was lucky to find Ronny ready and waiting. He was not expecting such a hot and intense encounter. Ronny may be young but he took every inch of Hugo's huge cock. This raw session is full of hard fucking, deep rimming, deepthroat suckling and of course plenty of cum. This is one trip to the sauna you do not want to miss.
TIM TALES
FUCKERMATE
KRISTEN BJORN
CLICK HERE TO GO TO HIS KRISTEN BJORN DETAILS
>