Handsome Muscle Hunk Kristen Bjorn Gay Porn Star, Heracles
Known Aliases:
Years Active: 2020 – 2021
KRISTEN BJORN INFO:
Nationality: Spain
Height: 5'11
Weight: 220 lbs
Dick: 8" (20.32 cms) uncut
Position: Versatile
Zodiac: Libra
Heracles is an amazing mountain of muscle with a handsome face and big dick. Aside from competition body building, Heracles' main interests are sex, and then more sex! (in that order). Heracles doesn't have sexual inhibitions, and he can do just about anything. But he feels more comfortable as a bottom.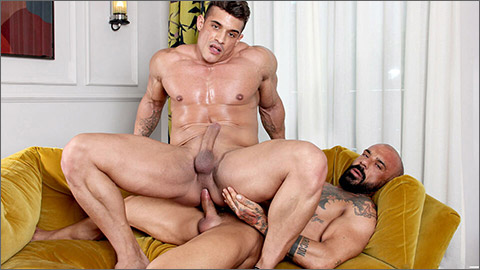 KRISTEN BJORN'S CASTING COUCH #434: HERACLES & JUANJO RODRIGUEZ
Juanjo Rodriguez may be the seasoned expert in this scene, but newcomer Heracles is an aggressive fucker that is going to give Juanjo an experience of a lifetime. Juanjo stops over to get a few posing tips from Heracles and ends up with a lot more. As both men check out the others impressive mounds of muscles, things begin to grow. Juanjo strips Heracles of his posing strap and begins sucking on his impressive big boy dick. Heracles is impressed with Juanjo's talented mouth and tongue, so he turns around and shows him his smooth, muscle hole. Of course, Juanjo dives right in and makes a meal of it. Heracles is a hungry cock sucker as he devours Juanjo's rock-hard cock. Knowing that his ass is nice and wet and Juanjo's cock is all slicked up, Heracles gets on all 4's as Juanjo rams his raw cock deep into that perfect ass. Heracles gets flipped into multiple positions before Juanjo shoots his thick, creamy load all over his hot ass. As Juanjo massages Heracles' ass with his dripping cum, Heracles erupts with an equally heavy load of cum. The bigger the muscles the bigger the load!

TITANS: MAX HILTON & HERACLES
The titans: Max Hilton and Heracles clash as their bulging muscles come up against each other in a pose off. Heracles is impressed with what is swelling within Max's shorts and releases Max's protruding cock and takes it into his mouth. Heracles slowly works his hot mouth up and down Max's long cock shaft until he reaches the furry base and feels his cock head probing at the back of this throat. Max's hunger for cock has boiled over as Heracles rises and exposes his throbbing cock. Max begins sucking on the muscle titans' hefty cock as Heracles begins to face fuck his famished mouth. Apparently, the hard workout at the gym has raised these men's testosterone levels and Heracles is very horny as he turns around and offers up his smooth, muscular ass to Max. Max slips his rock-hard cock inside of Heracles and begins a raw, deep ass fucking. Max is feeling rapacious and flips with Heracles as he lowers his hairy, muscular ass onto his smooth, uncut cock. Max grinds down hard and the men begin to work in tandem on fucking his ass. Another flip and Heracles is on his back with Max picking up the rhythm of their fucking until Max fucks the cum right out of Heracles. Heracles' thick, creamy load of cum continues shooting with each thrust of Max's cock. Just as the last drops of Heracles cum drools from his cock, Max's cock erupts a huge load of cum that flies across his fuck buddies heaving, ripped muscular torso. The Titans have clashed and two huge loads of cum are what remain.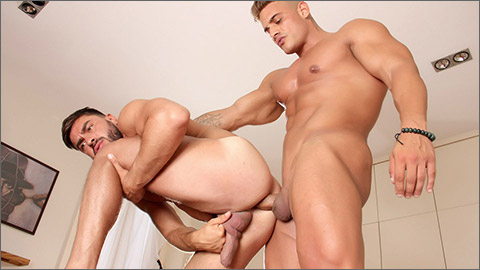 PROTECTED WITNESS: HERACLES & JUANCHO SEVERANO
Juancho Severano leads a life of sex addiction and trafficking in illegal passports and on top of that he is witness to a brutal murder by the mob. A bodyguard, Heracles is hired to protect the valuable witness, but it is his addiction that threatens his abilities to be a live witness. With most all addictions they eventually take control of you unless you take control of them, but having a huge, handsome bodybuilder bodyguard only adds fuel to this fired up sex addicted until the flames are ignited and there is only one thing to do. Thankfully for us Juancho is a sexy sex addict and Heracles knows how to milk his subject to his benefit. On one such afternoon Juancho's addiction takes over as he is caught staring at Heracles and is asked if he wants to touch it, "is that a gun in your pocket or are you just happy to see me"? The answer to that is yes and yes! Heracles knows exactly what he is doing and allows Juancho his desires as he begins a seductive striptease and Juancho is finally able to wrap his wet lips and tongue around the bodyguards throbbing cock. This is a holiday feast for Juancho, getting his first fix in a long time and it is with Heracles, the mouth-watering bodybuilder/bodyguard. Juancho works his mouth up and down that magnificent cock shaft swallowing every centimeter of it, getting his high from the sensation of it going down his throat. Heracles grabs him by the head and drives him down hard to his smooth, musky base. The more Juancho sucks the harder Heracles' cock becomes, feeding both men's needs and addiction. Heracles flips Juancho around and slams his throbbing cock balls deep inside of his raw ass, giving him the fucking, he has been yearning for. After some deep ass pounding, Heracles pulls his cock out and beings fucking that pink, pucker hole with his strong tongue. The guys swap up and Juancho grinds his ass down hard onto the bodyguard's granite cock with such urgency and command that both men are quickly approaching and a huge explosion. Heracles has another trick to pull and flips Juancho onto his back and teases his ass with just his cock head. Juancho is now wild with desire and jumps and positions himself to be fed the hot, creamy juices of his protector, his bodyguard. Heracles feeds Juancho his hot load of cum as Juancho strokes out his own creamy load. With his addiction being fed, maybe he will live long enough to be a viable witness.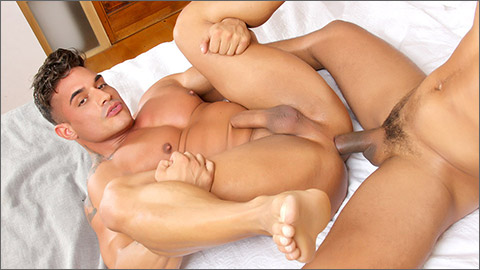 A MATTER OF TRUST: HERACLES & LUCIO SAINTS
As any athlete will tell you, training for a competition is an incredibly stressful time, especially as the competition date draws closer and Lucio Saints is trying to convince Heracles to trust him as he helps him clear his mind and train. The guys run through Heracles' posing routine, Lucio can sense something is off. Lucio begins applying oil to Heracles and I think you know what will happen next! As the oil goes on Lucio's clothes come off until Heracles can no longer hide his growing erection. Lucio throws Heracles onto the bed, spreads his legs, dives in and begins eating the perfectly sculpted ass and the amazing pucker that is begging for attention. Every aspect of Heracles' body has been trained to perfection, which is a major turn on for Lucio. After an intense ass eating, Heracles is hungry for Lucio's huge, meaty cock and begins sucking on his pulsating cock. Heracles is an eager cock sucker and does everything within his powers to stuff as much of Lucio's monster cock into his mouth. Just as in his bodybuilding training, Heracles puts everything into his cock sucking as Lucio's giant cock forces his mouth and throat open beyond anything Heracles has ever experienced before. Heracles then moves onto all 4's as Lucio comes in from behind and pries his muscular ass open and begins to slowly fuck that tight hole. A quick flip and Heracles is squatting down onto Lucio's slicked up cock and begins to go for a wild ride. The guys begin working in unison with their fucking and Heracles is learning to trust that his coach has his best interest/pleasure at hand. Another flip and Heracles has his knees resting on his shoulders as Lucio plunges his throbbing cock as deep as possible and fucks him with a passion that bonds this relationship. Lucio's fucking has reached a powerful level that both men are on the verge of exploding their huge loads. Heracles erupts his load of cum as Lucio's balls rest on his face. Watching Heracles's cum fly, pushes Lucio over the edge as he showers Heracles' face with his hot load and Heracles milks the remainder of his cum with his hungry mouth. Now that the bond of trust has been made this competition is a sure win.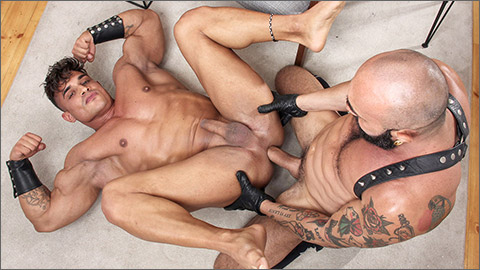 WORKHORSE: HERACLES & GIANNI MAGGIO
To reach the level of bodybuilding such as Heracles, one has to put in endless hours of hard work and today he is auditioning for horse hung Gianni Maggio. Gianni has a mild fetish for domination and is eager to find out what Heracles' limits are. Heracles goes through his normal posing routine as Gianni looks on with admiration. As Gianni's monster cock emerges larger than life, Heracles is unscathed and immediately leans and begins sucking on that powerhouse cock. Gianni strips Heracles down and spreads those amazing mounds of muscles that form his perfect ass and begins eating away at the perfectly smooth pucker hole. Without much notice Gianni gets to his feet and rams his gigantic, raw cock deep inside of Heracles' bodybuilder ass. That probing anaconda gives Heracles' ass a fucking he will not soon forget. Just as Heracles is getting accustomed to the sheer size of Gianni's cock he is flipped onto his back and the onslaught of raw fucking continues. Even with a huge cock in his ass and on his back, Heracles is able to strike a pose that showcases his magnificent muscles. Gianni is very expressive in his desires and wants as he barks out orders to Heracles. One last flip and Heracles is putting his massive thighs to good work as he squats down onto Gianni's throbbing cock. Gianni continues with his verbal commands as Heracles' cock flops around with pleasure, desire and anticipation of what is building deep within him. Heracles takes a deep squatting stance as Gianni begins thrusting his cock in and out of his hot hole and with one last deep thrust Heracles is exploding his creamy load of cum. With the vice grip of that amazing ass, Gianni has a volcanic eruption of cum. Gianni scoops up his load with his leather clad hand and feeds it to Heracles. The tireless work of Heracles and the horse hung Gianni have bonded to make our Workhorse.
CLICK HERE TO GO TO HIS KRISTEN BJORN DETAILS
VIDEO ON-DEMAND: Kristen Bjorn Productions @ AEBN SMUTJUNKIES THEATER
NOW STREAMING: Kristen Bjorn Productions @ NAKEDSWORD