BelAmi Kinky Angel Czech Gay Porn Star, Helmut Huxley
Years Active: 2015 – 2021
BEL AMI INFO:
Helmut, whose real name is Filip, was originally not very enthusiastic about his stage name. Unfortunately we had no options though with it here because in all scenes and documentaries the other boys were already calling him Helmut based on his haircut and it had become so pervasive that we had to stick with it. Helmut is 21, tall (193cm) lean and in his new scenes has become quite athletic. We are afraid though that you will see 2 different Helmuts. One young, inexperienced, with little definition and a little bit scared of what he is doing and the new Helmut who is more athletic, relaxed and happy with his new identity.
Zodiac: Aries
Weight: 74
Dick size: 20
Dick type: Thick
Eye color: Brown Light
Hair color: Brown Light
Height: 193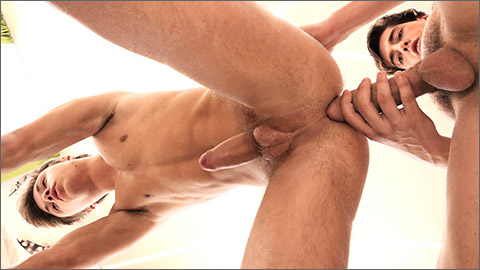 FRESHMEN ISSUE 201: Sammy Poulain & Helmut Huxley
In an update filled with firsts, here is Sammy's first completed scene and his 2nd hardcore performance. Sammy luckily drew the long straw today, partnering with the handsome and hung Helmut Huxley. Though Tom in our lead scene, and Helmut in this, had the same job- guiding newbies in their first full scene- their approaches are different. Tom treated his task as a training session whereas Helmut regarded this as more of an assessment. Though Helmut is irreverent, he does take lovemaking seriously and is a first-rate attentive lover who pays close attention to the needs and wants of his partner. Our cameraman, Marty Stevens, bears witness as Helmut shows young Sammy how lovemaking should be done. Judging by the cummy kiss at the end, we can confidently say Sammy passed the assessment.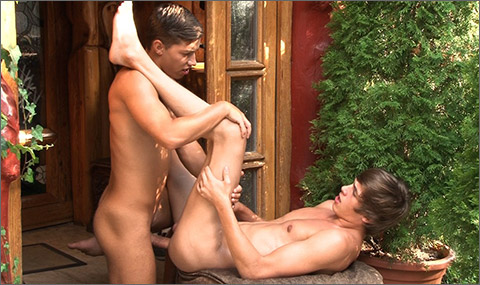 OFFENSIVELY LARGE: HELMUT HUXLEY & JOEL BIRKIN
In our 'OFFENSIVELY LARGE' scene today Helmut couldn't even wait long enough to get inside before getting Joel undressed and his dick out. Just as well the owner of the house is pretty relaxed about this kind of thing.
   Whilst neither of the guys is any slouch in the dick department, the sight of Joel's cock outlined in the doorway is truly breathtaking, as is Helmut's ability to take it all with pleasure. We are just left to imagine what would have happened if they got all the way inside!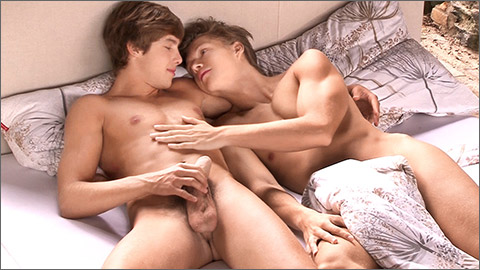 KINKY ANGELS ISSUE 38: HELMUT AND CHRISTIAN PT 1 & 2
Our sexual swashbuckling Musketeers are on a quest of find their own D'Artagnan.
They're not sure if Christian Lundergren has what it takes, but each of them wish to evaluate his "sword" play. Helmut Huxley is the first to test his mettle
   It's all for Christian, and Christian for all, as our ambitious protégé bravely flip flops which each of the Musketeers.
Christian's desire to please is palpable as he and Helmut parry and thrust and impale each other in the most pleasurable ways.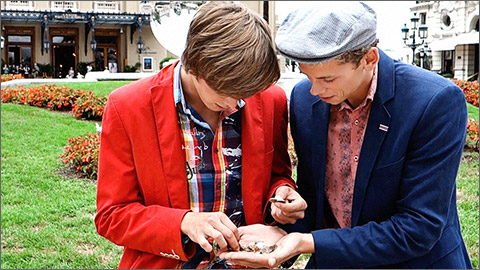 KINKY ANGELS ISSUE 36: GETTING RICH IN MONTE CARLO
Helmut and Jerome are sure that they are about to get rich in Monte Carlo. The charm of this little documentary is the earnestness with which Helmut explains how his winning 'theory really does work…. right up until the last bet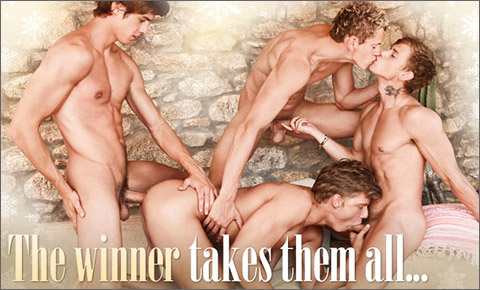 KINKY ANGELS ISSUE 35: THE WINNER TAKES THEM ALL
We observed Jerome seducing Christian followed by Helmut seducing Kevin. Now enjoy all four of them together. It is becoming obvious that Christian enjoys bottoming as much as Marcel. The question remains: Is he fit to become our fourth Musketeer?
GD's note: Well, he's no D'Artagnan. But with a fleur-de-lis tattooed to his shoulder he may become Milady De Winter. He certainly appears to be "the lady" of December.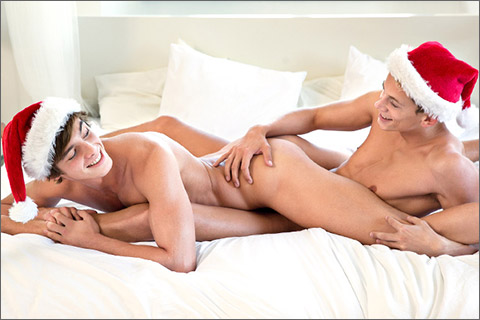 KINKY ANGELS ISSUE 35: WE WISH YOU A KINKY CHRISTMAS
Christmas comes but once a year- except for BelAmi. We celebrate Christmas several months ahead of schedule so that we may photograph the boys while the weather is still good. This time early-Christmas came in August as Bruno Gmuender needed a picture for their advent calendar. So we took advantage of this and shot Christmas banners for the websites.
GD: Elliot overdid it and shot 1800 pictures. Thankfully, 10 or so of them were useable. Ok, Ok there may have been more than that, but you don't need to see everything!
CLICK HERE TO GO TO HIS BEL AMI DETAILS
VIDEO ON-DEMAND: BELAMI @ AEBN SMUTJUNKIES THEATER
NOW STREAMING: BELAMI @ NAKEDSWORD