Hairy Handsome American Gay Porn Star, Heath Jordan
Known Aliases / aka:
Years Active: 2010 – 2012
HOT HOUSE INFO:
All-American Heath Jordan comes to Hot House directly via Kyle King. The two met in Chicago where Kyle immediately fell for Heath's blue eyes, charming smile, furry muscles, and big fat cock. Heath says when Kyle suggested they film a scene together he was flattered – and it made him horny – so he said yes! That's win-win for all of us!
AEBN INFO:
Bearish Heath Jordan is one of the most exciting studs we've seen in a while, and watching him in "THE OTHER SIDE OF ASPEN 6" has made us into big fans!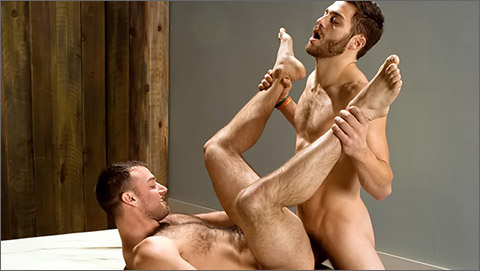 GET ME OFF: Tommy Defendi fucks Heath Jordan
Tommy Defendi has Heath Jordan locked in his arms, holding his muscled, hairy torso close and tight against him. The two men kiss passionately as they rub and stroke each other, letting their hands glide up and down the other's finely muscled body. Tommy runs his tongue and lips down Heath's furry chest, biting and tongueing his nipples gently, before traveling down along his belly until he reaches his crotch. He pulls Heath's snug briefs down and immediately gets busy swallowing down his big cock. Tommy's lips are clamped tight around his partner's hefty tool, sliding back and forth over the entire length and all around the mushroom tip. Heath coos and sighs as he surrenders to the thrilling sensations of having his stiff staff stuffed down Tommy's throat. Now it's time to pay the piper and Heath takes his turn to get his friend off. He opens wide to envelop Tommy's tantalizing tool, grabbing onto the fuzzy nutsac as his head bobs up and down the length of the dickshaft. With the two of them worked up into a lather and anxious for more, Heath climbs aboard Tommy and skewers himself down onto his dick. His pinched asshole stretches wide to consume the hefty salami. Tommy's balls bounce as Heath bucks up and down from above, his dick swinging all around. Both men moan as Tommy continues plowing Heath's backside; the nonstop slapping of flesh against flesh reddens his buttcheeks. Then with the hirsute fireplug of a stud now flat on his back, Tommy fucks him even harder. Heath jerks himself off, pumping his cock until his load blasts out in thick spurts. Tommy is quick to answer with his own smattering of cum, matting Heath's chest hair even more.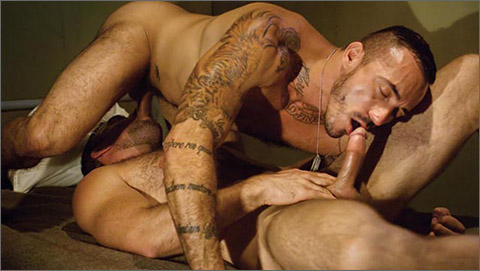 MAN UP: Alessio Romero and Heath Jordan flip-fuck
Nighttime finds both Alessio Romero and Heath Jordan laying in their bunks, restless, unable to sleep and feeling so horny. Alessio decides to help his buddy out and begins to suck him off. Heath quickly makes it clear that he can't wait to work his oral skills on his fellow private's privates and he zeroes in on Alessio's crotch. Soon the two soldiers are 69ing, giving head as well as rimming ass with some fingerfucking thrown in for good measure. Ready for some anal sex, Alessio slides his cock up inside Heath's ass, fucking his hole hard and deep. The men exchange pole positions with Heath now filling Alessio's asshole with his thrusting cock. Both of them are ready to climax and they finish off laying side by side, stroking their cocks until they both shoot their loads.
FALCON STUDIOS
RAGING STALLION
HOT HOUSE ENTERTAINMENT
CLICK HERE TO GO TO HIS FALCON STUDIOS DETAILS
VIDEO ON-DEMAND: AEBN SMUTJUNKIES THEATER